Framingham Library Hosted 'Voices of Ukraine' Forum
By Jack Landsiedel
***
FRAMINGHAM – On Tuesday, July 12, the Framingham Public Library hosted the "Voices of Ukraine" forum over Zoom with two Ukrainian refugees and two Ukrainian-American volunteers supporting humanitarian outreach from Framingham.  The public was invited to submit questions for the speakers before the event.
Konstantin Starikov moderated the event.  He immigrated from Kharkiv, Ukraine at the age of 12 and works as an UX Designer at Red Tree Real Estate.
  In an effort to educate local residents about the lives of those impacted, Konstantin passed the mic over to his former classmate, Valentin.
Valentin Spasibo is a husband and father of five who recently left a village near Kharkiv to seek safety in Zurich, Switzerland.  He is a business lawyer and farmer-entrepreneur. 
Sharing pictures of his family and region, he provided insight into what life was like in Ukraine. 
This is in sharp contrast to the photo he shared below, depicting that when the Russians are bombing the region "we must go into our basements and wait."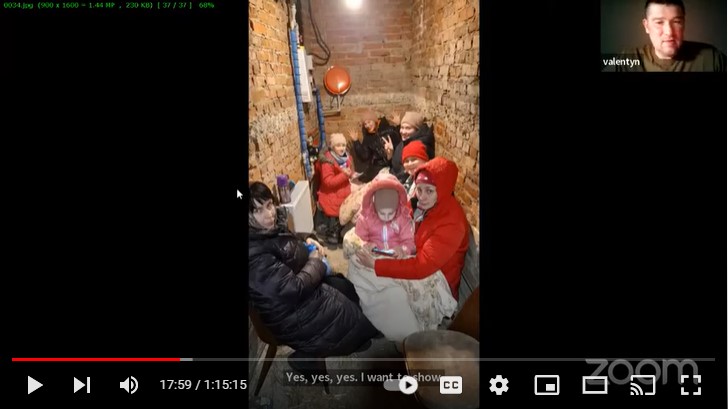 Kharkiv is the second-largest city in Ukraine and located in the northeast of the country.  Located close to the border, it continues to be a military target for bomb strikes and artillery from Russia.  "We don't understand why Russia [would] attack our cities, our villages, our country," Valentin said.
Starikov shared that he and Valentin had a classmate from Kharkiv who recently passed away after volunteering on the front lines.  "Maybe during the next event, I will share his story.  That's just one example of how this touched me personally."
Mariana Semeniuk is a psychologist from Drohobych, Ukraine and formerly worked in a hospital.  She arrived in Minnesota four months ago and is staying with her sister.
"When the war started, I remember it was in the morning and I heard some noises […] and everyone started to call me."  "They heard bombing all over in our region […] I didn't know what to do."
She left for Poland the next day, but she had to leave her husband because he would not be allowed over the border as "men are not allowed to leave Ukraine right now."
"There were thousands of people" trying to cross the border, she said.  "I was walking [for] eight hours.  I even thought I would die in this crowd, it was very scary." 
Once she arrived in Poland, Mariana met with her missionary friends who were supporting the new refugee population.  She shared the photo below.
Iryna Saks came to the U.S. over ten years ago from Vinnytsa, Ukraine and lives with her family in Framingham.  She is a medical and legal interpreter at Baystate Interpreters and serves as an ESL Teacher at the Framingham Adult ESL school.
She is a Ukrainian Resettlement Case Manager at Jewish Family Services and volunteers with Sunflower of Peace, a Boston-based non-profit which has recently focused on those impacted by the military invasion of Ukraine. 
She started her support earlier this year by sharing an Amazon wishlist with family and friends to send supplies to Sunflower of Peace. 
Overnight, she received almost 1,000 items. 
She has since helped coordinate donations for the group for volunteers and families.  "Sunflower of Peace has sent over 1,000 medical backpacks to paramedics on the front lines in Ukraine," she said.
If you would like to help, please follow Sunflower of Peace's website and Facebook page for information about donations.
Jookender is a local community organization serving Russian-speaking Jewish families in Greater Boston.  They are hosting a drop-off fundraiser for Mukachevo Orphan House for the Disabled in Ukraine this week from July 19-21.  For more information, please visit their website.
This is the second of a series of "Voices of Ukraine" forums. 
The full recording can be found on the Framingham Public Library's YouTube.