Editor's Note: Report was last updated at 11:55 a.m. on July 1.
By Grace Mayer
****
[broadstreet zone="58610″]
FRAMINGHAM – As with any social change, it often starts with the youth – young adults and teens who are pioneering for change within policies and government. Last summer, the Black Lives Matter Movement was met with a wave of young adults turning to social media platforms and attending protests. Every June, the LGBTQ+ community, a group that more and more Gen Zers identify with, celebrate Pride through rainbow marches and festivals. Most recently, though, an appointed Council of teens advocated for access to free menstrual products in Framingham, and Sunday night, the City's Mayor signed it into law.
"This work with menstrual hygiene products isn't just an isolated case," Youth Council Chair Isabella Petroni said. "It's a track record of trying to push for the issues that youth are focused on and push for what we view as hopefully seeing the change that we want to see in the world."
Created by Petroni through the Framingham's Youth Council, which is composed of 13 members ages 13 to 22 from Framingham's nine districts, the Council originally proposed to make menstrual products available for free in public bathrooms across Framingham, including in high schools, middle schools, public libraries, and City Hall.
In March 2021, after 3 months of drafting the legislation, the Youth Council submitted its proposal to the School Committees and the City Council. The City Council unanimously endorsed the ordinance. And, last night June 27, during a workshop session with the Youth Council, Mayor Yvonne Spicer signed the City Council's version into law.
The new law impacts only City-owned buildings, including the Memorial Building and the City's libraries.
[broadstreet zone="53130″]
The School Department and School Committee is working on its own implementation of the Youth Council's proposal to begin at the start of the 2021-2022 school year.
Petroni, a 19-year-old double majoring in environmental studies and marine affairs at the University of New England, said this legislation is just one issue among many, including police reform, racial and gender equality, and climate change, of which young adults and teens are looking to create change in the City of Framingham.
But Framingham isn't the only city in Massachusetts making this change. In 2019, students in Brookline took up a similar initiative to make menstrual products free – an ordinance which Petroni said she looked at to help write her own proposal. That same year, Brookline became the first municipality in the U.S. to offer free menstrual products in public restrooms. Since then, the I Am bill, which would provide access to free menstrual products in schools, shelters, and prisons across Massachusetts, is currently being debated at the federal level.
"Towns are adopting it, cities are adopting it," Petroni said, "so it's going to come to a point where you're going to have so many overwhelming municipalities adopting it that it just makes sense to do it for the state."
Although Petroni said the 13-member Youth Council received some pushback from people online – critics who Petroni said insisted on policing women, transgender, and non binary individuals, and others who argued that menstruation and the cost of hygiene products aren't "that bad" – Framingham's City Councilors, School Committee, and the Library Trustees were supportive of the proposal.
[broadstreet zone="59984″]
Even before the ordinance was signed into law, Lena Kilburn, Framingham Public Libraries' director, was planning to budget for free menstrual products, offered by Citron Hygiene, that would be offered to the public at the main library and at the Christa McAuliffe Branch location by July 1.
The Library Trustees discussed at its May Board meeting about partnering with Dignity Matters, a nonprofit that provides hygiene products like pads and tampons, to the public.
"It is important to seize on this opportunity now to go ahead and provide these resources here," Kilburn said. "As the public library, it's all about equity and access."
One of the Library Trustees, according to the May Trustees Board Meeting minutes, estimated "it would cost the City around $70,000 per year to implement this is City owned public buildings with costs of around $40,000 per year for the Library."
Chair of the School Committee Adam Freudberg said in an email to SOURCE that the Committee is working with a state contract vendor to offer both tampons and pads in all schools.
In total, Freudberg said that 72 dispensers will be installed in all middle schools, at Framingham High, and Thayer Campus, by the start of the 2021-2022 academic year.
The Committee also will be partnering with Dignity Matters to provide menstrual products to students who have difficulty accessing them on an ongoing basis.
"I am grateful to the Youth Council for bringing attention to this and working to expand the decision the school district made to all other municipal buildings," Freudberg said in the email.
Vice Chair of the Youth Council Chloe Mills, who is chair of the Council's health subcommittee, and vice chair of the health subcommittee Ali Jones are working on the high school and school department rollout.
"I believe that this is extremely important to be addressed publicly because no one ever really wants to address it," Mills told SOURCE in an email. "I don't know if it's out of embarrassment or something else, but it is important to show young people that it is good to stand up for these kinds of important issues that are normally avoided."
The new City of Framingham ordinance addresses the affordability of menstrual products – hygiene necessities which across the U.S. are often more expensive due to the "tampon tax."
[broadstreet zone="59946″]
Although Massachusetts doesn't impose the "tampon tax," an additional cost added to these hygiene products because they aren't viewed as necessities, on the price of pads, tampons, liners, and menstrual cups, 36 states still do, according to data from the organization Period Equity.
But the new Framingham ordinance also dispels several stigmas around menstruation Petroni said: that the issue is gendered, solely defined as a women's issue, that menstruation shouldn't be talked about, and that these products are luxuries, rather than hygienic necessities.
Petroni said just as condoms are doled out to the public free of charge at health clinics, menstrual products should also be readily available.
The language of the new law was especially important, as the Council didn't want to exclude nonbinary or transgender individuals, said Petroni.
Instead of defining menstrual products as "women's" or "feminine" products, the Council stripped the proposal of these labels to avoid alienating individuals and to counter the notion that menstruation only impacts women, said Petroni.
The idea for the proposal was inspired by Petroni, and the other Youth Council members' own experiences.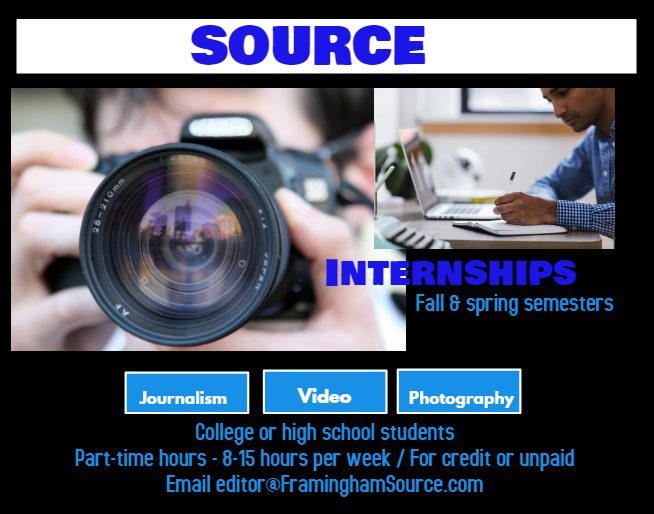 During middle school and high school, Petroni said the Council talked about how there were times when they needed a pad or tampon—but the dispensers in the school bathrooms were empty. They'd have to find another party, a friend or, as a last resort, the school nurse, to retrieve a product.
"Most of us had experience of not having enough money to pay for it, or being inconvenienced, or maybe having an emergency and not having access to it," Petroni said.
As they drafted the ordinance, other buildings, including the libraries and the Memorial Building, were added, to make menstrual products accessible to young individuals who are just starting their periods or to all individuals, who may find it difficult to cover the cost of menstrual products every month.
"This is just like a basic human right. It's a human right to take care of yourself," Esther Celoy, District 8 Youth Councilor and a Framingham High senior, said. "As a woman, it's inevitable. You're going to get your period and it's something you can't control."
Celoy said the proposal could also help to lower the chances of people experiencing toxic shock syndrome, which can affect women who don't or can't change their menstrual products frequently.
[broadstreet zone="59982″]
The 17-year-old said that coming from Haiti, a relatively poor country, she understood how widespread the issue of affordable and accessible menstrual products is – but that locally the Youth Council could do something.
"I knew back home [in Haiti], menstrual products were like a luxury. It wasn't a necessity," Celoy said. "I knew that if a whole country was going through this, there's definitely people in the United States, even locally, who are going through this issue where they can't afford menstrual products."
By the City's legislative and executive branches of government passing the Youth Council's proposal to make free menstrual products available to the public into law, Framingham is not only helping to address the cost and accessibility barriers, they're starting a trend that Celoy said she hopes will spread across the U.S.
"I don't want Framingham to be the only community with this," Celoy said. "I think that it should be everywhere. I think it should be a federal thing. I think the whole United States should be onboard with this."
***
Grace Mayer is a senior at Boston College studying marketing and journalism. She is also the head arts editor for Boston College's newspaper, The Heights, where she's covered the arts beat for three years. She is excited to report on a variety of beats for Framingham SOURCE this summer. You can contact her at gemayer007@gmail.com.