[broadstreet zone="53820″]
FRAMINGHAM – The MetroWest Regional Transit Authority will hold a ceremony to mark National Vietnam Veterans Day on Wednesday, March 29.
The ceremony will start at 9 a.m. rain or shine.
Please arrive by 8:45 a.m.
Vietnam Veterans are encouraged to attend. The public is welcome to attend.
This date was chosen to be observed in perpetuity as March 29, 1973 was the day United States Military Assistance Command, Vietnam was disestablished and also the day the last U.S. combat troops departed Vietnam.  In addition, on and around this same day Hanoi released the last of its acknowledged prisoners of war. 
[broadstreet zone="53130″]
From February 1961 until May 1975, approximately 2.7 million U.S. service members served in Vietnam, according to the Department of Veterans Affairs. The Vietnam Veterans Memorial in Washington, D.C. is inscribed with the names of over 58,000 service members killed in the war.
In 2012, President Barack Obama signed a presidential proclamation designating March 29 as the annual observance of Vietnam War Veterans Day.
In 2017, President Donald Trump signed Vietnam War Veterans Recognition Act, to include National Vietnam War Veterans Day as an occasion for raising the flag on all public buildings.
The MetroWest Vietnam Veterans Memorial is located in front of the headquarters of the MetroWest Regional Transit Authority.
The memorial features a 9-foot statue of an American soldier and the names of the 61 service members from MetroWest communities killed in the war.
[broadstreet zone="53803″]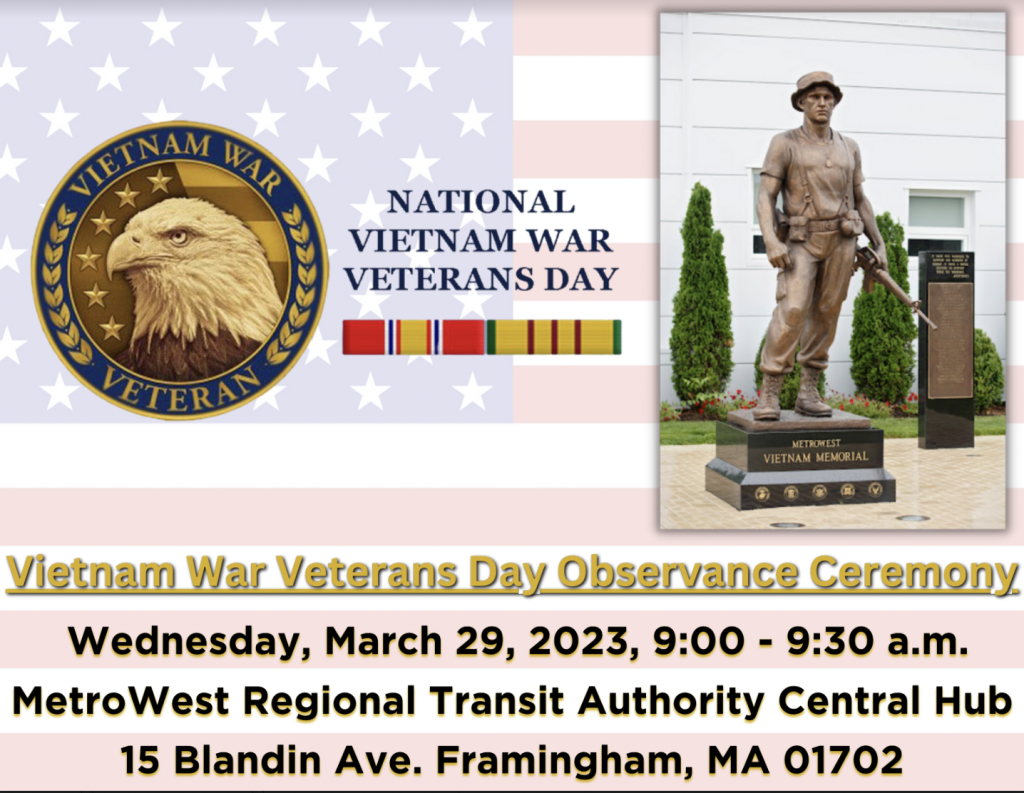 [broadstreet zone="59983″]