5 Things You Need To Know Today in Framingham: Monday, May 23, 2022
1 Framingham DPW applied a surface treatment, NovaChip, to Old Connecticut Path between Speen Street and School Street again today. An alternating traffic pattern is in effect. Please seek an alternate route.
The Massachusetts Department of Transportation (MassDOT) is announcing it will be conducting overnight utility work at the Route 9 eastbound off-ramp to Route 126 southbound in Framingham. This work will result in nighttime ramp closures and detours on Monday, May 23, and Tuesday, May 24.
Here is a list of other road construction and utility project in the city this week.
2. La Cantina restaurant kicks off its cruise nights tonight, May 23.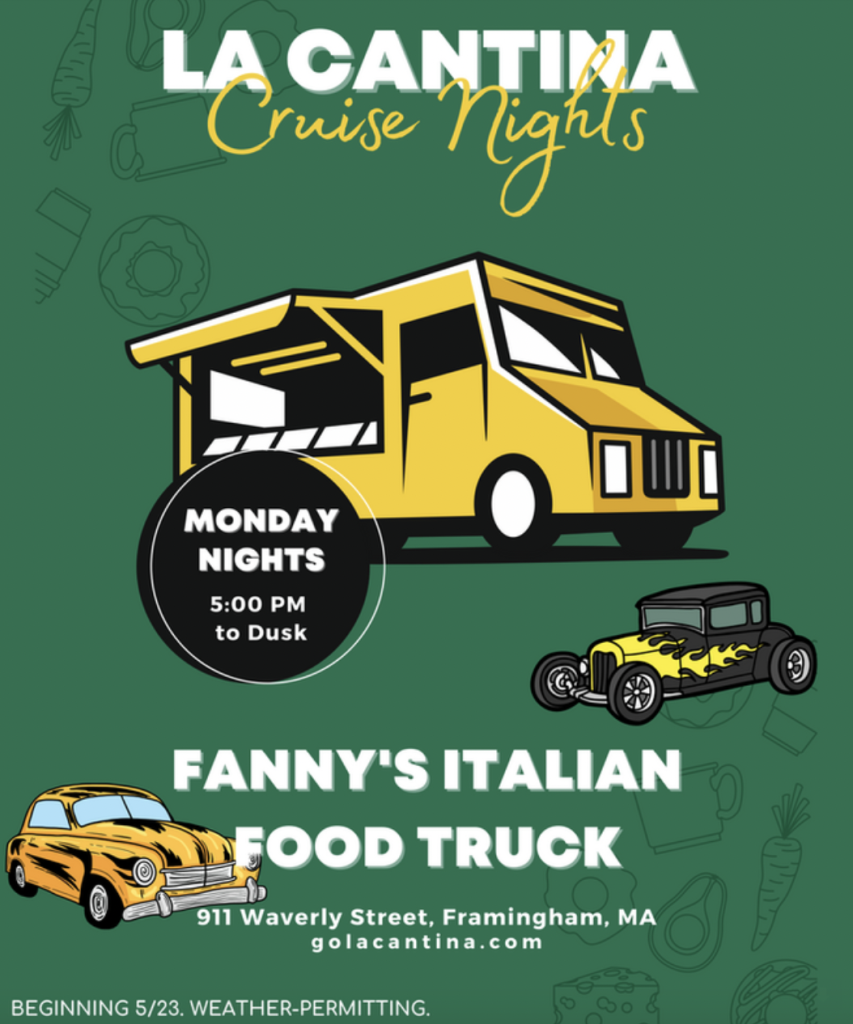 3. The main Framingham Public Library will screen the 1995 movie Sense & Sensibility at 2 p.m.
4. CITY OF FRAMINGHAM meetings (all remote unless noted):
Framingham School Committee: Teaching and Learning Subcommittee at 5 p.m.
Framingham City Council: Public Health, Safety & Transportation at 6 p.m.
Framingham City Council: Finance Subcommittee  at 7 p.m. in the Blumer Room in the Memorial Building and on Zoom. Budget discussion continues tonight.
Framingham Community Preservation Committee at 7 p.m.
Framingham License Commission at 7 p.m.
5. FLYERS IN ACTION:
Framingham Softball at 3:45 p.m. against the Rockets of Needham High
Boys tennis vs Needham at 3:45 p.m. at the Bowditch Courts
Flyers girls tennis at Needham for a match against the Rockets at 3:45 p.m.
Boys varsity volleyball has an away match at 4 p.m. in Needham against the Rockets
Baseball against the Rockets at 6:30 p.m. at Needham High.