[broadstreet zone="53130″]
FRAMINGHAM – Framingham Mayor Charlie Sisitsky told the City Council tonight when he submits his capital budget for Fiscal Year 2024, it will include more than one splash pad to be constructed.
Framingham families have been advocating for splash pads since Framingham became a City in 2018.
The first mayoral administration never put forth a proposal to construct one in the City.
In June of this year, District 9 resident and mom Ashley Daniels Ramos started a facebook group advocating for splash pads in the City of more than 70,000 called FRAMH2O.
"I had a meeting with Ashley Ramos, who is spearheading a group" to bring splash pads to families, said the mayor tonight, October 25.
The Mayor said he met this afternoon with his financial staff and that next year's capital budget (which starts July 1, 2023, if approved) will include "splash pads" in that plan.
[broadstreet zone="61075″]
Mayor Sisitsky said his administration will submit the capital plan on November 1, and the City Council will have a chance to discuss the mayor's capital priorities at a meeting on November 29.
The Mayor said the recommendation would be for a "series of splash pads" throughout the city.
"FRAMH2O has been getting a lot of momentum. There are about 524 members in FRAMH2O group on Facebook. Where most residents would like to see a splash pad is at Cushing Park, Butterworth Park, Waushakum beach, Roosevelt Park, Gleason Park, Winch Park and lastly Apple Street playground," said Ramos tonight to SOURCE.
"There are parks with playground available to children but there isn't something for children to cool down when there's a heat wave," said Ramos, a mother to two children under age 5.
"Having a splash pad is beneficial in every aspects and would be a great addition to include for the summertime," said Ramos. "FRAMH2O would be glad to provide any additional support the City or Mayor may need to make this happen."
[broadstreet zone="58610″]
Ramos said she would "like to emphasize the level of gratitude I have for the folks who express interest in advocating for getting the ball rolling on bringing splash pads to Framingham."
Ramos lives on Beaver Park Road, within walking distance to Mary Dennison Park, which is scheduled for a redesign, which includes a splash pad. But the contaminated Park & Playground project has stalled at the state level, due to financing needed to decontaminate the site first.
Mayor Sisitsky spent some time this summer at the Framingham Housing Authority splash pad at The Musterfields. The Mayor told SOURCE he planned to work with the Framingham Housing Authority on best use practices to use in the City. One of those ideas is a splash pad that conserves water.
The water in some splash pads passes only once through the splash pad's pipes and then drains out (typically into a sewer system). 
In other splash pads, the water is recirculated, meaning the pipes drain sprayed water into a tank that is typically underground.
[broadstreet zone="70107″]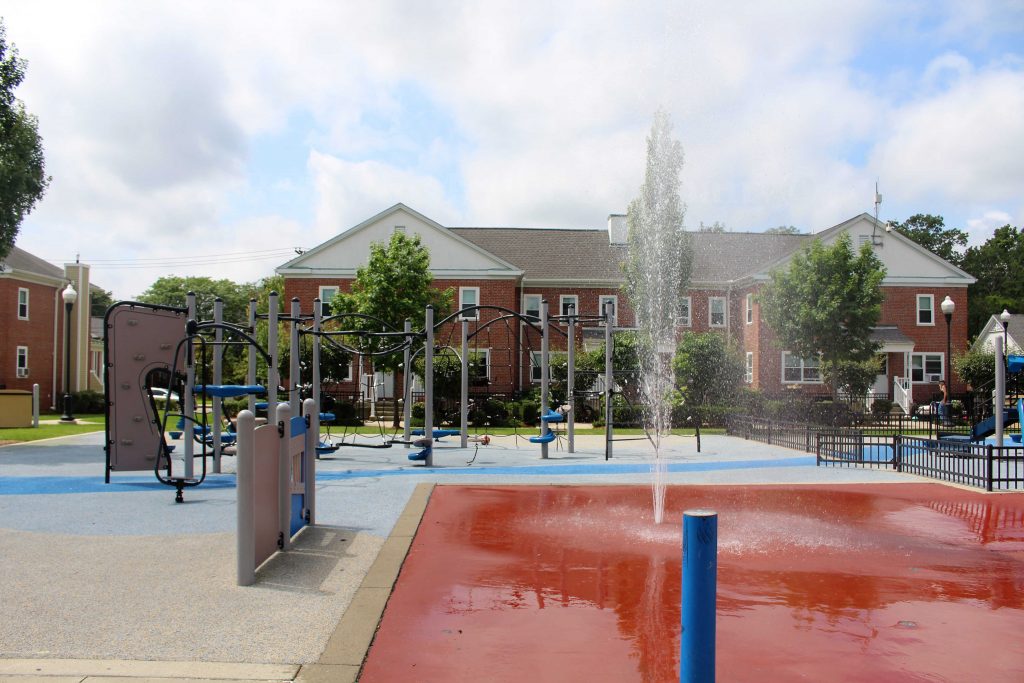 Photo of the housing authority splash pad
[broadstreet zone="59946″]