[broadstreet zone="59948″]
FRAMINGHAM – In February of 2019, the Framingham City Council, on the recommendation of then District 7 City Councilor Margareth Shepard, voted to create a new Task Force that would interact and support the City's large immigrant population.
The Framingham Welcome Task Force held its first meeting in July 2019.
However, that Task Force met just five times in 2019, and filed only three sets of minutes for 2019.
Two sets of minutes are still missing, today, May 10, 2022, for 2019.
And that Task Force, chair by former Mayor Yvonne Spicer, never met in 2020, and met just once in 2021 in March.
During its first three years, the Welcoming Task Force discussed goals, drafts, and surveys, but no action items or changes ever came out of the Task Force.
Today, May 10, Framingham Mayor Charlie Sisitsky is re-convening the Task Force. There is a meeting at 6 p.m.
Background of the Task Force
In February 2019, the City Council voted 9-0 to create the Task Force ordinance to be chaired by Framingham Mayor Yvonne Spicer
The rest of the Task Force, under the ordinance, would be comprised of 3 City Councilors, a member of the School Committee, a member of the Framingham Police, two residents appointed by the Mayor, and a member of the MetroWest League of Services.
Former Mayor Spicer, former senior advisor to the Mayor Jacquetta Van Zandt, then District 9 School Committee member Tracey Bryant, Councilor Shepard, District 3 City Councilor Adam Steiner, and former City Council Mike Rossi served on the Task Force along with a couple of others in 2019.
Van Zandt left the Spicer administration in November 2019 to be a part of the Kennedy for U.S. Senate campaign.
Rossi left the Council in 2019, choosing not to run for re-election.
No one from the Police Department ever attended a meeting in 2019, 2020, or 2021, despite the ordinance requiring a member of the Framingham Police.
In early 2020, then, newly-named City Council Chair George P. King Jr. named Shepard, District 9 City Council Bryant, and District 2 City Councilor Cesar Stewart Morales to the Task Force.
District 9 School Committee member William LaBarge was named as the School Committee appointee in 2020.
In December of 2020, SOURCE wrote a news article that reported the Task Force had not met in a year, and never in calendar 2020.
[broadstreet zone="59983″]
In 2019, the Task Force was working on a a mission statement. The Task Force had identified pillars including public safety, economic opportunities, city services, education, and public engagement.
In March of 2021, Mayor Spicer called her final Welcoming Task Force meeting.
The meeting ended with a slide for future meetings, next steps, and how to complete the ordinance.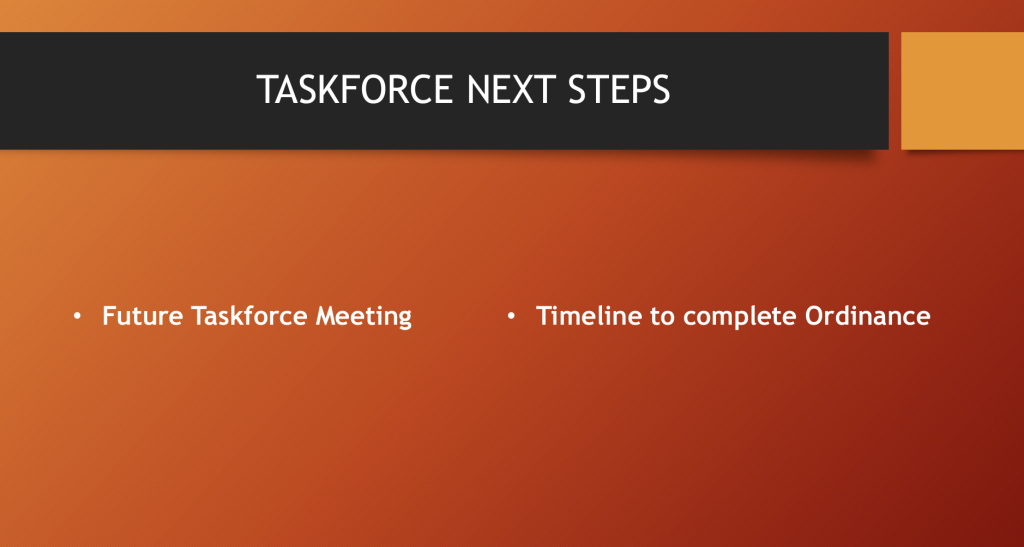 But a meeting was never called again in 2021.
The minutes from that March 2021 meeting state "Spicer Re-caps meeting Morales, Byerly and Barros will look at work done in other communities; sub-groups on-hold for now: Civic Participation; Economic development and recovery for minority-owned business that struggled with COVID-19; Spicer and Shepard will look at refining the City Services pillar."
At that March 2021, meeting "Shepard re-affirms that the purpose is to write the legislation, and make recommendations about how the issues need to be worked," according to the City's minutes.
But the Task Force had stalled yet again and nothing happened.
[broadstreet zone="59982″]
Spicer lost her bid for re-election in November 2021 to now Mayor Sisitsky, who is trying to get done what Spicer could not, complete the ordinance.
In 2021, Shepard decided she did not want to be the District 7 City Councilor anymore and did not seek re-election. So she is no longer a member of the Task Force she advocated for in 2019.
In early 2022, District 3 City Councilor Steiner, one of the last original members from when the Task Force was formed in 2019, asked now City Council Chair Phil Ottaviani Jr. to appoint Council members to the Task Force, so it could continue its mission.
The Ordinance that created the Task Force called for the Mayor to be chair of the Task Force, for 3 City Councilors, for one School Committee member, for one member of the Police Department, for one member of MetroWest Legal Services, and for two community members appointed by the Mayor.
Today, the 9-member Task Force is comprised of 10 members, with two members of MetroWest Legal Services. Those members are:
[broadstreet zone="61073″]