Framingham Mayor Speaking at Coburnville-Tripoli Neighborhood Association Monday
FRAMINGHAM – City of Framingham Mayor Charlie Sisitsky will be the special guest speaker at the Coburnville-Tripoli Neighborhood Association meeting on Monday, February 28.
The meeting will take place in-person at Barbieri Elementary School at 100 Dudley Road at 7 p.m.
Masks are required as the City and the schools still have a mask mandate through March 7.
Doors open at 6:30 p.m.
All in the neighborhood are welcome to attend, even if not members of the Association.
The owner of Fire Dough Kitchen in Sudbury, who is opening a new location in the neighborhood on Route 135 will also be at the meeting to discuss his expansion.
Framingham Police Chief Lester Baker will give an update on crime in the neighborhood as well.
The mission of the Association is to "strengthen the relationship amongst and between its residents and businesses, actively encourage and facilitate engagement to share and promote our diverse culture, become a central resource of community information, promote commerce and community activities, increase civic participation and facilitate positive dialogue and advocate on behalf of its residents and
businesses with our municipal leaders and officials."
The Association's kick-off event was a block party at Roosevelt Park in spring 2019, which was attended by more than 400 people.
Another block party is scheduled for June 25, 2022.
Andrea Adrian is the current president of the Association.
The two neighborhoods represent the former Roosevelt & Memorial school neighborhoods. These two West Framingham neighborhoods have traditionally been geographically defined as the area in Framingham from the Ashland border at the Boston and Albany Railroad line along the tracks behind Waverly Street to the rail spur at Cedar Street onto Claflin Street and turning south onto Hollis Street continuing along its right side to Waushakum Lake behind Nipmuc Road across the Lake to the Ashland border near Daisley Place following it across back to the starting point.
Membership in the Association, which was created in 2019, is $5 per person annually. The Association waived dues in 2020 and 2021 due to the pandemic.
Membership in the Association shall be open to any individual, family, business or organization, that (a) subscribes to the purposes of the Association and (b) owns or leases property, or operates a business or organization in Framingham within a quarter of a mile of the neighborhoods for which the Association was incorporated.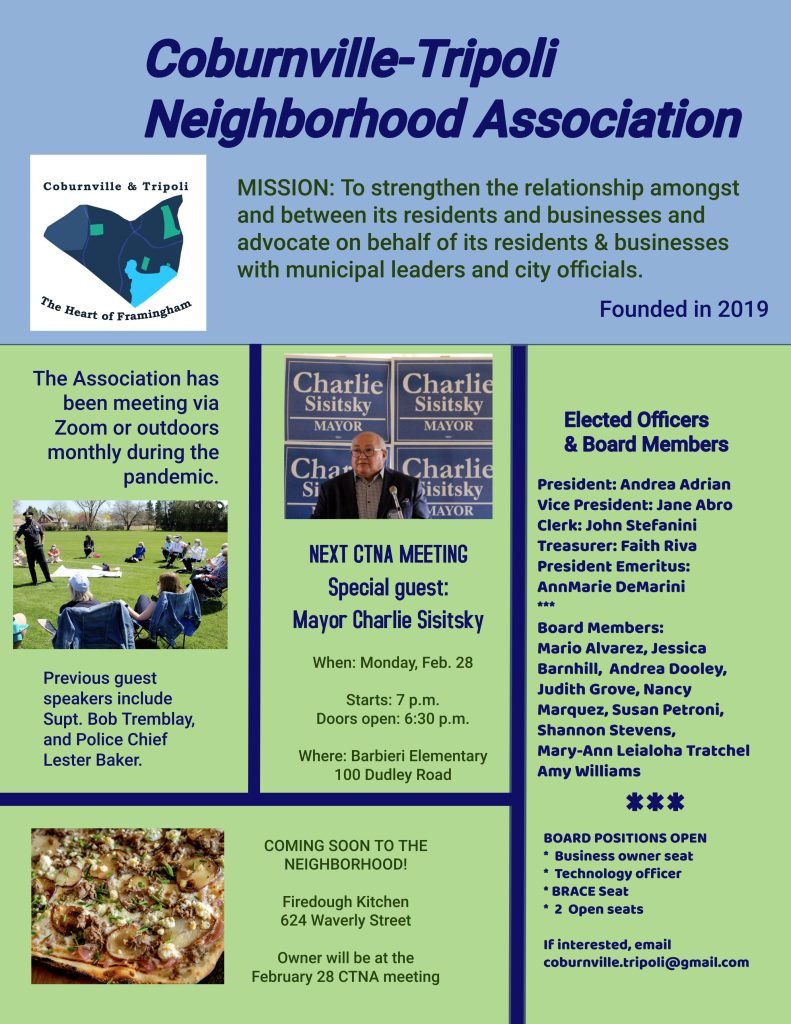 Editor's Note: In full transparency the SOURCE editor/publisher is one of the founder's of the organizations and on the CTNA Board.