Framingham Police: Man Broke Into Vehicle, Stole Credit Card, & Used Card Downtown
FRAMINGHAM – Police arrested & charged a man after he broke into a vehicle, stole a credit card, and used it in a store in downtown Framingham.
At 9:55 a.m. yesterday, July 29, police arrested David T. Bradford, with no know address at 46 Hollis Street.
"An individual reported their car broken into and their credit card stolen," said Framingham Police spokesperson Lt. Rachel Mickens. "Police investigated and found Bradford had used it to make purchases at the Food Mart."
Police located Bradford at the Food Mart, 46 Hollis Street in downtown Framingham and arrested him.
Bradford also had two warrants out Framingham (both for breaking and entering) and a warrant out of Natick.
***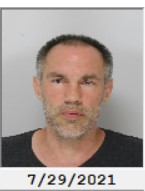 Framingham Police booking photo
—