UPDATED: Framingham Police Receives $10,000+ Grant To Purchase & Update Water Safety Equipment
FRAMINGHAM – Mark R. Haranas, president and CEO of MutualOne Bank and chairman of the MutualOne Charitable Foundation, announced a $10,792.78 grant to the Framingham Police Department to fund the purchase of additional water rescue equipment for the department.
According to Framingham Police Chief Lester Baker, water emergencies have climbed sharply across the state this year and it has become apparent that appropriate water rescue equipment is essential to preserve lives.
"Police department personnel are usually the first on scene in an emergency. The desire and duty to assist someone in danger is strong in each of our officers. However, as we have seen recently, sometimes the outcomes in waterborne emergencies is tragic," said Baker. "Our officers need to be prepared for the worst, so the outcome can be the best. Our intention is to have every cruiser and unmarked police vehicle equipped with appropriate water rescue equipment."
"We want to ensure that our police personnel have the equipment they need to perform at their best, without putting themselves at unnecessary risk," said Haranas.
"Our hope is to to never have to use these items, but they will be at the ready for Officers to conduct a water rescue if needed," said Police on social media.
Established in 1998 as the philanthropic arm of MutualOne Bank, the MutualOne Charitable Foundation has since donated over $5.1 million to charitable, educational, and civic initiatives that improve and enrich the quality of life in Framingham, Natick, and surrounding communities.
***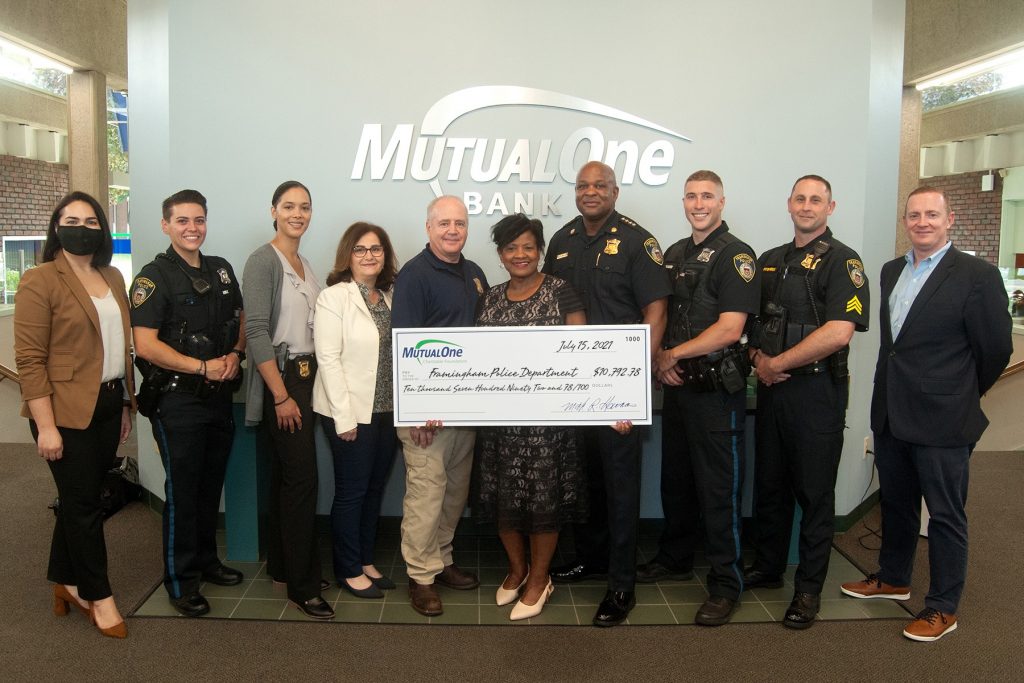 PHOTO: (from left) Clarice Francis MutualOne Bank vice president – client services and electronic banking officer; Officer Julie Volk, Framingham PD; Lieutenant Rachel Mickens, Framingham PD; Yasmine Ouweijan, MutualOne Bank vice president and Concord Street, Framingham branch manager; Officer Mitch Guarino, Framingham PD; Jean Hoskins, MutualOne Bank Lincoln Street, Framingham branch manager; Chief Lester Baker, Framingham PD; Sergeant Chris Montuori, Framingham PD; Sergeant Paul Patriarca, Framingham PD; and Colm Hamill, MutualOne Bank Main Street, Natick branch manager.