Finlay Sworn In As District 2 School Committee Member
FRAMINGHAM – Richard Finlay was sworn in as the new District 2 School Committee member this morning, March 3, by City Clerk Lisa Ferguson.
Finlay was voted to replace the late Karen Foran Dempsey, who died in Decemeber 2020, on the Framingham School Committee last night in a joint meeting between the 11-member City Council and the School Committee.
Finlay received the most votes of the four candidates and the needed 10 vote majority.
Finlay received 11 votes, with candidate David Gordon receiving seven votes, and Kelly Garofalo received one vote.
Finlay, who serves as an at-large School Committee member when Framingham was a Town, was the first District 2 School Committee member elected when Framingham became a city. He chose not to seek re-election to the School Committee and ran for District 2 City Council and lost that race in 2019.
Dempsey's husband Mark, and her sister at-large Councilor Janet Leombruno, a life-long District 2 resident, attended the swearing in ceremony today. Both spoke in favor of Finlay replacing Karen in the D2 School Committee seat last night.
Finlay is expected to attend his first meeting Wednesday night. His term ends on Dec 31, 2021.
The District 2 seat, along with the 8 other School Committee seats will all be on the November ballot in 2021. The entire School Committee is elected by district every two years.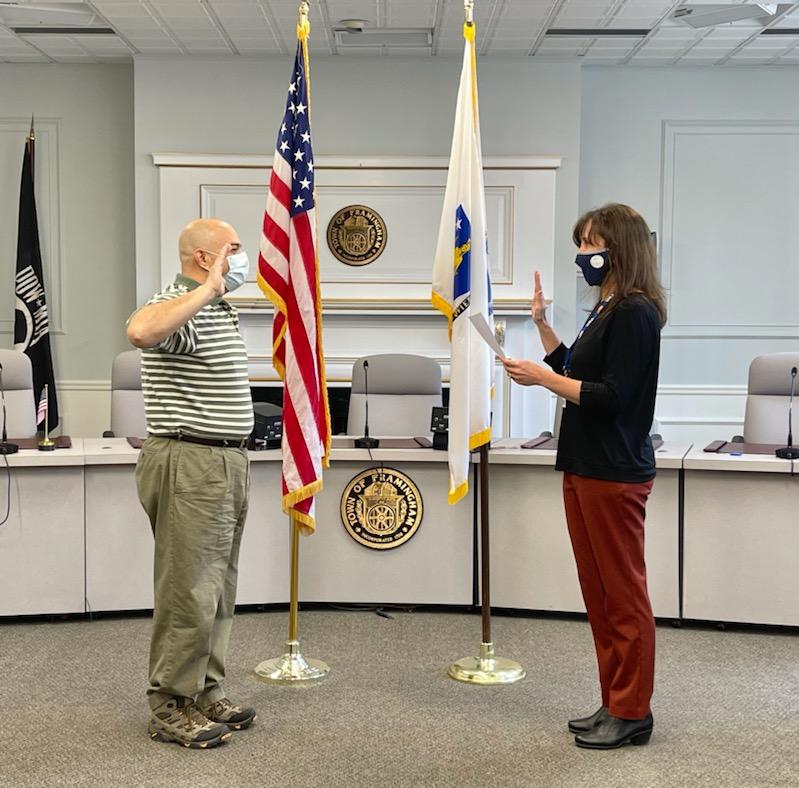 Photo submitted to SOURCE by Finlay