Framingham Stands United Against Hate Launches
FRAMINGHAM – Hate is tearing apart our community of Framingham, along racial, ethnic, gender, and religious lines.
Hate is NOT welcome in our City of Framingham.
Framingham will not tolerate xenophobic, racist, homophobic, sexist, anti-semitic, behavior or statements.
Framingham is a diverse community that embraces acceptance and tolerance.
Apathy by some after these hate incidents is troubling.
Outrage by others on social media is not enough to combat this hate in our community.
Left unchallenged, hate permeates into the fiber of this community. Action is needed.
Enough is enough. We can not wait another day to take action against hate in Framingham.
Today, November 12, Framingham Stands United Against Hate launches.
The new coalition will kickoff participating in the national United Against Hate Week November 17-23, along with cities like San Francisco and Berkeley in California.
.
The goals of Framingham Stands United Against Hate are two-fold.
First to educate residents about hate and bias. Education helps to build a safer, inclusive Framingham that supports diversity and tolerance.
The second is to build a sense of community. The more we know and understand our neighbors, the more we will not accept bias or hate in our city. A model of inclusion for all is needed to strike out hate in Framingham.

"There have been way too many teachable moments for us not to be learning anything. At this point, we need to come together and teach, so the next generation is not impaired by the problems we haven't fix today," said Brandale Randolph, one of the founders of Framingham Stands United Against Hate. "We, as a community, have things to teach as a coalition. Individually, the lessons are not being learned. As a coalition, our group lessons will be more powerful."
"It seems that with every instance of hate that shakes our community we denounce the actions, but we need to do more," said Framingham Superintendent of Schools Bob Tremblay "As educators, we seize those 'teachable moments' as they arise during the school day, but there is more that we must do to raise awareness within our greater community and to call out the actions and identify, specifically, how we can and will make Framingham the safe community that we all want for our children and families. This event is one step that we can take, together, to do more than simply denounce the actions of others. Let's take action, together!"
A Facebook page has been created for Framingham Stands United Against Hate. Please like and share the page.
A poster has also been created, that looks exactly like the other communities participating in Stand United Against Hate Week.
What can you do now?
Download the poster. Take a photo of you or your family with the photo and upload it to the Framingham Stands United Against Hate Facebook page.
During the week of Nov 17-23, make that photo your profile photo or make the poster "Framingham Stands United Against Hate" your profile photo.
We are also inviting artists of all ages to create art that denounces hate, and celebrates inclusion, tolerance, and diversity in Framingham. An art show is in the works and details on how to submit will be forthcoming.
More activities are being planned for the week of Nov. 17-23 and will be announced shortly.
"The launch of this coalition comes from a desire to make Framingham a better community. I was tired of writing about hate incident after hate incident. The reports just keep coming," said Susan Petroni, publisher & editor of Framingham Source.
"Brandale and I share a common belief. The only way to combat hate is to educate and bring everyone together. Inclusion is key. Everyone needs to work together. We need to include all in this discussion and this movement. Including only voices we agree with, is not a way to stand united against hate. All voices need to be heard. I hope you will join us and stand united against hate in our community," said Petroni, one of the founders of Framingham Stands United Against Hate.
Framingham celebrates the diversity of age, ethnicity, sexual orientation, gender identity, race, religion, culture, socio-economic status, and even zip code.
Everyone is encouraged to be a part of this coalition and movement.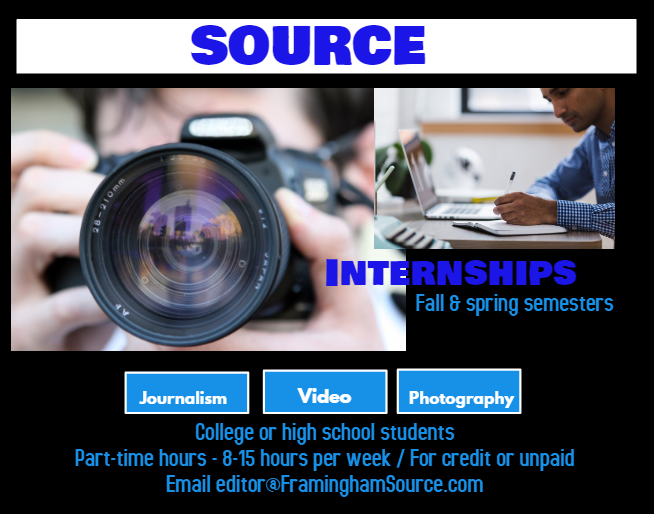 Framingham Stands United Against Hate is looking for volunteers to join the movement. Message the Facebook page if you want to volunteer.
The goal is to have a minimum of one event monthly in 2020 with several events for the national United Against Hate Week in November 2020.
Education, building a sense of community, and taking a stand against hate is the recipe we need for the City of Framingham. Please join us!