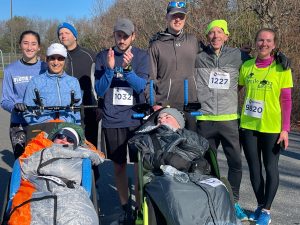 SMILE Mass will be holding their 10th Annual Gobble Wobble Walk, Run, Push event on Saturday, November 18th at the Curtis Middle School in Sudbury beginning at 10:00 AM.
The well-attended annual race encourages inclusion and welcomes all regardless of age or ability level.  The Gobble Wobble event has something for everyone including a Kid's fun run, a 1.4-mile walk, a 5K run, and a 10K run.  Advance registration is open through Wednesday, November 15th at 11:59 PM at this link. Day of race registration will be available beginning at 8 AM on Saturday at the Curtis Middle School. Bib pick up and registration will take place on Friday November 17th from 1-6 PM at Bearly Read Books, 320 Sudbury Rd, Sudbury, MA.
Race Details:
Where: Curtis Middle School, 22 Pratts Mill Rd, Sudbury, MA
When: November 18, 2023, 10 A.M.  Same-day registration/bib pick-up begins  at 8:00 A.M.  Pre-race bib pickup will be available – date/location TBD.
What: Kid's fun run, a 1.4-mile walk, a 5K run, and a 10K
Who: 
Walkers and runners of all ages and ability levels;   Strollers are welcome
Athletes with Special needs to participate on their own or as part of a Duo Team
Runners interested in being teamed up with special needs athletes to push or encourage their special needs teammate to the finish line.
Sponsors, donors, and volunteers
Teams, businesses, or Non-profit organizations looking to raise funds
Calling on all Special Athletes and Those Who Would Like to Assist Special Athletes. 
At SMILE Mass, we love what our special athletes are capable of and invite you to show your abilities off to the world.  We can team you up with a runner/walker who can help you reach the finish line. Special athletes will also receive a Gobble Wobble 2023 medal for participating.  Register by Wednesday, November 15th at this link, so that we have time to match you up with a guide prior to race day.
Behind Every Successful Event, There's a Great Group of Volunteers
Like any event, we are dependent on and grateful for our volunteers' hard work to ensure success. We anticipate this being our largest rate to date and are calling all volunteers to help us with the logistics of the event. We are counting on you!  
To volunteer, please click here to register. Please share with friends, neighbors, and family who want to volunteer with you. It takes a village. 
Give Back to the Community by Becoming a Sponsor of the Gobble Wobble
There is no better way for your business or corporation to make a positive impression than by supporting your community. The 10th Annual  SMILE Mass Gobble Wobble Race provides you with the perfect platform to give back.  We are grateful for donations from our local businesses to offset the event's costs and help make the event a success.
To donate to the Gobble Wobble or to sponsor one of our athletes with Special Needs, please visit this link
About SMILE Mass-SMILE Mass is a 501c3 dedicated to helping families raising children and adults with disabilities to enjoy a happy and healthy life through education, recreation and vacation experiences. For more details and to learn how to become involved, visit our website.