Local Non-profit to Pick Up Where Pandemic Left Off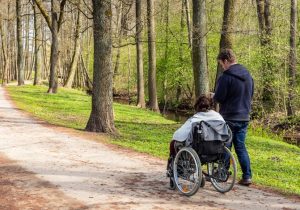 August 7, 2023 (SUDBURY, Massachusetts) – SMILE Mass has launched a fundraising campaign to build a "Community within a Community" to help bring a sense of equity and inclusion to the severely disabled population.
"For the average person, Covid is behind us, but for most people with disabilities it is still very real," explained SMILE Mass Founder and president Lotte Diomede.   "This has continued to put a tremendous amount of stress and financial burden on so many families due to the workforce shortage and lack of programs that existed prior to the pandemic. It is a national crisis."
Both founders of SMILE Mass, Lotte Diomede, and Susan Brown,  are raising kids with severe disabilities and know first-hand the importance of a consistent schedule and programs for kids and adults with disabilities. With that, Club SMILE Mass was born during the first several weeks of the Covid outbreak. Club Smile Mass was one of the first organizations to offer meaningful adaptive classes remotely via Zoom.
The Growth of Club SMILE Mass
Today, Club SMILE Mass is one of SMILE Mass' fastest-growing programs and continues to offer hybrid classes to stimulate clients mentally and physically. Classes include access to one-on-one training and small group classes, swimming classes at LA Fitness in Natick, MA, and seven-day-per-week access to any LA Fitness in Massachusetts. The program also includes music classes, storytime, Bingo games, small group workout classes via Zoom, and bike evaluations performed by a Physical Therapist. All trainers of Club SMILE Mass are fully trained and certified.
"Through Club SMILE Mass, we are providing much-needed daily activities with a focus on movement. There are no existing clubs for someone with disabilities, which is a huge problem, and this is where Club SMILE Mass comes in.  When we launched the program in 2021, we organized a group of experienced caregivers and trainers to create a consistent weekly schedule of physical and educational activities designed for the severely disabled," explained Lotte. We approached a national health club and secured the space to execute these activities. In the first month, we serviced seven clients in person, grew to 21 in the second month, and the rest is history. Today we service over 60 members with a waitlist."
"We always knew there was a need for these types of services but yet again we are at a crossroads and growing fast. This has now put us in a place where using outside space has become cumbersome. Our clients deserve a well-rounded program with the right amenities. Working in a leased space comes with obstacles as we have to fit our programs in with a facility's already existing schedule and programs".
Although we are grateful to have launched Club SMILE Mass at LA Fitness, we are already outgrowing that space and therefore eager to create our own space.  We are currently exploring a piece of land in the MetroWest area that we would love to call "A Community within a Community – Club Smile Mass."
Lotte continued, "We envision this space to become fully accessible with a universal design concept allowing anyone with or without a disability to travel with ease throughout the community.  The plan is to hold all of our programs in one place to optimize the utilization of adaptive equipment, space, and staffing and ultimately provide a more consistent program that is both efficient and financially responsible while allowing our clients to maximize all of our programs throughout."
The Community within a Community Will Provide Many Advantages
"The Community Within a Community will provide much-needed sustainability, control of our schedule, and
financial growth for SMILE Mass. We believe by owning our own space we can grow in a healthy, steady manner reaching a larger population throughout Massachusetts, which has always been our ultimate goal. We don't believe that anyone should be without services just because they have a disability."
As a mother of a child with a severe disability, Lotte stays up at night worrying about who is going to take care of her son Nicholas when she no longer can. This is where the "Community Within a Community" comes in. She envisions this program to be the future of how programs will be presented and offered to families throughout the Commonwealth who are raising kids and adults with disabilities.
The Community Within a Community is often referred to as "A Place Like No Other." The proposed facility will be on 30+ wooded acres on the Framingham/Sudbury line. It will include individual classrooms for one-on-one learning and activities with spaces that limit external and overwhelming stimuli.
The Birth of SMILE Mass
In 2009, Lotte and SMILE Mass co-founder Susan Brown, set out to build an adapted playground in Sudbury after Lotte found that Nicholas could not enter, let alone play on the existing community playground. With the help and support of the townspeople and its businesses, $350,000 was raised to build the first-of-its-kind playground in Sudbury. SMILE Mass was born and since has helped to build seven adapted playgrounds in communities across the state.
And SMILE Mass didn't stop there. The 501c3 non-profit has also donated more than 180 adapted beach chairs at beaches across New England, maintains a free equipment loaner program that includes chairs, bikes, lifts, and ramps, and purchased a fully accessible beach house in Truro, MA which it rents out to people with disabilities and their families on a first come first serve basis throughout the summer months.
"The severely disabled make up 12.2 percent of the disabled population," explains Lotte, whose 22-year-old son Nicholas was born prematurely with a fluid buildup on his brain. The condition is called hydrocephalus. "Nicholas faces numerous obstacles every day of his life, everything from getting out of bed to feeding himself – things an individual with a normal functioning brain can do for themselves multiple times daily. He has been in a wheelchair his entire life and requires constant assistance from family, teachers, and friends. The "Community within a Community" will be a place where Nicholas and others like him can enjoy both education and recreation in an environment they are comfortable in."
The Club Will Operate Like a Golf or Tennis Club
"Our clients will never learn the things that a typical child or young adult will learn, but by educating them using a cross-therapeutic approach, they can learn many valuable tools that will be helpful in their day-to-day life. The world is not built for people with severe disabilities, but everyone deserves a fully and, meaningful life despite one's disabilities."
In addition to the classroom and outdoor learning spaces, the "Community" will contain a fully equipped, gym,  pool, an accessible playground, a river walk, outlining the property for outdoor exploration, and covered pavilions. adapted trails throughout the property and even an adapted treehouse for purposeful fun and play.  The recreation areas, including trails, will all be accessible allowing anyone with a disability to travel independently though out the property, both indoors and outdoors.
"The community will operate like a club just like a golf or tennis club except this club is designed for those with different abilities. We all want to fit in and it doesn't matter if you're disabled or not. We all want to make a friend, feel needed, and feel happy and stimulated and that is exactly what our Community within a Community will provide."
"If you'd like to help us in our biggest undertaking as of yet email us at Smilemass@smilemass.org . You may choose to volunteer, sponsor, provide pro bono work on the facility, and of course donate to the project. It will take a village to complete this initiative and we are appreciative of the tremendous support it will require.
###
About SMILE Mass 
Small Miracles in Life Exist (SMILE Mass) is a 501 C3 non-profit organization dedicated to helping families raising children or adults with disabilities enjoy happy, healthy memories through vacation and recreation experiences. For more information, visit www.smilemass.org
Contact information: 
 Lotte Diomede- President-Founder
617-967-7755
Susan Brown-Vice President- Co-founder
978-460-7410
Todd Civin- Director of Communications
978-502-1453