[broadstreet zone="53803″]
FRAMINGHAM – Framingham Police are investigating a gift card scam this holiday season that cost a resident $1,500.
The theft was report yesterday, December 21, at 4:10 p.m. on East Street in Framingham.
"The individual was asked to get gift cards and email photos of them to the scammer," said Framingham Police spokesperson Lt. Rachel Mickens.
The individual sent the photos of the gift card numbers to the scammer, said Police spokesperson.
The gift card scam was for $1,500, said Lt. Mickens.
"Gift cards are for gifts, not for payments. As soon as someone tells you to pay them with a gift card, that's a scam. Gift cards are popular with scammers because they're easy for people to find and buy. They also have fewer protections for buyers compared to some other payment options. They're more like cash: once you use a gift card, the money on it is gone. If someone calls and asks that you pay them with gift cards, that's a scammer calling. And once they have the gift card number and the PIN, they have your money," said the Federal Trade Commission's Consumer Advice Department.
[broadstreet zone="52386″]
Scammers may tell you different stories to get you to pay them with gift cards, said the federal agency, but this is what usually happens:
The caller says it's urgent. They say you have to pay right away or something terrible will happen. They want to scare or pressure you into acting quickly, so you don't have time to think or talk to someone you trust. Don't pay. It's a scam.
The caller usually tells you which gift card to buy. They might say to put money on an eBay, Google Play, Target, or iTunes gift card. They might send you to a specific store — often Walmart, Target, CVS, or Walgreens. Sometimes they tell you to buy cards at several stores, so cashiers won't get suspicious. And the caller might stay on the phone with you while you go to the store and load money onto the card. If this happens to you, stop. It's a scam.
The caller asks you for the gift card number and PIN. The card number and PIN on the back of the card let the scammer get the money you loaded onto the card. Don't give them those numbers. It's a scam. You'll lose your money, and you won't be able to get it back.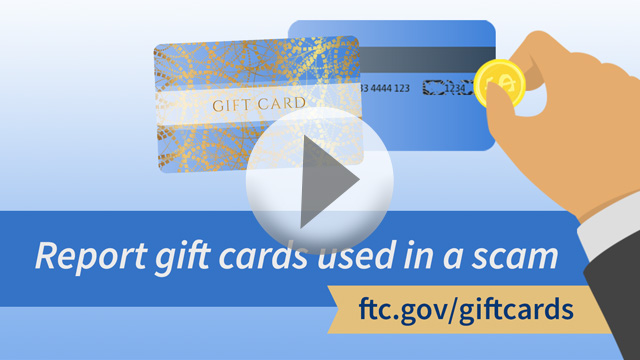 [broadstreet zone="59946″]
Only scammers try to convince you to pay with gift cards, said the federal agency.
If you know how to spot their tactics, you'll be able to avoid the scam, and help others spot and avoid it, said the Federal Trade Commission.
Here's a list of common gift card scams and schemes:
[broadstreet zone="59947″]