[broadstreet zone="59982″]
Starting Monday, January 2, 2023, passengers at the Natick Center MBTA station will use temporary platforms at the east end of the station accessible from Washington Street.
This change will be in effect through 2023.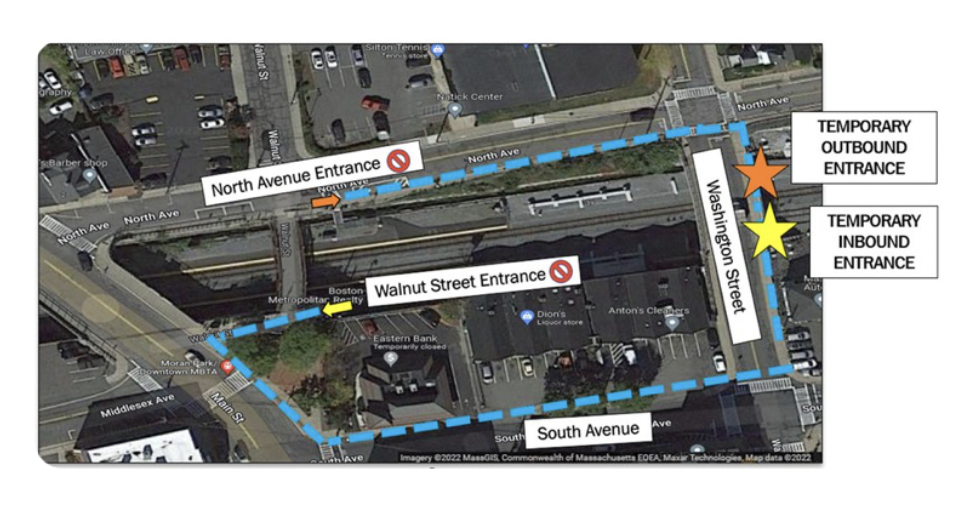 The $36.2 million project is expected to be completed in 2024.
The Commuter Rail station will be rebuilt for better accessibility with two new elevators, two accessible ramps, and six stairways.
[broadstreet zone="59983″]
Upgrades will also include:
Full-length, high-level platforms for easier boarding
Replacement of the existing pedestrian bridge
Updated amenities including new canopies, bicycle parking, and better signage, wayfinding, and emergency lighting
Upgraded drainage infrastructure for better flood prevention
Streetscape improvements and completion of the Natick section of the Cochituate Rail Trail
The station will remain open throughout construction.
Winter 2022 – Spring 2022: Construct East End Platforms
Spring 2022 – Winter 2023: Construct West End Platforms and Elevators
Winter 2023 – Spring 2023: Demolition of Temporary Platforms
Spring 2023 – Winter 2023: Pedestrian Bridge Replacement
Winter 2024: Streetscape work & Cochitutate Rail Trail Connection
Construction primarily takes place on weekdays during daytime hours. Nighttime work will take place as required.
[broadstreet zone="59984″]