Ashland Athletic Director Announces New Girls Soccer Coach
ASHLAND – Ashland Athletic Department announced the hiring of a new girls varsity soccer coach today, July 6.
Mike Schena has an extensive and successful coaching track record both at the club and high school levels. Most recently, Coach Schena was the head girls varsity soccer coach at Lynn Classical High School where he guided them to their first two Greater Boston League championships and named Coach of the Year back to back years.  His tenure at Lynn Classical was highlighted by a 2021 season in which they were an unprecedented 15-0-3, and ranked #20 by the Boston Globe; a first in the school's history, said the announcement.
Coach Schena has amassed over 100 wins on the club circuit coaching for Padova/Aztecs and is currently coaching the Massachusetts All-Stars in the Agganis Games as well as for NEFC. 
He is looking forward to bringing his passion, knowledge, and enthusiasm to the Clocker sidelines, said Athketic Director Stephen Marks.
Coach Schena takes over for Coach Dan Keller, who stepped down at the end of the school year, said the athletic director.
"We cannot thank Coach Keller enough for everything he did for the Ashland Girls Soccer program and community over the last three years. We wish him the best of luck in his future endeavors," said Marks.
***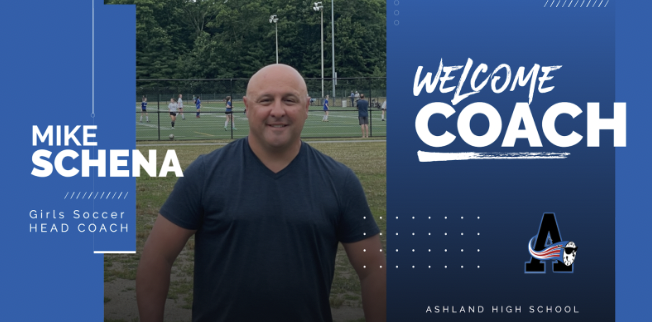 Photo courtesy