Senate President & Framingham Mayor 'Disappointed' in MetroWest Medical's Decision To Close Oncology & Radiation Oncology Departments
Editor's Note: Updated at 4:34 p.m.
FRAMINGHAM – MetroWest Medical Center in Framingham plans to close its oncology and radiation oncology departments. And that closure could come in as early as 90 days, according to a memo by the Center's CEO Ava Collins. (See memo below)
SOURCE first reported the hospital planned to close the department yesterday morning, after hearing from medical staff on Tuesday night, April 12.
Collins notified her Board on Wednesday morning, April 13, around 8:45 a.m.
"As we enhance our focus on behavioral health, cardiovascular services, surgical services, emergency services and women's health, we have made the decision to close outpatient medical oncology and radiation oncology, as well as sleep medicine services at MetroWest Medical Center. We will continue to provide cancer screening, all imaging services and cancer-related surgical procedures at MetroWest as we consolidate," wrote Collins to the Board this morning, April 13.
After careful consideration and thoughtful analysis, we believe this is the best way to meet the needs of all the people we serve across our region. All current patients of these programs will have the opportunity to continue their care at our sister hospital, Saint Vincent Hospital, where they will have access to a broader range of specialized services,' wrote Collins on April 13.
"I am extremely disappointed to hear of Tenet's plan to close the MetroWest Medical Center cancer center in Framingham, which serves medically fragile and underserved residents in my district who may not have the means or opportunity to travel for care," said Senate President Karen E. Spilka to SOURCE.
"I was very disappointed to learn that MetroWest Medical Center announced that they were closing their oncology and radiation oncology departments and telling patients to transfer to their other hospital in Worcester," said Framingham Mayor Charlie Sisitsky to SOURCE.
"Many people from Framingham snd surrounding communities have depended on the MetroWest Cancer Center for years," said Mayor Sisitsky. "I think it is unconscionable to now tell these patients that they have to get their cancer care in Worcester."
"This announcement follows an upsetting trend of a distant corporate headquarters making decisions that adversely affect our local community. Whether disrupting life-saving care for elderly or immigrant residents, or eliminating local jobs, this decision will have a profound impact on Framingham and MetroWest," said Senate President Spilka.
The Tenet Healthcare-owned medical center located in Framingham was expected to file paperwork with with the Commonwealth of Massachusetts yesterday on the decision to close "essential services."
Dallas-based Tenet Healthcare announced $97 million profit in the first quarter of this year.Tenet Healthcare ended 2021 with a net income from continuing operations of $915 million.
"This is truly devastating for Framingham. It is going to leave a negative and long-lasting impact on thsi community," said Framingham at-large City Councilor Janet Leombruno.
"Sadly, Tenet has chosen profits over people, and it's the people with the greatest need that will be the hardest hit," said Councilor Leombruno.
SOURCE reached out to City Council Chair Phil Ottaviani Jr. and at-large City Councilor George P. King Jr for a statement, but none was received by the time this report posted.
"I will do whatever I can to advocate for cancer patients in our community that need oncology services at a local facility," said Mayor Sisitsky.
"In the meantime, I hope that Tenet will reconsider its shortsighted decision to close these departments," said Mayor Sisitsky to SOURCE. "My thoughts and concerns at this time are with all the patients and families that will be impacted by this unfortunate decision."
"Tenet's announcement proposes a devastating loss for cancer patients and their families in Framingham and throughout MetroWest. It is troubling that the hospital's local Board of Governors was not informed of this corporate decision until shortly before the announcement. I am hopeful that state leadership is actively exploring all avenues to preserve this critical care for Framingham families at MetroWest Medical Center," said Framingham District 4 City Councilor Michael Cannon, who chairs the Council's Economic Development subcommittee.
"I am disappointed to hear of Tenet's plan to close their cancer outpatient treatment facility at MetroWest Medical Center.  This decision, which may ultimately provide the ability to keep the remainder of hospital services open at that location, will have a negative impact on area residents going through something that most of us cannot even begin to imagine," said State Rep. Danielle Gregoire, who will represent a portion of Framingham under redistricting.
 "I have contacted the Department of Public Health to inquire as to whether an appeal from the staff, patients or community is feasible but have been told that is not the case.  I am proud of efforts taken in November by the MA House of Representatives in passing legislation to ensure that privately owned hospitals are subject to vastly increased oversight so that closures like this will not happen in the future," said Rep. Gregoire, who represents the 4th Middlesex District.
 
"It is my sincere hope that Tenet Healthcare will work with the patients at this facility to provide as smooth a transition as possible so that they can continue to receive vital services at as convenient a location as possible to them and under the care of their current physician.  Additionally, I urge the CEO and Board to keep their promise to the employees and the community that this closure will not result in job loss," said Rep. Gregoire.
SOURCE reached out to State Representative Jack Patrick Lewis and Maria Robinson yesterday morning, but neither responded with a statement.
With the closure of the serviced in Framingham, Tenet-owned MetroWest Medical is recommending its patients go to Tenet-owned St. Vincent Hospital in Worcester.
But there are other option in the area including UMass Memorial Cancer Center at Marlborough Hospital and the Dana-Farber/Brigham and Women's Cancer Center at Milford Regional Medical Center, and the Newton-Wellesley's Cancer Center.
But there are some in Framingham with out transportation, who may not be able to travel for treatments and radiation.
MetroWest Medical Center's Cancer Care Center says on its website it offers "compassionate cancer care close to home."
The cancer center treats patients battling breast, blood, head, gynecological, lung, and prostate cancers.
In 2016, MetroWest Medical Center treated 603 cancer patients.
Numbers at the MetroWest Cancer Center have been declining, but it is unclear why.
The last cancer report the digital news outlet could find filed by the MetroWest Cancer Center was in 2018.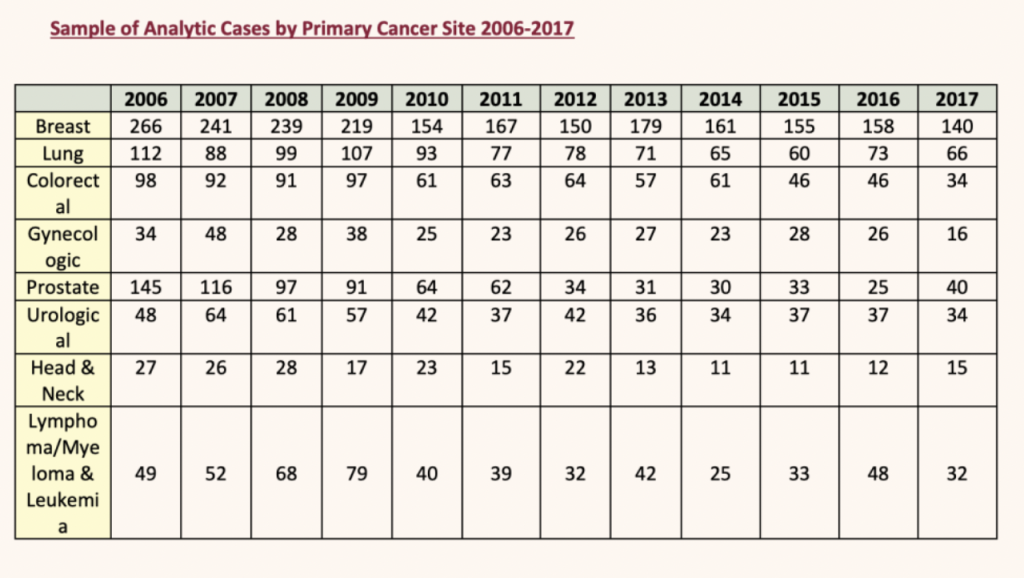 So what is the process for closure of an essential service at a hospital?
When a hospital decides to discontinue services within their facility or satellite campuses, there are several requirements that it must fulfill with the Commonwealth of Massachusetts, specifically with the Massachusetts Department of Public Health's "hospital essential service closures."
The essential service closure process provides a mechanism for the Massachusetts Department of Public Health to review a proposed closure or reduction in services and to ensure that measures have been put in place to minimize the impact on the community and address concerns that have been brought to the Commonwealth's attention.
However, and this is important, Massachusetts Department of Public Health cannot legally require a hospital to keep a service open.​
The first thing a hospital must do is within 120 days before the proposed closure date, the hospital must notify Massachusetts Department of Public Health of its intent to submit formal notification about the intended discontinuation of services. 
The hospital must also notify those impacted by the service closure, including the hospital's patient and family council, hospital staff, labor organizations representing the hospital's workforce, and local and state elected officials.
The hospital must then submit a formal 90-day notice of the closure to Massachusetts Department of Public Health, which must be provided at least 90 calendar days before the proposed closure date.
The Commonwealth is required to hold a public hearing on the proposed closure of an essential service at least 60 days prior to the proposed closure date and publish a notice of a public hearing in the legal notice section of local newspaper(s) at least 21 calendar days prior to the date of the hearing.
The public hearing provides interested parties the opportunity to share comments and concerns with DPH about the proposed closure.
Following the hearing, Massachusetts Department of Public Health will provide the hospital with a determination within 15 days as to whether the service provided by the hospital is necessary for preserving access and health status within the hospital's service area.
If the Commonwealth of Massachusetts finds the service to be necessary, the hospital is required to submit a plan for assuring access to DPH within 15 days of the finding.
Massachusetts Department of Public Health will review this plan and if more information is needed, send the hospital written comments within 10 day of receiving the plan. The hospital must then submit a response to any comments by DPH within 10 days.
This is not the first time Tenet-owned MetroWest Medical Center has filed a closure of "essential services" with the Commonwealth of Massachusetts since it re-purchased the hospital.
Tenet Healthcare has owned MetroWest Medical center since 2013, when the Dallas-based company acquired the Nashville-based Vanguard in a $1.8 billion deal.
Tenet had previously owned MetroWest Medical Center and Saint Vincent Hospital in Worcester but sold the facilities to Vanguard Health in 2004 for $126.7 million.
In January 2020, SOURCE was the first news outlet to post that Tenet healthcare would close Leonard Morse Hospital, including its emergency room, and convert the hospital into a behavioral health center.
When that paperwork was filed, the hospital also announced it would close the surgical and ER departments within 120 days. The final day for Leonard Morse ER was October 25, 2020.
In July of 2020, in the middle of the coronavirus pandemic, MetroWest Medical Center filed with the state to eliminate "in-patient pediatrics."
Mayor Unhappy with Leadership at MetroWest Medical
"I am also disappointed in the manner the news of the closing was made public. We all learned about this decision from the media, specifically the SOURCE," said Mayor Sisitsky.
His office was not notified of the closure by MetroWest Medical Center until late Wednesday night. SOURCE broke the news at 9:15 a.m. Wednesday.
"There was no public announcement by the hospital administration now was there any phone calls made to the City administration including the Mayor's office. When I first became mayor, I reached out to Ava Collins, the Hospital CEO, and attempted to develop a close working relationship between the hospital and the City' administration," said Mayor Sisitsky.
In December 2020, Tenet Healthcare named Ava Collins as CEO. She has now held the position the position now for about 16 months. She is responsible for overseeing all strategic, operational and clinical activities at MetroWest Medical Center.
"Since there was no one filling the role of community relations director for the hospital, I thought it would be desirable for the two of us to get to know each other and discuss common issues. I raised some concerns with her and although she promised to get back to me, I never heard back from her. More recently, I was invited to attend a meeting at the hospital with Senate President Spilka, Ava Collins, and a Tenet official from Worcester. However, this meeting was abruptly cancelled shortly before it was to occur and has not been rescheduled."
MetroWest Medical Center has had five CEOs since 2017.