Posted at 1:05 p.m. Updated at 3:15 p.m.
***
[broadstreet zone="59947″]
BOSTON – The first snowstorm of 2022 happened over night into this morning, January 7, 2022.
Schools districts all over MetroWest were closed today.
But there were still a lot of drivers on the road said City of Framingham Mayor Charlie Sisitsky.
"I was surprised to see so many vehicles on Edgell Road," said the Mayor, who drove to the Memorial Building, just after 8 a.m.
Mayor Sisitsky closed municipal buildings, including City Hall, on Friday to the public. Employees were asked to work remotely, but Mayor Sisitsky and Chief Operating Officer Michael Tusino were both at City Hall at 8:30 a.m.
Interim DPW Director Bill Sedewitz said the City of Framingham had more than 75 vehicles out plowing the roads.
The main roads in Framingham and in Natick were fine early this morning, and many secondary arteries were in good shape.
The City of Framingham has an emergency parking ban in effect until 8 p.m. There is no trash collection today, it will be collected curbside, with recyclables, on Saturday, said Sedewitz.
[broadstreet zone="59948″]
The National Weather Service, used Skywarn spotters, media, city officials, etc to measure snowfall totals.
In MetroWest, Natick hit the jackpot with a foot of snow.
There was no official total for Framingham at noon.
Unofficially, SOURCE measured 9.75 inches in South Framingham, before Route 135.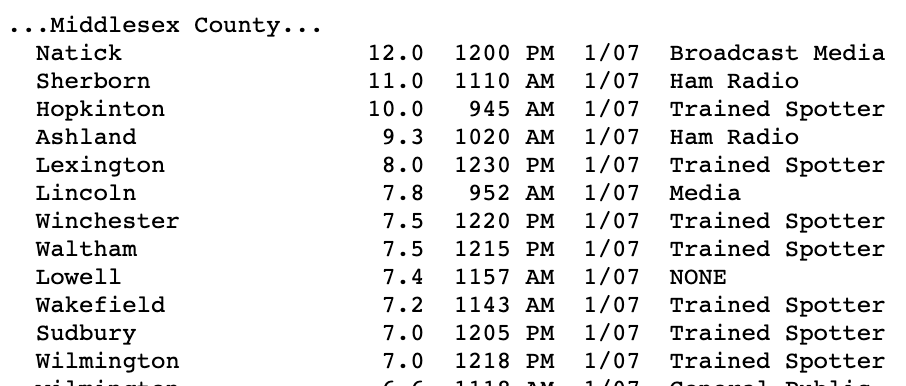 As of 3 p.m. Blue Hills and Westwood led the Commonwealth with 15 and 14 inches of snow.
Blue Hill Coop         15.2   216 PM  1/07  Co-Op Observer
  Westwood               14.4   201 PM  1/07  Trained Spotter
The City of Boston and the City of Worcester were both at 5 inches of snow.
[broadstreet zone="59945″]