[broadstreet zone="59984″]
FRAMINGHAM – Framingham Police arrested a Framingham man Sunday morning around 8:30 a.m. after he was "yelling vulgar remarks and making vulgar gestures" at a woman in downtown Framingham.
Police arrested Sean N. Pefrey, 43, of 73 Hollis Street.
After police officers arrived, he continued to be disorderly and uncooperative" said Lt. Rachel Mickens. "Officers attempted to place him under arrest and he resisted."
He was charged with disorderly conduct, subsequent arrest, sexual accosting, and resisting arrest.
[broadstreet zone="59946″]
 ***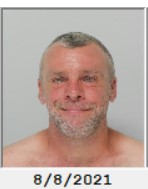 Framingham Police booking photo