FRAMINGHAM, Mass. — Local nonprofit Dignity Matters is partnering with Glamorise — a leading size-inclusive bra company based in NYC — to help thousands of local women and girls in need.
Glamorise Foundations, Inc. is the first bra company to create a long-term partnership with Dignity Matters. The 102-year-old bra company is expanding its give-back initiative as part of its mission to reduce textile waste, boost sustainability, and have a positive impact on communities in need.
"When we learned Glamorise wanted to help us, we all cheered," said Kate Sanetra-Butler Founder and Executive Director of Dignity Matters. "This is a game-changer for Dignity Matters. This partnership is really going to transform our ability to help women live with dignity."
Glamorise makes more sizes than any other bra brand (130+ sizes, cups B-K, bands 30-58), giving Dignity Matters access to the larger sizes that the charity otherwise has to purchase full-price from retailers.
Personalized care packages
Dignity Matters provides free menstrual care to 15,000 women each month. Many of those women also receive three bras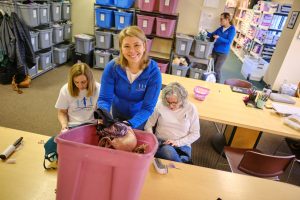 and six pairs of underwear as part of a personalized care package in the size and styles they prefer. Dignity Matters is unique in its effort to customize care packages for each recipient to ensure that they have what they need and products never go to waste.
"This is the first bra I've had in three years, and the first bra I've ever had that really fits," said a care package recipient at Women's Lunch place in Boston. "I feel wonderful." 
Dignity Matters received its first Glamorise donation of 2,700 new (customer-returned) bras this spring. Glamorise has donated over $3 million in bras to U.S. organizations since launching its give-back and sustainability program in 2017.
"The impact of a bra donation goes far beyond the physical item," said Glamorise CEO Jon Pundyk. "For individuals experiencing homelessness or hard times, access to clean and properly fitting bras is crucial to their health, well-being, and self-esteem. We are proud to work with an organization like Dignity Matters, which goes to great lengths to ensure each recipient gets bras in a size that fits and in styles they like to wear. That level of personalization is rare."
For more information about Dignity Matters, please visit dignity-matters.org. To learn more about Glamorise and its commitment to social responsibility, visit glamorise.com.