Framingham Mayor Sisitsky: State of the City is Strong
The following is the State of the City remarks as prepared. The Mayor delivered the address last night, January 31.
***
FRAMINGHAM – Good evening and welcome to my second State of the City address.
It has been an honor to serve as your Mayor for the past 13 months. I am profoundly grateful for all of the support I have received during this time. I would like to thank all of our dedicated City employees who work every day to serve the entire community. You go above and beyond to make sure that the needs of our residents are met. I am grateful and honored to work alongside you. To the City Council, thank you for your partnership and dedication to your constituents. To our Legislative delegation, to the School Committee; and everyone who serves on a Board or Commision, my sincere gratitude. And to my team in the Mayor's office, Mike, Renan, Jesse, PJ, Ryan, Becca, Heather, and Jenn, who keeps the office running smoothly, my sincere gratitude for your constant hard work and dedication. And to everyone who entrusted me to hold this esteemed office; and most of all, my family;  thank you for giving me the opportunity to make a positive impact for Framingham!  I've always said, when we work together, we can accomplish so much… and that is why, I am happy to report tonight, that the state of our City is strong!
As I said last year at my inauguration, I have vowed that my administration will be open, accessible, and transparent, and I believe the community has witnessed this. My door is always open, and I hope that you all recognize that we can, and have accomplished a lot by our commitment to work together for the betterment of all. The work that we are focused on doing each and every day is to improve the quality of life for all the residents of the City of Framingham.
I pledged to create a civil and respectful relationship with the City Council and the School Committee. In partnership, far more can be accomplished when we have courteous dialogue. Although we may not always agree, we can have respectful discourse and the manner in which we handle our differences will set the example of how best to move an agenda forward. We've done that.
Over the past 13 months, I met several times with the previous Governor and Lieutenant Governor and had an opportunity to discuss Framingham issues. In just their second week in office, I was honored to welcome Governor Maura Healey and Lt. Governor Kim Driscoll when they visited Framingham DPW to thank the staff for all that they do for the City. The Lt. Governor remarked that she had never been in such a clean DPW facility. Several City Councilors, Department Heads, members of our legislative delegation, and Senate President Karen Spilka, on her birthday, also joined us at their visit. In addition, Chief Baker, Bob Lewis, our DPW Director, the First Lady, Robin, and I, had an opportunity to privately meet with the Governor and Lt. Governor to discuss some of the pressing issues that are facing our City. I look forward to their support and continuing these conversations with the Healey/Driscoll administration.
I am incredibly grateful to the working relationship with Senate President Karen Spilka, whose dedication to the MetroWest area, and Framingham in particular, has helped us move forward projects that for too many years were stuck due to inaction, and are now coming to fruition.
Framingham has an enthusiastic legislative delegation, all of whom I have met with and know that collectively, we will work for the best interests for the residents of Framingham.
Congresswoman Katherine Clark, House Minority Whip, recently announced that she has secured $3 million in funding for the Chris Walsh Memorial Trail which our entire community looks forward to when it is completed. Last spring, I stood on the shore of Farm Pond with Congresswoman Clark to join in her announcement that she'd help us obtain these funds. She followed through with her promise to make this happen. This Trail will focus on connecting the Farm Pond and Dudley Road areas to Downtown Framingham. We will be coordinating with the MWRA to provide access around the gate house which is part of the trail and we also hope to finalize plans for a boat launch and rental facility that will complement other sections of the Chris Walsh Memorial Trail.  I am very proud of the collective efforts by so many that helped to make this happen.
Congresswoman Clark was also responsible for securing $1.7 million in funding for environmental cleanup of the Waushakum Beach neighborhood. The federal funds that Congresswoman Clark secured will be used to upgrade storm drainage infrastructure in the vicinity of the beach which will greatly reduce pollution of the water. With the support and input from the Disability Commission, and the Park and Recreation Commission and staff, we intend to do a comprehensive plan for the renovations of the entire Waushakum Beach site which will include a new handicapped accessible bath house and handicapped boat ramp as well as a new playground. 
We are well on our way with budget planning for Fiscal Year 24. Last year we had less time to prepare the FY 23 budget. However, we worked diligently with the school administration, school committee, municipal departments, and the City Council to craft a balanced budget and we managed to submit it two weeks early. This year we anticipate being able to submit a balanced budget by the required deadline, if not earlier.
One of the biggest challenges we faced in my first year as Mayor was the operation of the water and sewer enterprise fund. We all knew that there was a shortfall in revenue and as we discovered new details about the operation of this fund, we determined that there were major problems with the billing system, meters and the equipment used to read the meters. We have been meeting continuously with the staff at the DPW and we have been able to identify accounts that went unpaid or were under billed and we have been working on collecting lost revenue. As a result of the hard work that we have done to fix the problems that have persisted for many years in this department, I am confident that we will not need to raise rates in the next fiscal year. I repeat… because of the hard work that we have done, we are confident that we will not need to raise the rates. We continue to work on the reorganization of the water and sewer department and we have recently submitted a draft plan to the City Council.
For too many years, we have all heard about the need to clean up the Mary Dennison property. After extensive negotiating by my administration, we have come to an agreement to fund the clean up of Mary Dennison Park in partnership with Avery Dennison Company who will be absorbing the majority of the expense. This area has been neglected for a long time and it will soon become a clean and safe area for the community to enjoy.
Last spring, due to an early heatwave that arrived before the planned opening of the Framingham beaches, I overturned a decision not to open the beaches and I directed that the Park and Rec Department open Waushakum Beach, the lone beach which had restricted access due to a locked gate. This simple act, in one of the most underserved sections of the City, was met with an outpouring of gratitude. It was heartwarming to see the joy that the families had by being able to gather and get some relief from the early heat.
When I took office, I asked my wife Robin what she thought would be beneficial to the community. Without hesitation, she suggested that we reimagine the Farmer's Market. We immediately undertook envisioning what that might look like. I hired Bill Sell to run with the idea of expanding the Farmer's Market. In order to attract new vendors, I eliminated the vendor fees, and expanded the hours. To a person, whether vendor or attendee, the changes were incredibly well received, the attendance was greater than ever, and we look forward to having an even larger presence this year. I am very proud of how our community has come together to support and take advantage of this wonderful amenity.
You are probably aware of the ongoing issues and concerns at MetroWest Medical Center. Tenet Healthcare, the parent organization that runs the hospital as a for profit enterprise, had decided to close the Cancer Care Center. With the encouragement of the legislative delegation, and specifically Senate President Spilka's office, we convinced the State Department of Public Health to convene a community meeting here in Framingham. The hospital and the State heard loud and clear that this was going to have a detrimental impact on the community. Tenet ultimately agreed to have Tufts Medical take over the operations of the Cancer Care Center and the transfer finally occurred this month and we are optimistic that they will be successful.
We have recently heard of additional concerning issues at the hospital. I have been working with the legislative delegation and local representatives from Tenet. My administration and I are committed to doing everything possible to rectify the staffing issues in order to maintain the services that this institution offers to many in the City who neither have the means nor resources to travel to other hospitals outside of the City. We recognize that this is a serious problem and I look forward to a positive resolution.
Our libraries are great resources for the entire community. In order to ease the financial burden for many families, I supported the elimination of fines. This has been yet another well received change. The Pearl Street ramp to the main library has been completed, as has the teen room which had the ribbon cutting yesterday. It is also encouraging to see the book mobile at many community events. I extend my sincere gratitude to the Library Board and Library staff for all that they continue to do for our community.
I am very proud of what we as a community have done with regard to furthering efforts around public safety. One of my goals when taking office was to look for ways to make departments more efficient and effective. 
I was pleased to work with the Fire and Police Chiefs regarding the interest and desire to consider a Regional Public Safety Joint Dispatch Center to be operated by the City of Framingham. This would reduce the burden on our public safety departments and create a significantly more efficient operation. We are working with a number of surrounding towns to create a Regional Dispatch Center and have met with the fire and police chiefs and town managers of these communities. The purchase of 188 Concord Street will provide space for the new Dispatch Center. My thanks to Sarki Sarkisian, CFO Louise Miller, and COO Mike Tusino for their efforts in helping to make this happen. 
This building is the ideal location due to its proximity to the Police Department. This will be a state of the art facility and due to numerous grant opportunities, our first responders will be equipped with the latest technology to assist in response time for the communities. In addition, the purchase of this property will provide us with 44 additional parking spots to help solve the problem with the lack of parking options for the downtown, and will be critical with the design and construction for a desperately needed parking garage between City Hall and the Police Station.
In order to celebrate the opening of Polar Park, our neighbors in nearby Worcester, invited me to throw out the first pitch at a Woosox game last April as part of their promotion to highlight cities and towns in the surrounding area. During the game I had the opportunity to speak with the NESN announcers to highlight and tout the wonderful things going on in Framingham. Although I wasn't asked to join the bullpen, I was invited back this year to throw out another first pitch.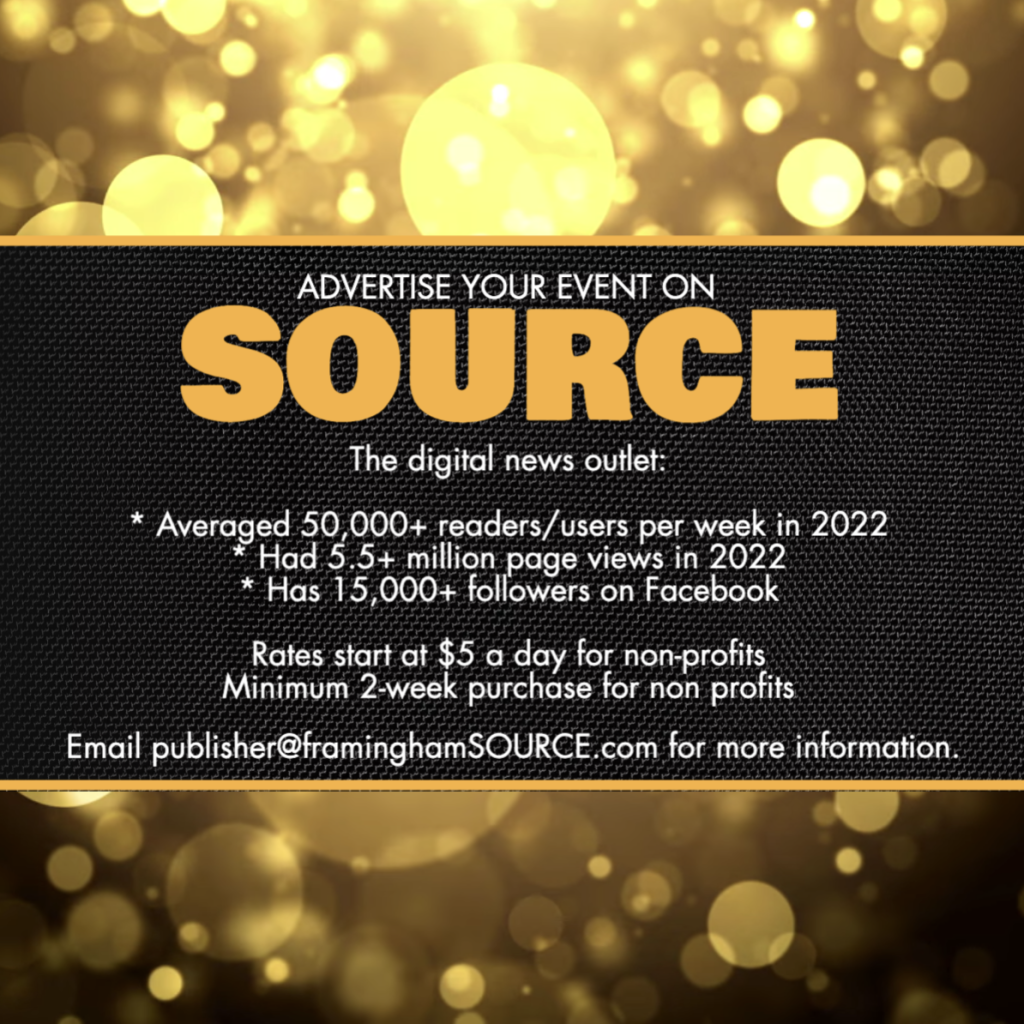 Last June, the One Framingham committee, comprised of many dedicated community members and City employees, committed to bringing back the Annual Flag Day celebrations. It was imperative that we continue to celebrate our flag, which holds within it our shared values and commitment to freedom. I encourage you to join us this year as we will once again celebrate Flag Day in Cushing Park with a full schedule of family friendly events with food and fun – stay tuned for more information to come. On a related note, a couple of weeks after Flag Day we are bringing fireworks back to Framingham to celebrate Independence Day. You don't need to spend time in the weeks leading up to the 4th, trying to figure out where to go to celebrate because the fireworks will be right down the street at Farm Pond with additional events for the whole family.
Thanks to the support of our Sustainability Committee, and Shawn Luz, our Sustainability Coordinator, Eversource selected a small neighborhood in the City as a pilot project for a networked geothermal heating system. The project will be implemented by Eversource and will run through two heating and cooling seasons. Preliminary work began at the end of 2022.
The pilot program was approved by the Massachusetts Department of Public Utilities and will run a route passing through 45 buildings, about 30 of which are residential. The utility company will pay for the cost of building and installing the geothermal system as well as the equipment to be installed in the homes and businesses. Participants will pay a low fixed monthly fee for access to the geothermal network. 
In addition, we are working on developing a municipal aggregation program that will enable residents to purchase green electricity from alternative sources other than Eversource. This plan will soon be ready for submission to the Massachusetts Department of Public Utilities for their review and approval. We anticipate that this program will be available to Framingham residents in 2024. Other environmental initiatives that we are implementing include the installation of solar panels on school roofs as well as construction of solar canopies at several schools. We will continue these efforts by expanding the solar panel program and install electric charging stations in various locations throughout the City.
Also, in December, Shawn received the Leading by Example Award at the State House for his leadership in promoting initiatives that decarbonize operations and reduce environmental impacts, and associated energy costs of operations. We are extremely proud of him and congratulate him on this award.
Few will argue that we have reached a crisis point in the fight against climate change, and the people who will suffer the most are the families and neighborhoods that are already the most vulnerable. Every day, every hour, every minute we delay corrective action, means we are jeopardizing our children's future. That is an unacceptable injustice – we can and must do better and I have no doubt that our Sustainability Coordinator, Sustainability Committee, as well as the City Council's Environmental Subcommittee, will bring these inequities to the forefront of our efforts on addressing the issues of climate change. I am committed to helping this process.
Over the past year I have met with many community leaders, the presidents of Framingham State University and MassBay Community College, neighborhood representatives, religious leaders, and members of our business community. Each and every person and group that I have met with has expressed their gratitude by having an opportunity to meet with and have access to the Mayor. The City has forged strong relationships with these important partners and I am committed to maintaining these important relationships for the betterment of our community.
Robin and I have attended many performances from the Fine Arts Department of the Framingham Public Schools including FHS, middle schools, and elementary school levels. We have visited and read to several elementary school classrooms, and we were impressed with thoughtful questions and suggestions that the students offered. We have also been to many Framingham school sporting events including baseball, basketball, football, lacrosse, and tennis matches. What a thrill it was to be part of the crowd two weeks ago to see Selina Monestime score her 1000th career point!  It is truly a joy to see the dedication and commitment of all the coaches and staff who show up each day to make a difference in the lives of their students.
In the early fall, with the support of Middlesex Sheriff Peter Koutoujian's office, Framingham Park and Rec department, the Framingham Police and Fire Departments, the Department of Public Works, the Framingham Public Library, and Framingham Public Schools, along with numerous volunteers from City departments and other organizations, we hosted a School Safety Fair at Cushing Park. Students and families were able to experience the Sheriff's office emergency management mobile facility, sit in both police and fire vehicles, school buses, ambulance, learn how to respond to a fire in the smoke house, and witness a robust K-9 demonstration. Thanks to donations from the community to the Mayor's Special Events Fund, we were able to provide a free lunch for everyone who attended.
This year we were excited to once again host our October Spooktacular at City Hall. The staff in every department and office creatively transformed City Hall into a Halloween extravaganza. Over 400 people traversed every office, Nevins Hall, the Blumer Room, and the Library Book Mobile, getting candy, popcorn, and goodie bags. It was an absolute feel good event with smiles everywhere.The Spooktacular was followed up by a very enjoyable Tree Lighting ceremony in December, highlighted by the arrival of Santa and Mrs. Claus who once again lit the tree. My thanks to the many City employees who volunteered their time to make this event a success.
We have been working closely with the Division of Capital Asset Management and Maintenance (DCAMM), to develop a state of the art Regional Justice Center in Framingham. The current Framingham District Court is in a state of disrepair and desperately needs replacing. The proposal to create an 8 court Regional Justice Center at the site of the former Danforth Museum has the potential for over a $100 million investment by the State. We expect that in the second half of this year, with the approval of the City Council we will reach an agreement with the State to transfer ownership of the Danforth Building. We are confident that this will spark economic development in this area of the City and this is a big step toward achieving downtown goals for the entire community. As a result of this project, we will be getting the old Court House for future development.

Here in the Memorial Building, I committed to bringing legal services in house and I am proud to say that with the support of the City Council we have assembled a legal department that is staffed by an outstanding team of talented attorneys and one legal assistant. They bring over 50 years of collective experience along with diverse backgrounds in municipal and civil litigation. Our new legal team are effective and efficient advocates for Framingham.
Another priority of mine was to reach an agreement with CSX to purchase the land for the Bruce Freeman Rail Trail which will run through a 25 mile corridor of the old New Haven Railroad Framingham and Lowell line. Thanks to the hard work of members of my staff including Chief Financial Officer, Louise Miller, and Director of Planning and Economic Development, Sarki Sarkisian, who spent many hours negotiating this deal, I was able to sign a purchase and sale agreement on December 5th. This was a monumental exercise and a huge achievement for the City. 
We have been working on our plan to restructure the planning and economic development department. Our director, Sarkis Sarkisian's, management style, and problem-solving ability are terrific attributes as we restructure this Division. We are all focussed on being able to create and implement an economic development vision for our City. Our overarching goal is to improve our economy and revamp the way that we foster economic development. 
We continue to look to provide a pathway for desperately needed local business enclaves that are the backbone of Framingham's economy, and it is critically important to help them sustain their existence. This includes our downtown, our small businesses throughout the City, as well as large property owners and companies, all of whom we have met with over the past year. Many are still suffering from vacant office and commercial buildings due to the pandemic. We must never lose sight of the people, the workers, who are the driving force of our economy. We will remain focused on attracting and preparing the most qualified, eager and innovative workforce, ready and able to grow the economy of tomorrow. 
I am happy to report that our plan for restructuring this division has recently been approved by the City Council and this will enhance our ability to focus more on economic development issues. We will now be able to respond to a growing number of inquiries from developers interested in bringing new projects done in a well thought out way. 
Beyond the commitment to sustainable development, the City has made a direct connection to equity through a hazard mitigation plan. This will afford us the opportunity to expand our grant capabilities.
Due to concerns from residents in blighted neighborhoods, I reinstated the Code and Nuisance Enforcement Task Force. This group meets twice a month and they tour neighborhoods that have reported code violations and take steps to mitigate these issues.
Last week we successfully launched the new City of Framingham website, Discover Framingham. We listened to the residents, business leaders, community members and others who participated in a survey regarding the website and turned their concerns into action with the new user-friendly website. I am proud of the work that Public Information Officer, Ryan Egan, Renan Pinheiro, our new Webmaster, and Louise Miller, our CFO, did to create a visually pleasing, informative and easily accessible website. By the touch of a button, the website can be translated into dozens and dozens of languages. If you haven't yet navigated the website, I highly suggest that you do and I know that the new design will reflect the creative talent of my staff, along with our commitment to making positive changes in the City.
Other goals for the remainder of this year and beyond include implementing a summer internship program for college level students interested in municipal government. The desire for this program was expressed by a number of students who attended a presentation that I made at Framingham State University last spring. The internship program has been designed by our Chief Diversity, Equity and Inclusion officer, Jesse Edwards, who will be overseeing this.
We will complete the design and begin the construction of our trail system. We will complete the creation of the Regional Joint Dispatch Center and have it operational by July 1st, 2024 if not before. We will continue our work with DCAMM to move forward with the proposed Regional Justice Center. We will start the cleanup of Mary Dennison Park and begin the construction of the new playground. Additionally, there is a desperate need for a citywide recreation center that would provide among other amenities, an indoor swimming pool. I intend to work with community partners to secure a site and investigate opportunities for a public/private partnership for its construction. We will continue improving our neighborhood parks through the annual capital improvement plan. This work will include the provision of splash pads. I am also pleased to report that we recently opened bids to rebuild the high school tennis courts. This work will begin in April.
Due to the success of traffic calming initiatives in certain sections of the City, we plan to expand our use of similar measures to other areas of the community where residents have expressed concern over traffic safety issues. Some of these areas that we are studying are in the Coburnville/Tripoli neighborhood. Traffic calming measures also have the added benefit of improving pedestrian and cyclist protection while sharing the road with drivers.
Traffic safety initiatives will also include improvements to various intersections in the City including Arthur and Bishop Streets; Saxonville in the area of the mills; and Central Street at Edgell Road. 
We are continuing negotiations with the sisters of Saint Joseph who own the Bethany Hill property which we anticipate we will be able to purchase for the construction of a proposed Southside Elementary School that would also include an Early Childhood Education Center. Although the initial proposal to study the feasibility of building the new school was not approved in the last Massachusetts School Building Authority (MSBA) funding round, we will resubmit our application and intensify our efforts to get this approved. 
Housing costs continue to rise and this is creating a lot of stress for several segments of our community. The City Council, along with my administration, has voted to require a larger percentage of affordable and workforce units in future residential developments. These new guidelines have the potential to create additional housing options for our residents including our seniors. 
For those in the community who continue to act in a divisive and uncivil manner, to distract from the valuable work that many in our wonderful City remain focused on moving forward in a positive manner, I challenge you to channel that energy towards making a positive difference. Become involved. Find a board or commission and apply for an open position. Rather than just spewing negative rhetoric, and hiding behind your keyboard, join us, so that our collective voices can find a way to unify the community rather than contribute to the divide. Perhaps change your narrative of finding fault to contributing to solutions. Let us move together towards a shared purpose. As I have said before, I hope that you can put the differences aside and remember that what unites us is greater than what divides us. You have to decide what kind of difference you want to make. 
Framingham is a City that celebrates and finds strength in the diversity of all our residents. Real progress is never settling for a city separated by haves and have nots. Everyone who calls our great city home deserves a fair shot and a fair opportunity at success, and an affordable home; to enjoy clean air and clean water. To have a career that supports them and their family; to express themselves to the fullest. In the words of Maya Angelou, "We all should know that diversity is a rich tapestry, and we must understand that the threads of the tapestry are equal in value no matter the color of the threads."
Out of many we are one and we will not let the dividers divide us. People in our community are to be celebrated. Let's exhibit more kindness, peace, equality, love, hope and respect. I want to close by saying thank you: Thank you to my family and my loved ones with whom I could not do this work without. To my team in the Mayor's Office who are committed to serving the residents each and every day, and to all of our City Employees, you have my support and thanks. And, of course, I want to thank the residents of Framingham for giving me the opportunity to serve as your Mayor. The state of the City of Framingham is strong and the future is bright. Let us celebrate all that we have accomplished together, and join me as we continue to strive to make Framingham a place where all people will be valued and respected.