In full transparency, the following is a press release from the Mayor's office submitted to SOURCE media.
***
[broadstreet zone="52386″]
FRAMINGHAM – Framingham Mayor Charlie Sisitsky and Middlesex Sheriff Peter Koutoujian have partnered to organize their first Back to School Safety Fest event. The event will take place at Cushing Park on Saturday, October 1 from 10 a.m. to 2 p.m.
The Back to School Safety Fest is a family-friendly event that aims to teach children and families about safety through a fun, interactive experience. The event, which will include free lunch, lawn games, and touch-a-truck opportunities, will feature presentations and opportunities to meet
individuals from the Middlesex Sheriff's Office, Framingham Public Schools, Framingham DPW,
Framingham Public Library, Framingham Police, and Framingham Fire. Safety presentations willb focus on school bus safety, fire safety tips, Halloween safety tips, youth sports safety tips, and more.b The Middlesex Sheriff's Office will also be doing a demonstration with their K-9 unit.
[broadstreet zone="53230″]
Lunch will be provided free of cost to attendees by Boston Events BBQ and Velma's Kettle Corn. Other additions to the event will feature the Framingham Library with their Book-Mobile and interactive green screen, as well as, antique fire trucks from the Rousseau Family.
"This event is an exciting collaboration between Sheriff Koutoujian and the City that helps raise awareness of the many opportunities to keep our youth safe," said Mayor Charlie Sisitsky. "I amglad we have found a way to promote safety and have fun while doing so."
"The Middlesex Sheriff's Office is proud to partner with Mayor Sisitsky on this Back to School Safety Fest," said Sheriff Koutoujian. "Through our Youth Public Safety Academy, participation in National Night Out events and other activities, we have a long history of collaboration with the City of Framingham and its incredible public safety agencies. We hope this event will build on thattradition and look forward to seeing everyone on October 1."
[broadstreet zone="61074″]
The event will take place on the grounds next to the Cushing Academy Building. Attendees should enter off of Winter Street. Main parking will be designated in the lots next to the Cushing Academy Building and Keefe Tech; attendees can enter through 750 Winter Street. Additional, overflow parking can be found at the Loring Arena and Cushing Chapel. Volunteers will be on site to assist with parking needs. More information on the event, including a parking map, can be found at
www.framinghamma.gov/BackToSchoolSafetyFest
[broadstreet zone="53903″]

Framingham, MA – O prefeito de Framingham, Charlie Sisitsky, e o xerife de Middlesex, Peter
Koutoujian, fizeram uma parceria para organizar o primeiro evento anual "Back to School Safety
Fest". O evento acontecerá no Cushing Park no sábado, 1o de outubro, das 10h às 14h.
O Back to School Safety Fest é um evento familiar que visa ensinar crianças e famílias sobre
segurança por meio de uma experiência divertida e interativa. O evento, que incluirá almoço grátis,
jogos no gramado e oportunidades de entrar e tocar em um caminhão, contará com apresentações e
oportunidades para conhecer indivíduos do Gabinete do Xerife de Middlesex, Escolas Públicas de
Framingham, Departamento de Obras Públicas de Framingham, Biblioteca Pública de Framingham,
Polícia de Framingham e Bombeiros.

As apresentações de segurança se concentrarão na segurança do ônibus escolar, dicas de segurança
contra incêndio, dicas de segurança no Halloween, dicas de segurança para esportes para jovens e
muito mais.
[broadstreet zone="59946″]

O Gabinete do Xerife de Middlesex também fará uma demonstração com sua unidade K-9.
O almoço será fornecido gratuitamente aos participantes pelo Boston Events BBQ e Velma's Kettle
Corn. Outras adições ao evento incluirão a Biblioteca de Framingham com seu Book-Mobile e tela
verde interativa, bem como caminhões de bombeiros antigos da Família Rousseau.

"Este evento é uma colaboração emocionante entre o xerife Koutoujian e a cidade que ajuda a
aumentar a conscientização sobre as muitas oportunidades para manter nossa juventude segura",
disse o prefeito Charlie Sisitsky. "Estou feliz por termos encontrado uma maneira de promover a
segurança e nos divertir ao mesmo tempo."
"O Gabinete do Xerife de Middlesex tem orgulho de fazer parceria com o prefeito Sisitsky neste Back
to School Safety Fest", disse o xerife Koutoujian. "Através de nossa Academia de Segurança Pública
para Jovens, participação em eventos National Night Out e outras atividades, temos uma longa
história de colaboração com a cidade de Framingham e suas incríveis agências de segurança pública.
[broadstreet zone="59947″]
Esperamos que este evento se baseie nessa tradição e esperamos ver todos no dia 1o de
outubro."
O evento acontecerá no terreno ao lado do Cushing Academy Building. Os participantes devem
entrar na Winter Street. O estacionamento principal será designado nos lotes próximos ao Edifício
Cushing Academy e Keefe Tech; os participantes podem entrar pela 750 Winter Street.
Estacionamentos adicionais podem ser encontrados na Loring Arena e na Cushing Chapel.
Voluntários estarão no local para ajudar com as necessidades de estacionamento.
Mais informações sobre o evento, incluindo um mapa de estacionamento, podem ser encontradas
em www.framinghamma.gov/BackToSchoolSafetyFest
[broadstreet zone="59983″]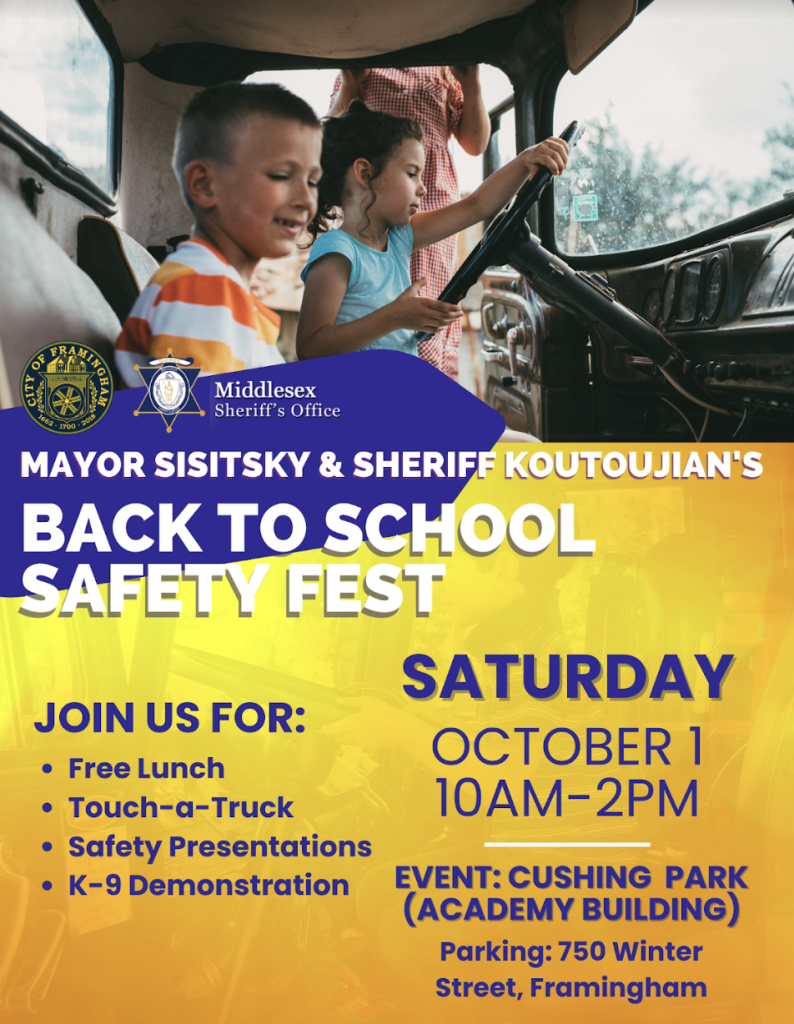 [broadstreet zone="70107″]