Avidia Bank Donates $20,000 To MassBay's New Health Sciences Center
In full transparency, the press release & photo are from MassBay Community College
***
FRAMINGHAM – Avidia Bank recently presented MassBay Community College President David Podell with a check for $20,000 towards the construction of MassBay's Center for the Health Sciences, Early Childhood, and Human Services. This donation will provide additional funding for the creation of this building, including high-tech simulation equipment to train the workforce of tomorrow in high-demand career paths in health sciences.
"Avidia Bank is pleased to support MassBay Community College and we look forward to the significant impact the new Center for Health Sciences, Early Childhood and Human Services building will have on the surrounding communities," said Avidia Bank CEO, Mark O'Connell.
"We are extremely grateful for this generous donation from Avidia Bank," said MassBay President David Podell. "The support from Avidia Bank will help MassBay provide faculty and students with the latest innovative technology necessary to effectively train students for the modern health care, early education, and human services jobs of the future. Through this partnership, Avidia Bank is making a significant commitment to help fortify the MetroWest workforce with skilled professionals in much-needed, service oriented careers."
Construction on the 68,500 square-foot, $58 million project is currently underway at the MassBay Center for Health Sciences, Early Childhood, and Human Services and is expected to conclude in 2023. Located at 490 Franklin Street in Framingham, the Center will house MassBay's signature health care associate degree programs including nursing, surgical technology, and radiological technology, and its one-year and one-semester certificate programs in central processing technology, computed tomography, certified nursing assistant, emergency medical technician, medical coding, medical office administrative assistant, paramedicine, phlebotomy, and practical nursing. In addition, the Center will feature degree programs in early childhood and elementary education, and certificates in substance abuse, human services, direct support, and infant-toddler teacher. The Center will also provide space for new MassBay programs, including medical assistant and sonography (ultrasound).
MassBay Community College is the most affordable higher education option in MetroWest Boston, offering a robust portfolio of courses and more than 70 associate degree and certificate programs with flexible day, evening, and weekend classes in Ashland, Framingham, Wellesley Hills, and online. MassBay students receive an unmatched educational value by earning stackable credits that transfer to bachelor's degree programs, and workforce-ready skills necessary to advance careers in high-demand fields such as health and life sciences, automotive technology, engineering, business, cybersecurity, and the humanities.
MassBay's Associate Degree in Nursing (RN) and Practical Nursing (LPN) programs were both ranked as the #1 Nursing Program in Massachusetts in 2020-2021 by national nursing advocacy organizations RegisteredNursing.org, and PracticalNursing.org. Since its founding in 1961, MassBay has been accredited by several governing bodies and remains firmly committed to its mission of meeting the needs of the diverse local communities it serves. We value the intrinsic worth of all individuals, collectively in pursuit of inclusiveness and prioritize our work towards achieving equity within our community and beyond.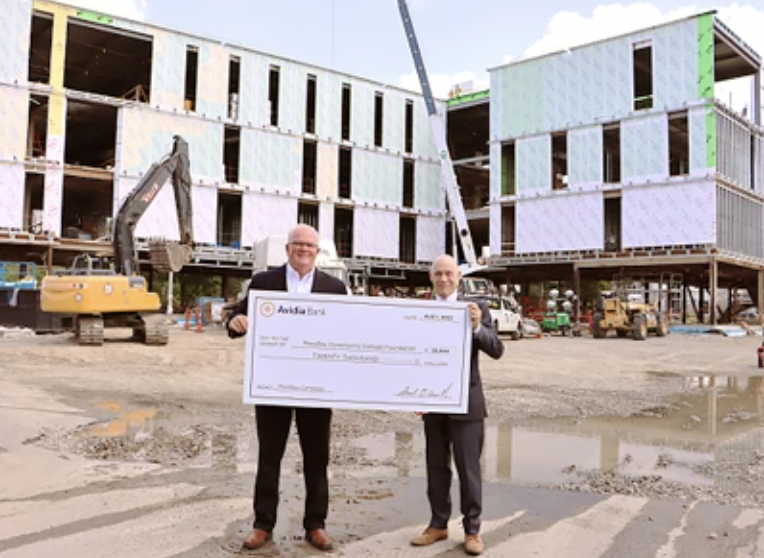 MassBay Community College President Dr. David Podell (right) accepts a $20,000 donation from Avidia Bank CEO Mark O'Connell (left) at the construction site of MassBay's new Center for Health Sciences, Early Childhood, and Human Services located at 490 Franklin Street, Framingham, MA, August 2022 (Photo/MassBay Community College).