[broadstreet zone="58893″]
1 A heat advisory has been issued for today and Wednesday by the National Weather Service.
Please do not leave dogs in vehicles.
The City will use its libraries as cooling stations and the City's trio of public beaches are open, too.
2. There was a fatal stabbing in Framingham on Sunday night. Police & the DA announced an arrest yesterday afternoon of the husband who will be charged with killing his wife.
[broadstreet zone="58610″]
3. Framingham City Council meets tonight in hybrid format – live in the Ablondi room and on Zoom at 7 p.m.
The Mayor is expected to discuss the Moody's report.
City Council is expected to vote on Mayor's nominee to the Mosquito Control Project.
City Council is expected to vote on adding two women to the Community Preservation Committee.
The Framingham Conservation Commission has scheduled a meeting tonight at 7 to discuss the resignation and retirement of its three staffers.
Other CITY OF FRAMINGHAM meetings (all remote unless noted):
Framingham Retirement Board at 10 a.m.
[broadstreet zone="59946″]
4. The Framingham Public Library is hosting a fall food garden planning workshop tonight at 7 at the Christa McAuliffe Library branch on Water Street. Pre-register to get the Zoom link, if you can not attend in person.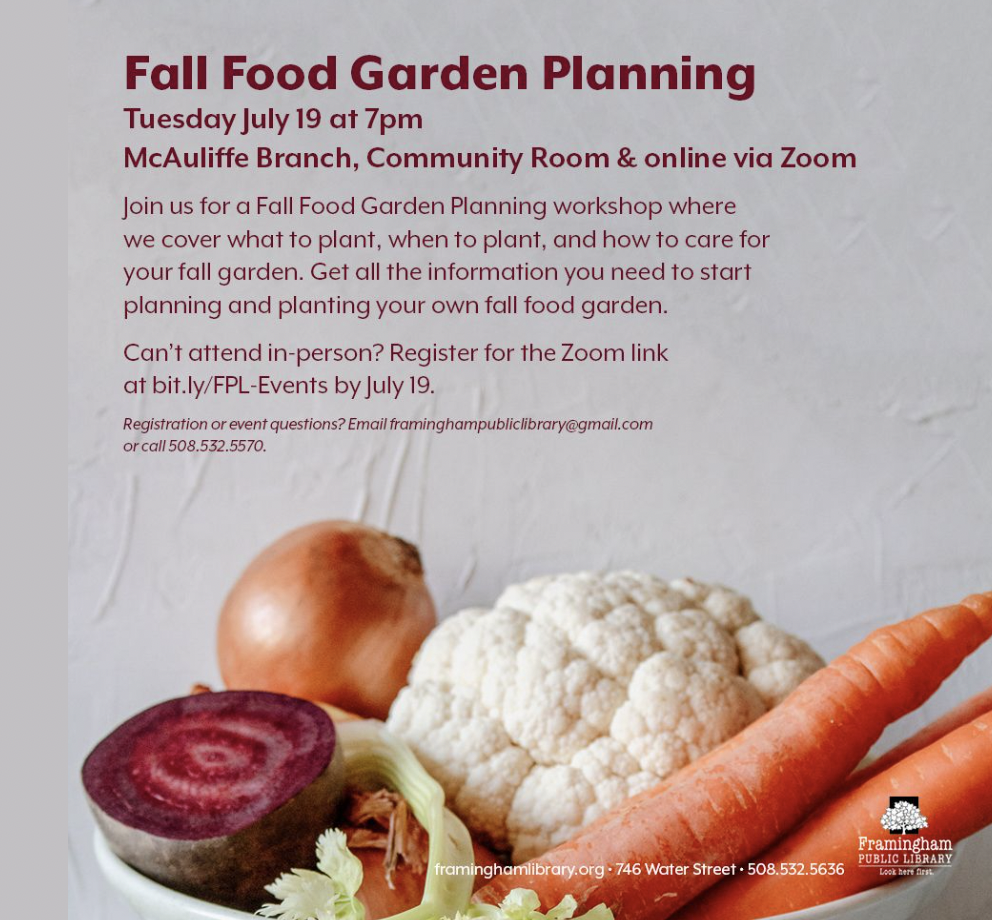 5. The Framingham Public Library will hold a workshop on its Library of Things today at 11 a.m. at the main Framingham Library on Lexington Street.
The Library of Things is one of a half dozen library services that will have a booth at Noche De Fiesta on Saturday, July 23 from 6 to 9:30 p.m.
Noche de Fiesta is free, but the first 500 people who register will receive a free FIESTA bag at the event. Pre-registration will help with the planning of the event. To pre-register use the QR code below.
Use the QR code in the flyer below to register.
The events is from 6 to 9:30 p.m. on Lexington Street, which will be shut down from 5 to 10:30 p.m.
The email addresses used to pre-register will also be used if the event has to be cancelled or delayed due to thunderstorms.