By Jack Landsiedel
***
[broadstreet zone="59983″]
FRAMINGHAM – The Framingham Traffic Commission discussed speeding and safety concerns on Harrington Road at its May 16 meeting. No action was taken and the item will be placed on a future meeting agenda.
Nobscot resident Rick McKenna of 226 Baldwin Avenue told the Commission drivers turn off Edgell Road and do not abide by the 25 mph speed limit. 
McKenna wants the City to take preventative measures to slow the speed of traffic for children and families in the area.
Mike Raymond of 10 Hiram Road reiterated concerns that there are "lots of kids in the neighborhood." 
Emily DeGroat of 4 Hiram Road also highlighted the presence of bus stops and children playing on bikes.
One possible solution discussed was for the City to place a 25 mph sign at the corner of Edgell and Harrington to notify drivers of the speed change. 
[broadstreet zone="59947″]
Framingham Traffic Engineer Simon Alexandrovich said "that will make a precedent to put similar speed limits on other streets" as 25 mph "is the speed limit across the city if no special speed limit sign exists."
The Traffic Commission collected data in front of 35 Harrington Road between Tuesday, March 15 and Thursday, March 17, 2022, where the speed limit is 25 mph. 
For both northbound and southbound traffic, they recorded an average speed of 29 mph and an 85% speed percentile of 34 mph. 
Additionally, DPW reported three accidents at the intersection of Edgell and Harrington in 2018 and one more in 2019. 
Sean Gannon of 1 Harrington Road suggested more accurate traffic data could be collected closer to where Edgell splits off onto Harrington. 
[broadstreet zone="59982″]
In Sudbury, Harrington turns into Old Framingham Road as Edgell becomes Nobscot Road. 
According to Gannon, this intersection hosts "an island with a stop sign" which slows traffic and "could be a model […] on the Framingham side." 
McKennna said if the intersection "was turned into a right-hand turn like we've done in many other areas […] we wouldn't have this problem."
Traffic Commission member Lincoln Lynch, who is the Framingham Public Schools representative on the Traffic Commission, ended the discussion citing the need to collect more traffic data. 
The chair said Harrington Road would be placed on a future agenda.
A June 2022 meeting date has yet to be set.
[broadstreet zone="59940″]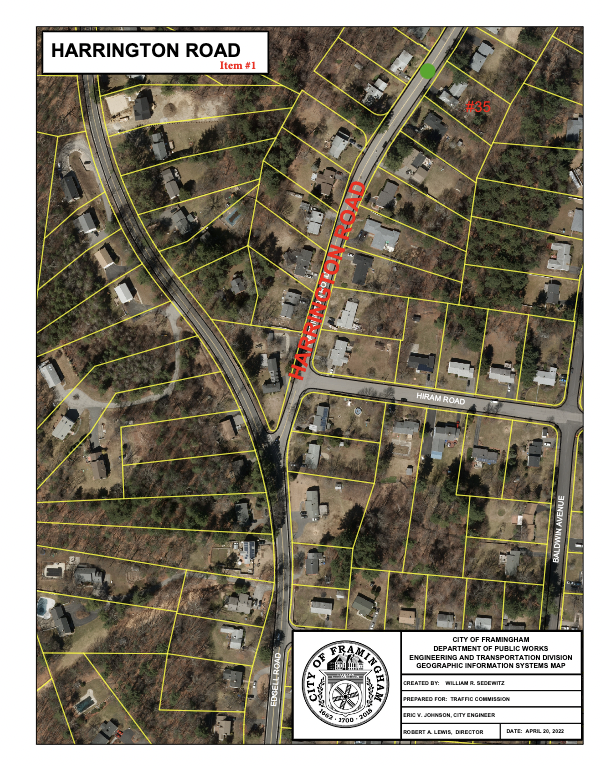 ***
Jack Landsiedel is a Framingham resident and graduate of Stapleton Elementary School, Christa McAuliffe Charter School, and Framingham High School (Class of 2020). He is a rising senior at the University of Maryland, College Park where he is majoring in Government & Politics with a minor in International Development & Conflict Management. He is looking forward to studying abroad at Queen Mary University of London this fall and exploring nearby countries. In the future, he hopes to pursue a career in Washington D.C. involving policy, leadership, and sustainability. This summer, he is a SOURCE intern covering government & politics.