By Caroline Gordon
***
[broadstreet zone="63788″]
[broadstreet zone="66384″]
FRAMINGHAM – Tuesday, February 22, Huguens Pierre, 21, was laid to rest with full military honors at Massachusetts National Cemetery in Bourne.
Pierre, who emigrated to the United States at age 6, died while actively serving in the U.S. Army at just age 21. He died on February 5, 2022 from injuries sustained in a an automobile accident. Governor Charlie Baker declared all flags at half staff today in his honor.
He attended Dunning Elementary, Fuller Middle School and Framingham High School into the middle of his senior year, when the family moved to Sharon, where he graduated from Sharon High in 2019. Pierre was a star wrestler at Framingham High and Sharon High.
Pierre's older brother, Jerry Rafael, said the last time he saw his brother was while drinking Haitian soup – a family tradition.

Rafael said he encouraged his brother to join the military because of his gratefulness for the United States. "This country meant a lot to him," Rafael said.
He said his brother was a loyal man who was "always willing to go above and beyond for his family."
Rafael added, "Part of me is missing. A big part of life is just lost – it will never be the same. … He was more than my brother. He was my son, by best friend."
Nikgo Vitoratos, a close friend of Pierre, said he "had so much life to him. … We loved him a lot. We are really going to miss him. We are always going to carry on his soul and wishes."
Framingham High School wrestling coach Erik Delehanty said he was "shocked and devastated" when he heard of Pierre's death.
He described Pierre as "quiet and reserved."
"Huguens was not one for many words, but he was always loyal and respectful of his
teammates," said the Flyers wrestling coach.
Pierre's dedication and gratefulness made him stand out, said Delehanty.
"Huguens took every opportunity he could to practice or travel the Northeast to compete in order to make sure he was improving for the upcoming season. It takes a special kind of person to want to dedicate so much time to a sport that can be so demanding," he said.
Pierre is the second star wrestler from Framingham High to die in a tragic car crash in the last couple of months, under the age of 25. Ryan Gaudet died at age 24 in Pierre in February.
Framingham High School Athletic Director Paul Spear said Pierre was a "resilient young man who overcame a lot."
"Huguens really became a contributing member to the global community in part because of his experiences with wrestling and Framingham athletics," Spear said.
Evelyne Philitas, a family friend, said she left work to "see his face for the last time."
"He was a good, good, good boy," she said, outside McCarthy, McKinney & Lawler Funeral Home Monday afternoon while attending his wake.
Franklin Fon, a close friend of Pierre's older brother, said he knew Pierre since he was a child. "Hopefully his next journey is going to be very smooth," he said.
Katie Mompremier, the cousin of Pierre's mother, said the family is devastated, especially as he died young.
Ruth Freeman, a mother of Pierre's friend, Sam Freeman, who was on the wrestling team with Pierre and who serves as an active duty U.S. Marine, said she came because her son could not.
"As a mother of someone who is in the military, it is devastating. He was a wonderful kid. After one day of meeting him, you were enamored by how genuine he was," she said. "If you met him you would have remembered him."
Larry Drum, the state captain of the Patriot Guard Riders, said Pierre's death is "a tragedy."
"He was a very good young man – faithful and loyal," he said.
***
Caroline Gordon, a spring 2021 SOURCE intern is a senior English major with a concentration in journalism at Framingham State University. Gordon is the Arts and Features editor for Framingham State's student newspaper, The Gatepost. During her free time on campus, she works as a Student Desk Attendant. Caroline enjoys photography, working out and spending time with friends. Connect with Caroline on LinkedIn: www.linkedin.com/in/caroline-gordon98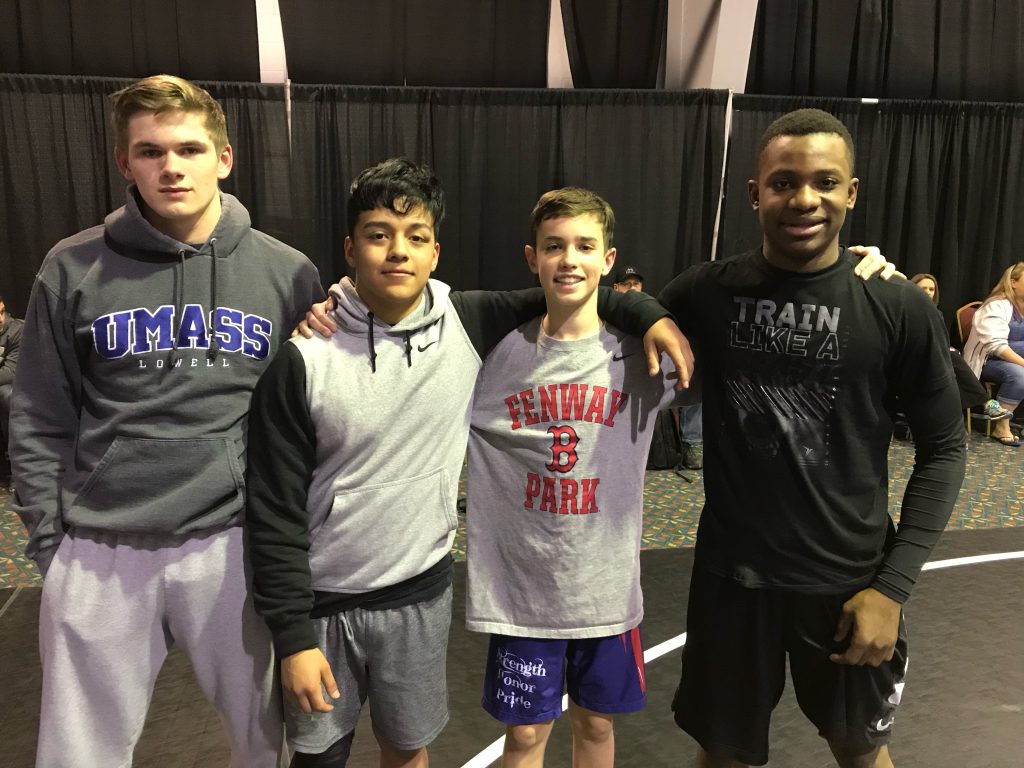 Wrestling photo of Pierre courtesy of Coach Delehanty