Boston Marathon Runner Profile: Jeffrey Rouse
Editor's Note: SOURCE invited runners from Team Framingham and a couple of other Framingham-based charity teams to participate in a series of Q&As about their training for the 2022 Boston Marathon to be held in April this year. If you would like to submit a profile contact editor@framinghamsource.com.
***

Jeffrey Rouse
Hometown: Fitchburg
Marathon Team: Team Framingham
Is this your first marathon? This is my first official marathon. In September of 2020, my wife Anna and I decided to train and run a virtual marathon. We officially signed up for the Disney World virtual marathon but chose to run the Boston course. We set out the Sunday before thanksgiving 2020 by ourselves and ran from Hopkinton to Boston!
What is your personal best marathon time?  4:26:53
Is this your first Boston Marathon?  First official but second time running the course!
Why run Boston?  Why not?! I truly never thought I would ever run more than a 5k, but as I began exercising more and more I ended up really enjoying running. My wife ran Boston in 2019 and seeing the joy she had from completing it ultimately set me a new goal to do it. Ultimately, it's a huge bucket list item for me to now check off.
Which charity are you raising money for? MA Wonderfund
Why did you pick that charity?  I have worked in the human services field for nearly 15 years. Half of that was spent working directly with kids, most of whom had DCF involvement. This charity hits close to home in that regard.
Link to your
https://www.givengain.com/ap/jeffrey-rouse-raising-funds-for-massachusetts-
wonderfund-inc/ charity fundraising page
How did you first get into running? In 2016 my daughter was born, I was overweight and ultimately unhealthy. I made the decision in early 2018 to get healthy and lose weight. I bought a Peloton and started road cycling. In early 2019, I became a bit board with the single modality of exercise and decided to go for a short run. I also had signed up to ride the Pan Mass Challenge and the running was a good cross training activity for me. It wasn't long after that short run that I found myself increasing
mileage regularly and genuinely enjoying running. The rest is history!
Why do you like to run? It's a challenge. As much as I enjoy it, it is never easy, no matter how long or short. Really, it is the mental piece; I always say, "if your running 3 miles, that last mile can be brutal, if your running 15, that last mile is brutal".
It truly is as much mental as it is physical. Running helps me get through those types of mental challenges in other aspects of my life as well.
Tell me something about your training for the marathon:  This has been an interesting year for training due to the ongoing pandemic. We have two young children, and with illness daycare can be inconsistent. As tough as it is to balance family, exercise, and work, it is important to me that my children see the value in self-care. My daughter's first long word was "exercise".
How has the pandemic changed your running habits? I don't really think it has changed my running habits. I typically mix in both cycling and running to make sure I have a good balance and never get bored!
What is your favorite cross-training activity? Cycling for sure, outdoor especially, even though that isn't happening right now!
How does the snow and the cold impact your training? As far as the cold, it has impacted me mentally a lot. I thought I was going to enjoy it, but this winter has felt colder than normal and the longer distance in the cold is new to me. The snow is tough because it can prevent you from running all together, which has happened a few times this year.
Do you prefer to train alone or with others? Why? With others! I get bored and like to have someone to help pace me and chat with as we run.
Are you an early morning runner or evening runner? Early morning, I prefer to get up and get going.
How do you stay motivated when you don't want to run?  Knowing that I have a race coming up. In this case, it's Boston. I keep myself busy with triathlons, biking events, or just straight running races to make sure I can't slack too much.
Music or no music when running? If music, favorite song? Music if I am running alone. No real favorite just whatever I am feeling that day.
What is your favorite pre-running meal? I actually don't eat much before I run. I probably should eat more!
What is your favorite post-run snack? Beer! Hate to say it but a cold beer after a long run just hits the spot!
Tell SOURCE readers something about you that has nothing to do with running:  I am a handy guy, I love doing projects around the house and keeping busy!
What shoes will you wear on Marathon Day?  Hoka Bondi 7
What is your goal for the 2022 Boston Marathon?   Honestly, my goal is to finish. Ideally in under 5 hours. Training has been tough, I am missing out on two weeks right now due to a broken toe, so finishing is the goal but if all goes well in under 5 hours!
Will you wear anything personal or symbolic the day of the 2022
Boston Marathon? Why? I hadn't thought about this until I saw this question. I think I will, just not sure what yet.
***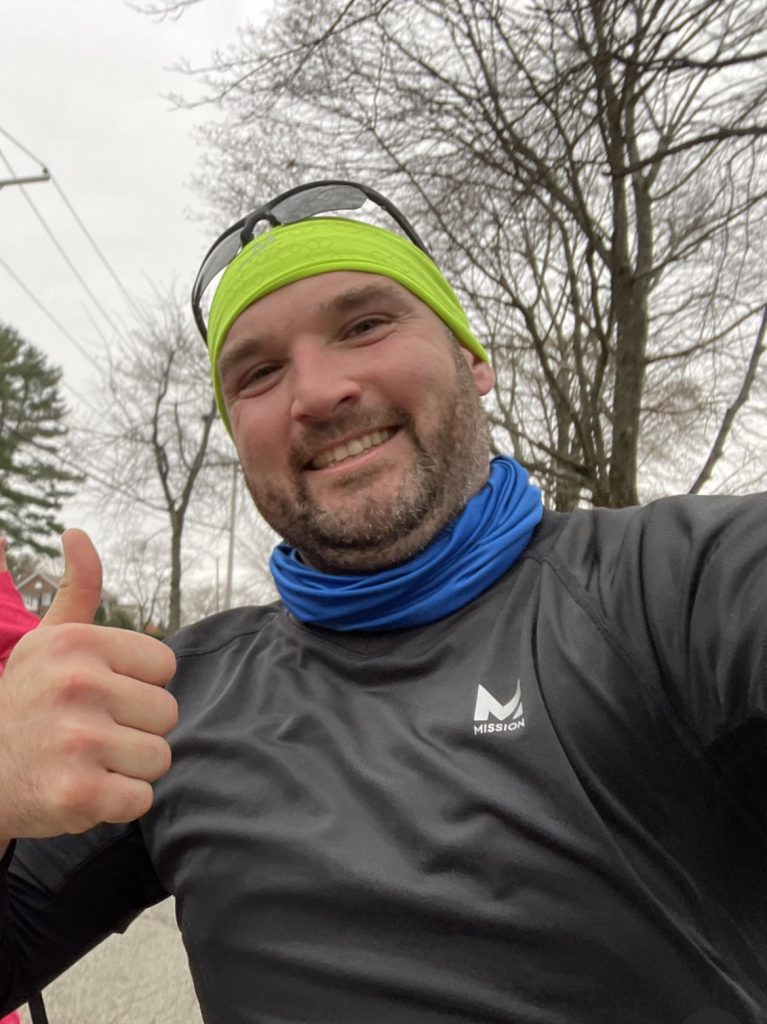 Photos courtesy