The following is a press release submitted to SOURCE media (Petroni Media Company photo)
***
[broadstreet zone="58610″]
FRAMINGHAM – Charlie Sisitsky was inaugurated at noon today, January 1, 2022 as Framingham's mayor. He was sworn in by his daughter-in-law, Hon. Jennifer A. Stark, Associate Justice for the Framingham District Court. 
Sisitsky, who was elected overwhelmingly on November 2, 2021, is only the second person to hold the position since the municipality moved to a mayor and city council form of government in 2018. Due to the ongoing COVID pandemic, the event was a hybrid in-person and virtual event.
While Mayor Sisitsky acknowledged his predecessor and wished her well, he offered a "collective thanks" to the citizens of Framingham who "stood up for the change we needed."  
Mayor Sisitsky repeatedly emphasized his administration's commitment to openness and transparency, saying that he intends "to bring a spirit of cooperation, respect, and civility back to City Hall." Citing a "dire need for better government and civic engagement," the new mayor praised the City Council as a co-equal branch of city government and said he would "work with them to help achieve their goals for the betterment of the City." 
[broadstreet zone="59983″]
As he did throughout the campaign and as Mayor-elect, Sisitsky cited his administration's commitment to fiscal responsibility and inclusiveness to all. "We have already begun the process to seek out the best, brightest, diverse, multilingual and talented staff." 
Looking ahead, the Mayor spoke of "an obligation to future generations," as he urged the need for a sustainability platform to fight climate change, increase efforts to clean up and proceed with the development of Mary Dennison playground, finish cleaning up General Chemical using the funding secured by Senate President Karen Spilka, and reestablish code enforcement to improve environmental justice in the city's neighborhoods. 
Mayor Sisitsky said he will be making education investments using "an equity lens," and a "focus on green development." He reiterated the "compelling need for an Early Childhood Center and Elementary School on the southside" of the city and made obtaining an appropriate site, "a top priority." 
For the city's seniors, Sisitsky said his administration "will work with the Council on Aging, Friends of Callahan, and the Callahan Center to improve healthy aging." 
[broadstreet zone="59947″]
Citing local businesses as "the backbone of Framingham's economy," and to help as they continue to navigate the now two-year COVID pandemic, the mayor said he will follow through with the City Charter requirement to provide a plan to reorganize the planning and economic development department." In December, Mayor Sisitsky announced the appointment of Louise Miller as the City's Chief Financial Officer, calling it one of the most important he will make.
The Mayor also said he will explore using the newly proposed Economic Development Corporation and other resources to work with the Commonwealth on plans for a new courthouse, and Government Center that would feature a new City Hall, Arts Center, and more downtown parking. 
While acknowledging that Framingham, like the rest of the world, is "COVID weary," the Mayor said, "we want our children to remain in school, and our businesses to regain their losses," and reminded all that "each and every one of us has a responsibility to our community to get vaccinated and abide by the regulations." 
Massachusetts State Representative Maria Duiame Robinson, who was nominated as assistant secretary in the Department of Energy's Office of Electricity by President Joe Biden and is awaiting confirmation, was the emcee of the day's ceremony.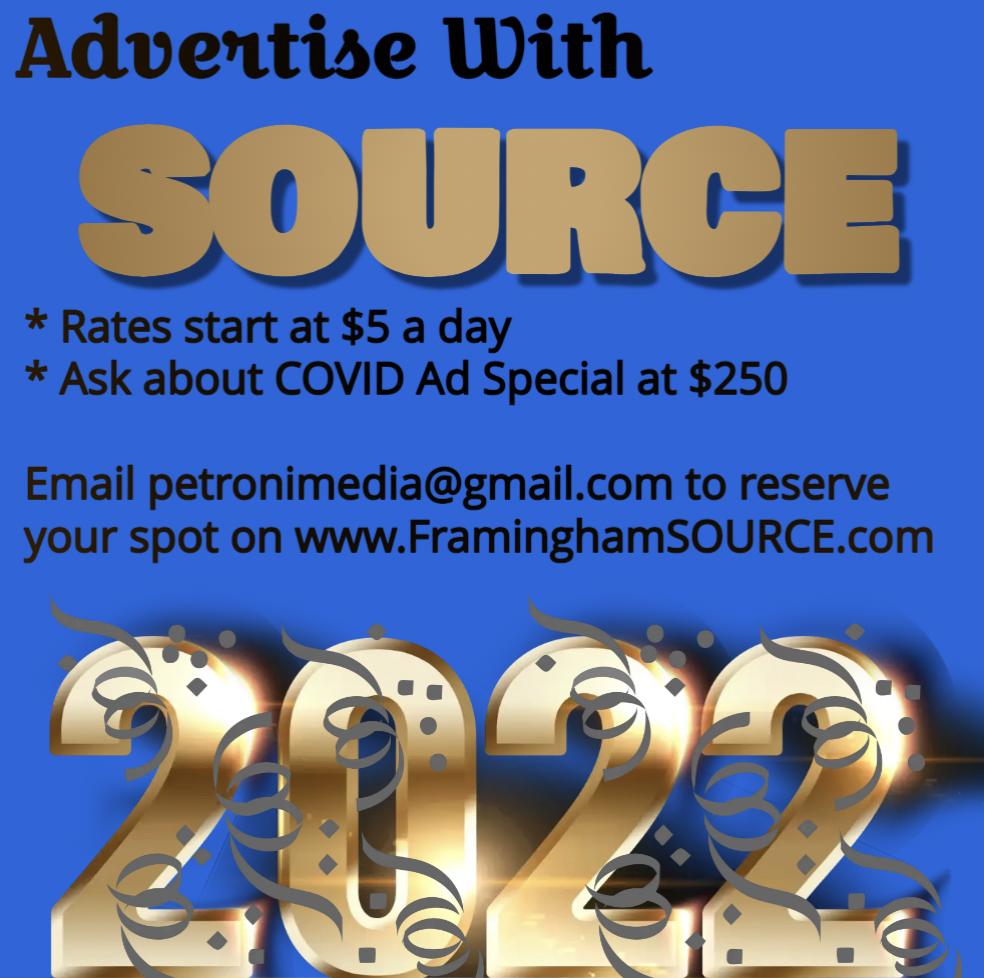 Other elected officials and dignitaries included City Clerk Lisa Fergusson, Chair George King, Jr., and members of the City Council, Chair Adam Freudberg, and members of the School Committee, all of whom were also sworn in today, members of City's state and federal delegations who participated remotely; Dr. Javier Cevallos, President of Framingham State University, Nick Paganella, Secretary of the Framingham Veteran's Council, Rabbi Sam Blumberg from Temple Beth Am, Reverend Gregory Morisse, Senior Pastor from The Plymouth Church, the Framingham High School Concert Band, and the Honor Guards of the Framingham Police and Fire Departments.
Before concluding by wishing all a Happy New Year, and inviting their input, help and ideas, Mayor Sisitsky reiterated again that the people of Framingham "want us to do a better job governing" That he said, "starts right here and right now."
Besides Mayor Sisitsky, 7 City Councilors and 8 School Committee members were sworn in today during the ceremony. Five Library Trustees and three Cemetery Trustees were also sworn in. A couple of individuals elected were not able to attend today's ceremony and will be sworn in at a later time.
Editor's Note: SOURCE will have more photos and a report on the inauguration later.
[broadstreet zone="59945″]