Framingham SOURCE Person of the Year 2021: Shivang Patel
FRAMINGHAM – On a hot summer June day, individuals, some who did not speak English, walked up to a tent at Butterworth Park in South Framingham to get a free COVID-19 vaccine.
In November, elementary school children received their first COVID-19 vaccine at a clinic at Harmony Grove Elementary School.
On any give day last month at MetroWest Pharmacy, there were a handful of people who walked to the Union Avenue small business for a vaccine, a booster shot, and even a rapid COVID-19 test.
Throughout the pandemic, many individuals did what was needed, but only a small few exceeded expectations.
One of those people is MetroWest Pharmacy's Shivang Patel.
As Director of Pharmacy Operations, Patel provided coronavirus vaccines, COVID-19 booster shots, and so many other services to hundreds upon hundreds of Framingham residents, many of whom could walk to his business near the City's only hospital.
For his effort, SOURCE has named him the City's Person of the Year in 2021.
Sure he did his job as the owner of a small pharmacy on Union Avenue, but went beyond his 40 hours a week volunteering his time throughout the City, but especially in the neighborhoods south of Route 135, and in the hardest hit neighborhoods in Districts 7-8-9.
Opened in April 2017, MetroWest Pharmacy, an independent pharmacy, has grown to 10 employees.
But it is more than a small business, it has become a lifeline for so many residents, especial during the COVID pandemic.
"We offer free prescription delivery to patients home," said Patel. "Free compliance package or its call monthly bubble packaging for all meds, various Immunizations. We also carry home health supplies that sometime hard to find in regular retail stores. We offer a huge discount on most generic medication for patient who doesn't have insurance or its expensive through their insurance. We have a local pharmacy app, from which patient can keep a track of their personal profile, activate the medication reminder notification, refill through the app, make appointment to pharmacist for counseling their meds etc."
While MetroWest Pharmacy was important pre-pandemic, it was the extra efforts by Patel in the community, during this pandemic, that he is being recognized by SOURCE.
"When I first started the Framingham Coronavirus Community Outreach group, Shivang was the only pharmacy owner to reach out and offer help for residents in need of medicine or medical supplies," said Framingham resident Nicole Doak.
"It is great working with Nicole Doak and their group since we have shared the same ideas and goal of helping people," said Patel.  
"Throughout the pandemic, Shivang has demonstrated time and time again what it means to be a community partner. He continually thinks of ways to support Framingham's residents, whether it be a 1-800 vaccine hotline, vaccine clinics, or free testing," said Doak.
"He is selfless, he is intelligent, and he is caring," said Doak. "Shivang first became my pandemic support partner, and then became my family's pharmacist. Now, he is a dear friend. There isn't anyone more deserving of this recognition. Congratulations, pal."
Newly-sworn-in Mayor Charlie Sisitsky and his wife Robin Kaye agree.
"In the words of Maya Angelou, 'I think a hero is any person really intent on making this a better place for all people.' There is no doubt in my mind that these words define Shivang Patel," said the Mayor and his wife.  
"When our City was in the early stages of the COVID-19 crisis, Shivang stepped up without any fanfare, opened and supported vaccination sites for the community, donated PPE supplies, medicines and anything he could offer to help as he continues to do today. On a personal note, during my recent medical episode, Shivang was a lifesaver for which Robin and I are eternally grateful.,"' said Sisitsky & Kaye. "We can't think of a better person to be this year's Person of the Year and applaud and thank Shivang for everything he has done for our City."
"Helping people is in our pharmacy culture, since the beginning of the pandemic, the surge of supplies went down because the demand increase by many fold," said Patel, who did not know he was receiving this honor when interviewed.
"Being in the pharmacy, we found many helpless people (and) patients in need of help. At the same time, we heard the Framingham Coronavirus Community Outreach group was helping people in need. I and my partner Vipul Patel, who owned V-care Pharmacy, got inspired by such an amazing stand out act in community. With that we started pulling out all our resources to fulfill peoples needs in many different ways," said Patel to SOURCE.
MetroWest Pharmacy and V-Care Pharmacy together have administered more than 20,000 vaccines, said Patel.
When Lt. Governor Karyn Polito came to Framingham in May to meet with small business owners and discuss the impact of the pandemic, At-large City Councilor Janet Leombruno knew whom she needed to meet – Patel.
"Shivang Patel has been a true leader in Framingham during this pandemic," said Leombruno. "He saw the need for vaccines in our community and jumped right in without hesitation. By partnering with Nicole Doak of the Framingham Coronavirus Community Outreach and the Framingham Housing Authority, Patel and his team were able to vaccinate our seniors, our students and residents quickly and efficiently. Thank you, Shivang, for being a bright light during these heavy times."
Also meeting with the Lt. Governor that day was District 4 City Councilor Michael Cannon, who chair the City Council's Economic Development subcommittee.
"Mr. Patel set a high benchmark in showing not just what it means to be a business leader, but a true community leader. While Framingham's local government was falling behind, Mr. Patel and his team worked proactively to serve our entire community and inspire those in other communities to do the same. Framingham is a healthier place because of his work and the work of those he led and inspired," said Councilor Cannon.
Patel and his pharmacy employees, like super heroes put on their capes, well they put on their white coats, gloves, and masks, and got to work to help the City of Framingham and Framingham Public School District, too.
"We have worked collaboratively with City of Framingham during pandemic. We were able to host multiple vaccine clinics at the City's public parks to offer the vaccine" right in the neighborhoods impacted by the pandemic said Patel.
"MetroWest, V-Care Pharmacy, and Nicole Doak's group worked collaboratively with Framingham Public Schools to offer multiple vaccine clinic including pediatric vaccine clinics," said Patel.
SOURCE asked Patel what he learned helping people in 2020, and throughout 2021.
"Framingham has lot of potential and with all those great people and with their potential, it can become a dream city," said Patel.
But as the calendar turns to 2022, COVID-19 which many thought would be gone in 2021 with the emergence of the trio of vaccines, unfortunately is still here.
There was a surge of COVID cases in the City of Framingham post Thanksgiving, and Patel forecasts another surge in the City after the latest December holidays.
"We have learned that pandemic is fluctuating up and down since last year. The surges goes high to low and low to high in small periods of time, but at the same time we are not able to react that quickly in accordance of surge. I think if we are able to find the stable resources, work to gather and execute in the same time as it fluctuates, we will be able to controlled it more easily," said Patel.
"We have to think ahead and act before it (surges) happens," said Patel.
"We are lucky to be a part of the Framingham community," said Patel, who wanted to thank everyone for supporting his small business. "We will be continuing our support and contribution to our community" into 2022 and beyond."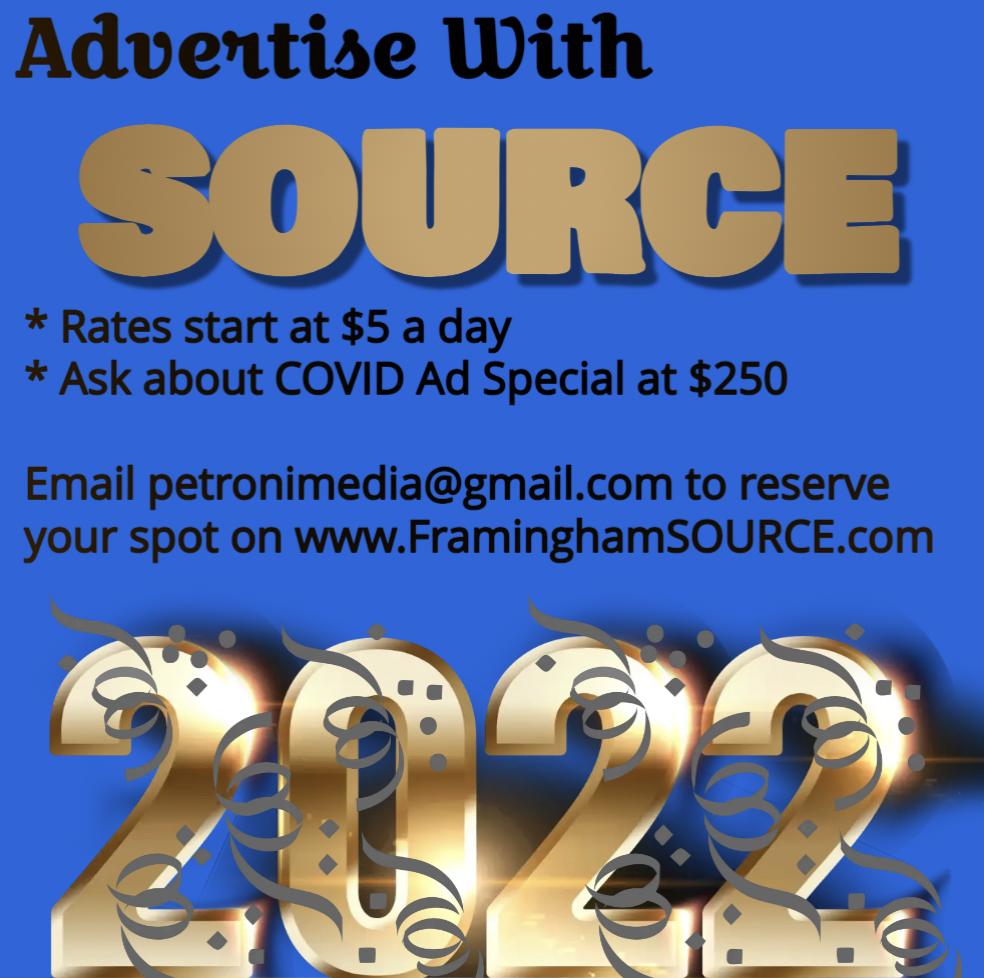 ***