Framingham Police: White Sedan Sought in Waushakum Crash
Posted at 8:38 p.m. on November 7. Updated at 1:53 p.m.
FRAMINGHAM – A crash on Waushakum Street Sunday night November 7, knocked out power to a portion of the neighborhood for a few hours, according to police.
The crash happened at 7:49 p.m. at 22 Waushakum Street.
"This was a hit/run accident.  The telephone pole was struck causing significant damage to the pole and transformer," said Framingham Police spokesperson Lt. Rachel Mickens. "The striking vehicle was a white sedan, possibly a Nissan Maxima and has not been located." 
Police are investigating.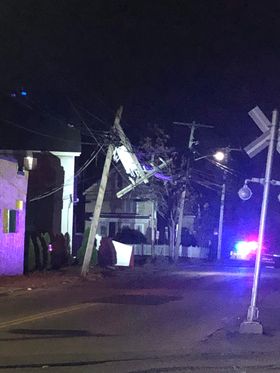 Photo courtesy of a SOURCE reader