Valadares Endorses Sisitsky For Framingham Mayor; 2 Tour Downtown Businesses For 2 Hours
FRAMINGHAM – Framingham Mayoral candidate Charlie Sisitsky scored a major endorsement from a former opponent, local businessman Carlos Valadares in his pursuit to sustain front-runner status for the mayoral election on Tuesday, November 2.
Sisitsky and Valadares toured downtown Framingham and spoke to local business owners for more than two hours on Monday, September 27. The two men discussed economic, social, and cultural opportunities springing up in the Southside neighborhoods in the community.
"I spent the morning with Carlos Valadares walking throughout downtown Framingham to meet and speak with store owners. We discussed the challenges of operating a local business and having to deal with the many disruptive issues in the area south of Waverly Street. These business owners reported to me that their clientele are afraid of walking along the sidewalk to-and-from the stores, and are concerned about damage to their vehicles while they are shopping. I conveyed different ideas that I have about dealing with these issues and I received positive feedback during our discussions," said mayoral candidate Sisitsky. "These stakeholders in our community appreciated that I took the time to visit and listen to them. I promised that this would not be the last time that they would see me in the area, and that if elected Mayor, I will work collaboratively to solve the problems as a top priority of my administration."
"I know our government is not doing its job right when I see so many voices going unheard. I will always continue to serve and fight for the community in any way I can. For now, I hope to do so by working with Charlie Sisitsky to help the business community downtown. I met with him to discuss the issues and I believe that he is the right person for the job. I am confident that Charlie will work to give more voice to the people of Framingham and address the problems affecting our downtown and school systems. Though I would like to still be in the race, I eagerly look forward to getting back to what makes me happy, directly serving the community," said Valadares.
Sisitsky won the preliminary election earlier this month with more than 65% of the vote.
He finished with more than 4,400 votes, while current Mayor Yvonne Spicer received less than 2,000 votes.
Both Spicer and Sisitsky will be on the ballot on November 2.
The winner will be elected to serve as Mayor of Framingham for a 4-year term.
***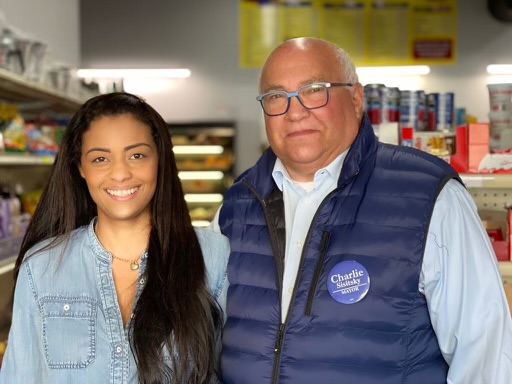 Photos courtesy of Charlie for Mayor Campaign