Framingham Public Schools Partner With Dignity Matters To Distribute Free Menustral Products To Students
***
FRAMINGHAM – The Framingham Public Schools (FPS) Department of Health and Wellness and Dignity Matters, a Framingham nonprofit whose mission is ensuring women and girls have feminine hygiene products when they need them most, are excited to announce the rollout of a new pilot program to distribute free menstrual products to Framingham Public School students in need. 
School nurses across Framingham Public Schools provide free menstrual products on a daily basis in health offices and recognize the need to expand access to the products.
Now, through the pilot program with Dignity Matters, there will be cabinets stocked with menstrual products in middle and high school bathrooms to provide students with an easy and private way to access a month's supply of the products. 
Dignity Matters is a Framingam-based non-profit organization that collects, purchases and supplies feminine hygiene products, bras and underwear to women and girls who are homeless or disadvantaged, in order to help them stay healthy, regain self-confidence, and live with basic dignity. They support over 10,000 local women and girls each month in communities across the entire Eastern Massachusetts and beyond.
The implementation of the pilot program aligns with the Framingham Youth Council's recent successful effort to pass a city ordinance making menstrual products available in city-owned buildings.
FPS adolescent health nurses, Cheryl Aglio-Girelli and Mynette Shifman, partnered with Framingham Youth Council Health Subcommittee Chair Chloe Mills and Framingham Youth Councilor Alison Jones, both Framingham High students, to launch the summer pilot program and will remain involved as the schools fully launch in the fall. 
According to a 2021 study conducted by "U by Kotex," 38% of low-income women and girls report missing work, school, and similar events because they cannot afford menstrual products. FPS students are no exception to this struggle as 44.9% of students in the district are economically disadvantaged according to data submitted to the MA Department of Elementary and Secondary Education. The physical and mental health issues caused by period poverty include illness, infection, incontinence, shame, bullying, and depression. 
The pilot program which started at the beginning of July supports up to 150 students who are participating in the district's summer program at Framingham High School and Cameron Middle School.
Each student in need at the two locations is provided a one-month supply of products.
Mynette Shifman, Adolescent Health Nurse said "We are so excited to begin this pilot program with Dignity Matters! There are so many students in our schools who need menstrual products in order to come to school." 
Beginning in September, the partnership between Framingham Public School and Dignity Matters will expand availability of  menstrual products for 400 students in need who attend the district's three middle schools, Framingham High School, and the Thayer campus.
Kate Sanetra-Butler, the Founder and Executive Director of Dignity Matters, said of the partnership, "We are beyond thrilled to be working with Framingham Schools and providing girls with the menstrual care they need to attend school and take advantage of other services offered to them.
Framingham Public School Director of Health and Wellness, Judy Styer said "we have been working toward this for the past two years and are committed to making these products available to any student in need. We have secured district funding to make this partnership a reality." 
Dignity Matters will also provide free sports bras and underwear to the Office of Health & Wellness to put in their "closets," places where in-need students can stop by and pick up clothes, hygiene products, and school supplies.
For more information regarding this program, please contact the FPS adolescent health nurses, 508-782-7488.
***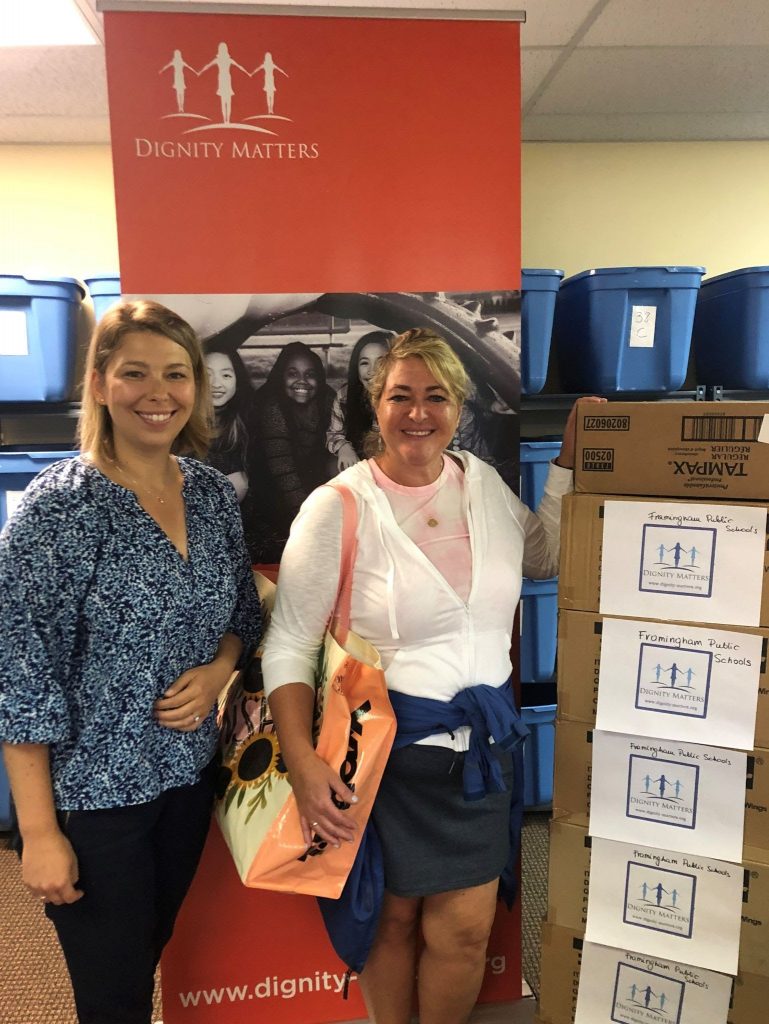 Director of Dignity Matters, Kate Sanetra-Butler (L) and Adolescent Health Nurse for Framingham Public Schools, Mynette Shifman (R) pause while picking up supplies for the summer program. 
Photo and press release submitted to SOURCE media.