Framingham Police Charge Man With 3 Robberies After Hit & Run Crash
FRAMINGHAM – A Framingham man was involved in a hit & run crash on Saturday, July 3. When officers stopped him on Flagg Drive, he was arrested on multiple motor vehicle charges, but an investigation led officers to also charge him in connection with three recent breakins, over the holiday weekend.
On July 3 at 8;48 a.m. Police arrested at 9 Flagg Drive Richard Hughes, 39, of 263 Concord Street of Framingham.
Hughes was charged with three counts of Breaking and Entering in the Nighttime for a Felony, 3 counts of Vandalism, Leaving the Scene of an Accident, Possession of a Class A (Fentanyl) drug, Operating after Driver's License Revoked Habitual Offender, warrant out of Framingham District Court, and a warrant out of Worcester.
After officers stopped him following the hit & run crash, they discovered "his license was revoked and he had warrants out of Framingham and Worcester," said Framingham Police spokesperson Lt. Rachel Mickens.
"While conducting their investigation officers located a white powdery substance believed to be Fentanyl inside of the vehicle," said Lt. Mickens.
Officers also "located evidence, including clothing and a piece of cement, inside of the vehicle connecting Hughes to various breaks that occurred over the weekend," said Lt. Mickens.
Hughes is accused of breaking into 740 Waverley Street on July 3.
The register was broken into and $300 cash was stolen, said Lt. Mickens.
Hughes is accused of busting into a hair studio at 225 Worcester Road on July 3.
And he is accused of breaking into a pizza parlor at 41A Waverley Street, according to police.
"Register drawer" was taken at Family Style Pizza, said Lt, Mickens. It is unknown if any or how much cash was stolen, she added.
***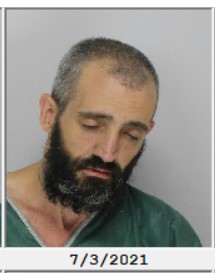 Framingham Police booking photo