Exhibit A Brewing Company Donates $2,088 To Hoops & Homework
FRAMINGHAM – In January, Exhibit A Brewing Company released a lager called Educator, honoring the teachers who have shaped our lives and continue to help students learn and grow in today's challenging environment.
To further support local educational efforts, a portion of the proceeds from sales of the lager were set aside for Framingham's Hoops and Homework after school program.
Today, Exhibit A presented Hoops & Homework with a check for $2,088. Funds will be used to assist students with remote learning, after school, and summer programs.
"We love our teachers at Exhibit 'A'! In fact, we have several current and former teachers on our staff," said exhibit A General Manager Kelsey Roth in January when Educator Dunkels Bock launched. "It's such a challenging time right now with schools doing remote learning that we wanted to show our support and help out our community at the same time. Hoops and Homework was a natural choice for us to partner with since they focus on the students in our neighborhood."
Educator is a Dunkels Bock German Style Lager. This 6% ABV beer is a bit stronger than your typical lager and features a rich, caramel maltiness. The style originated in the Northern German city of Einbeck in the 14th Century, and is a great beer for drinking during the winter months.
****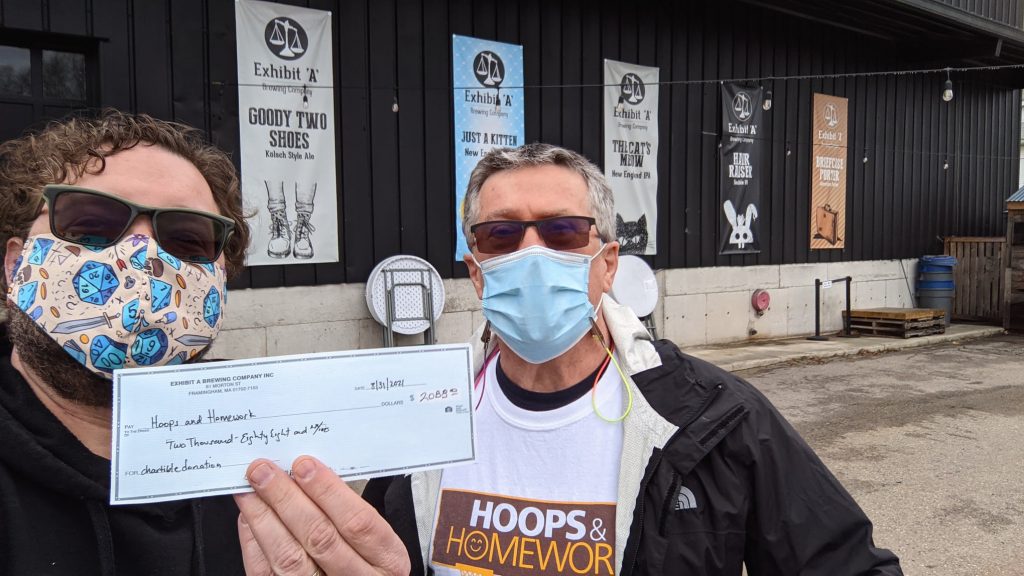 Photos courtesy of Exhibit A Brewing Company