Framingham Welcomes 6 New Firefighters
FRAMINGHAM – The Framingham Fire Department swore in a half dozen new firefighters today, March 1.
All six will be "assigned to the Training division for a 2-week basic training, said Framingham Fire Chief Michael Dutcher.
"After that, they will be assigned to a company with an experienced Officer while they wait for an opening in the fire academy," said Chief Dutcher.
The six new firefighters include two Framingham High graduates, a Keefe Technical graduate, and an Ashland High graduate.
They new firefighters are Antonio Alvarez, Shane Arrandale, Cameron Bryan, Daniel Sweeney, Thomas Zanella, and Daniel Chapoteau.
Alvarez is a Framingham High School grad.
He "joins his 2 brothers in the fire service, Oscar, is a Framingham Firefighter, and Luis, A Massport Firefighter (and formerly a Framingham firefighter," said Dutcher.
Arrandale is another Framingham High graduate.
"His grandfather Jack McGrath, served the citizens of Framingham with honor,  from 1969-2004," said Chief Dutcher.
Bryan is an Ashland High graduate, who became a Framingham resident a few years ago. His family owns Lloyd's Diner in Framingham.
Sweeney is a Newton North High graduate.
"Dan's younger brother, Michael, was also a recent Framingham Fire hire and is currently at the Mass Fire Academy and expected to graduate from Recruit Training Program this Friday," said Chief Dutcher.
Zanella, is a life-long Framingham resident and a graduate of Keefe Technical High School in Framingham.
Chapoteau, is a Framingham resident, originally from New York. He has some firefighting experience, serving as a call firefighter for the Town of Dunstable.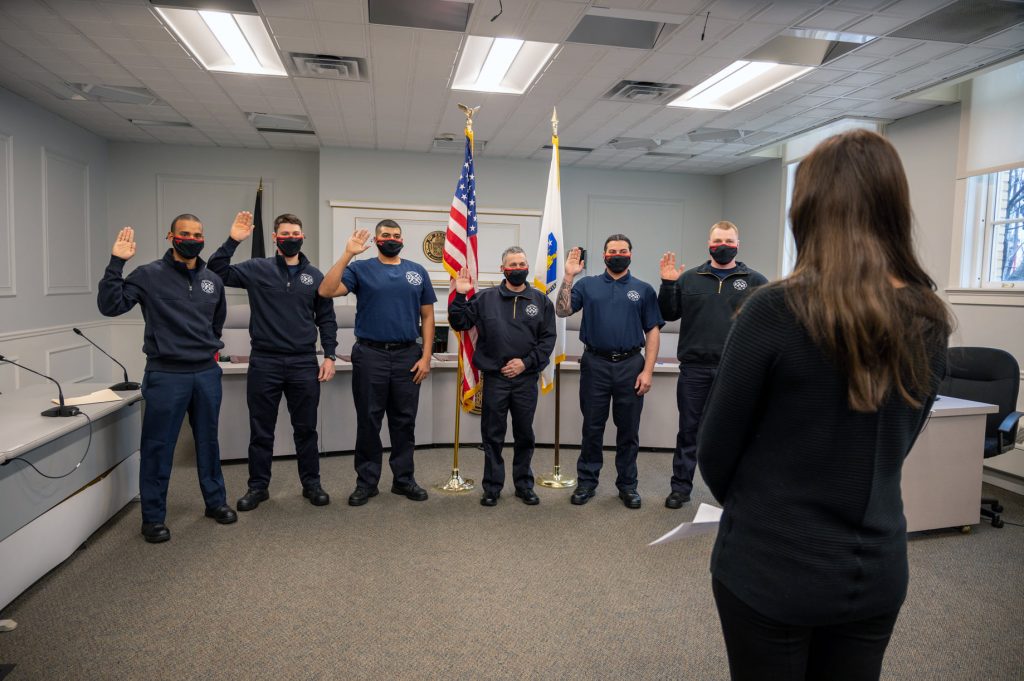 Photos courtesy of Wayne Dion posted on the Framingham Fire Facebook page