Riley Sworn In As Framingham Deputy Police Chief
FRAMINGHAM – City Clerk Lisa Ferguson administered the Oath of Office for the City's newest Framingham Deputy Police Chief Sean Riley this morning, January 19.
Framingham Police Chief Lester Baker announced on January 8 he had appointed Sean Riley as the City's newest Deputy Chief of Police joining Deputy Chief Ronald Brandolini and Deputy Chief Victor Pereira.
Riley joined the Framingham Police Department in 2001 as a patrol officer. He was promoted to Detective in 2005, Sergeant in 2015, and Lieutenant in 2018.
From 2008-2011 and 2017-2019, he served in various roles on the Framingham Police Association, including Vice President and Board Member.
Before coming to Framingham,
Riley was a patrol officer with the Town of Winthrop Police Department from 1996-2001 and was a Correction Officer/Deputy Sherriff with the Suffolk County Sheriff's Department, 1993-1998.
Riley has a Bachelor of Science in Law Enforcement from Western New England University and is currently enrolled in a Master's degree program in Public Administration at Framingham State University.
"We chose a private ceremony to mitigate potential virus transmission, therefore, protecting people. The City will host a formal, public swearing-in event to which you will be invited once COVID-19 subsides," wrote Framingham Mayor Yvonne Spicer to City Councilors and department heads this morning.
***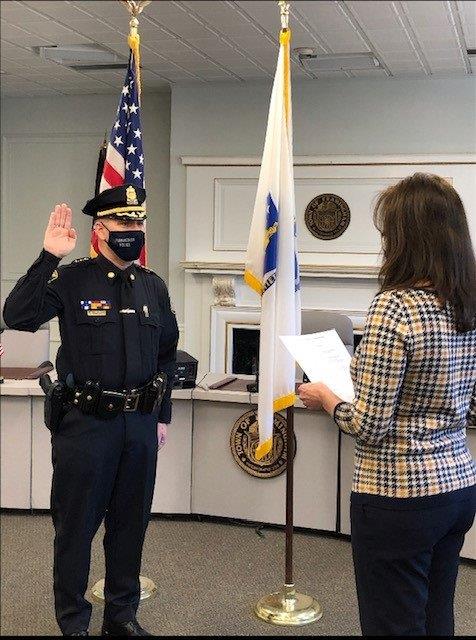 Photo from Framingham Police