Framingham Pushes Students Return To Classrooms To February
FRAMINGHAM – The Framingham Public School district is pushing the return of its highest needs and other students to a hybrid learning program, which would include some classroom education to February 2021.
The district announced the news today, January 15, 2021.
Some students have not been physically in the classroom since March 2020, while about 500-550 of the district's highest needs students were physically in their classrooms in October & November 2020, and then the district went completely remote in early December 2020.
"I am pleased to announce that we will start/restart appointment-based special education testing for students on January 27, 2021. We anticipate that the COVID-19 attestation app will be in place ahead of the special education testing so that students, families, and staff members will answer a series of COVID-19 related questions via the mobile app and based on the answers, the app will flash red, meaning you are not permitted to enter the school or green, meaning you may enter the school. In addition, we will continue to use personal protective equipment (PPE) such as sneeze guards and face masks to assist in risk reduction," wrote the district in its latest newsletter to parennts.
"The graphic below will be updated weekly and includes key community metrics that will impact our return-to-school. In addition, the district will work closely with the Framingham Department of Public Health to constantly assess both the risk (e.g., in-school transmission and upward data trends) and risk mitigation efforts (e.g., weekly testing and downward data trends) which will also impact the target return dates for Phase I & II and Phase III & IV," wrote the district.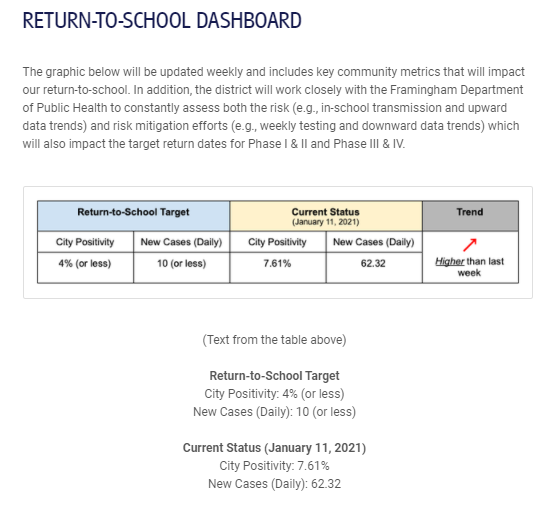 "The addition of testing for staff and students may allow an earlier return-to-school, even if the target is not met. Departments of Public Health at all levels (local, state, federal) have identified regular testing as a key risk management strategy along with physical distancing, PPE, and the many facility and HVAC upgrades that have been made. Until recently, regular, in-school testing, has not been available to FPS," said the district in its communication to parents.
"Despite some public opinion that it is the District's intention to keep FPS doors closed for the remainder of the school year, we continue to work toward a safe return to school, in-person, this school year. With that in mind, it is important to note that return-to-school metrics remain in place and it is our resolve to start bringing back our staff and students (based on commitment form responses) for in-person teaching and learning and extracurricular activities," said the District today, January 15.