UPDATED: Natick Residents Told To Boil Drinking Water After Tests Show E. Coli
NATICK – Residents are ordered to boil drinking water until at least Saturday, after tests showed E. coli bacteria in the Town of Natick's water supply.
Interim Town Administrator Robert Rooney made the announcement during the Selectmen's meeting tonight.
He said nine of 12 recent water tests were positive for the bacteria.
The Town received notice this afternoon of the presence of E. Coli bacteria within drinking water samples collected yesterday, January 12, according to the Town of Natick.
Massachusetts Department of Environmental Protection regulations require the Town to issue a 'boil water order' effective immediately, said the Town.
"E. coli bacteria were found at 9 out of 12 sampling sites in the water system in samples collected on Tuesday, January 12.  E. coli bacteria were also detected in a sample of the raw (untreated) water from the Elm Bank source, which is chlorinated (treated/disinfected) before use," said the Town in its alert. "Bacterial contamination can occur when increased run-off enters the drinking water source (for example, following heavy rains). It can also happen due to a break in the distribution system (pipes)."
 "The Department has removed water sources that tested positive for E. Coli from operation and has increased water disinfection treatments.  Follow-up and confirmatory water quality samples will be taken immediately.  The results of this testing and system analysis will determine the cause of the positive results.  The Department hopes to resolve this inconvenience within the next few days," said the Town in an alert.
The Town will re-test again on Saturday.
Water should be boiled for at least one minute before drinking, cooking, brushing teeth or ingesting any water.
It is recommended to wash and rinse dishes with boiled or bottled water. Not all dishwashers will remove E. coli contamination; if you use a dishwasher it must reach a temperature of 160° F.
You can shower or take a bath however, as long as you don't swallow the water. Infants and young children should not be bathed in this water because they might swallow some accidentally. To prevent this, bathe your children with pre-boiled or bottled water or give them sponge baths using only a small amount of water
Diseases acquired from contact with contaminated water can cause gastrointestinal illness, skin, ear, respiratory, eye, neurologic, and wound infections.
The most commonly reported symptoms are stomach cramps, diarrhea, nausea, vomiting, and low-grade fever.
Chart below is from the state of Rhode Island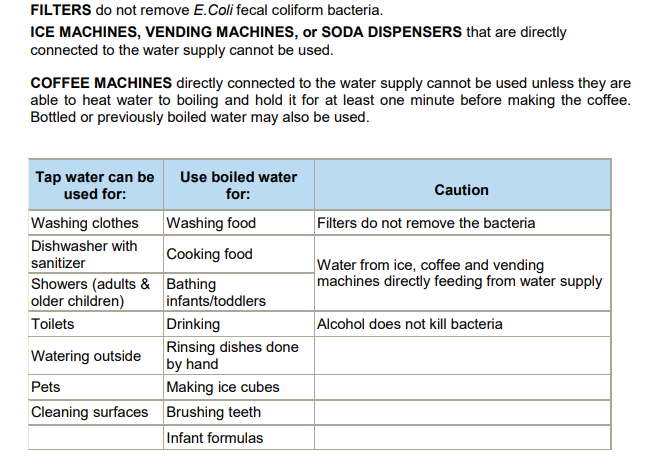 As a precaution, discard all ice, beverages, uncooked foods, and formula made with tap water collected on or after Tuesday, January 5, 2021, the date of our last weekly sample, which did not test positive for bacteria. 
Food establishments must follow MA DPH procedures and the direction of their local board of health, which may be more stringent than the DPH guide.  MA Department of Public Health – Guidance for Emergency Action Planning for Retail Food Establishments (pg. 30) http://www.foodprotect.org/guides-documents/emergency-action-plan-for-retail-food-establishment