Natick Police Hold Gun Buy Back Event With Citizens For Safer Natick, MetroWest Health Foundation & Middlesex Sheriff's Office
NATICK – The Town of Natick held a no questions asked gun buy back event today, Saturday, September 12, at the Hartford Street Presbyterian Church.
Erika Ball had requested Natick Police hold the event. This is the second year of the program, which was inspired and modeled on the Framingham gun buy back.
Participants were asked to to bring firearms unloaded and safe to the drop-off location. Drops off were 100% Anonymous event with No ID and no questions asked.
Citizens for a Safer Natick organzied the event with Erika & Jay Ball and Rich Sidney, inconjunction with Natick Police and the Middlesex County Sheriff's Department.
As an incentive to participate, residents received gift cards for each firearm they turn into public safety officers on the day of the event.
The values range depending on the firearm type.
A grant from Metro West Health Center covered the gift cards that were given in return for guns.
Unwanted and unsecured firearms in homes pose a serious risk to children, people with mental illness and those at risk from domestic violence.
***
Photos from Samantha McGarry of Moms Demand Action Massachusetts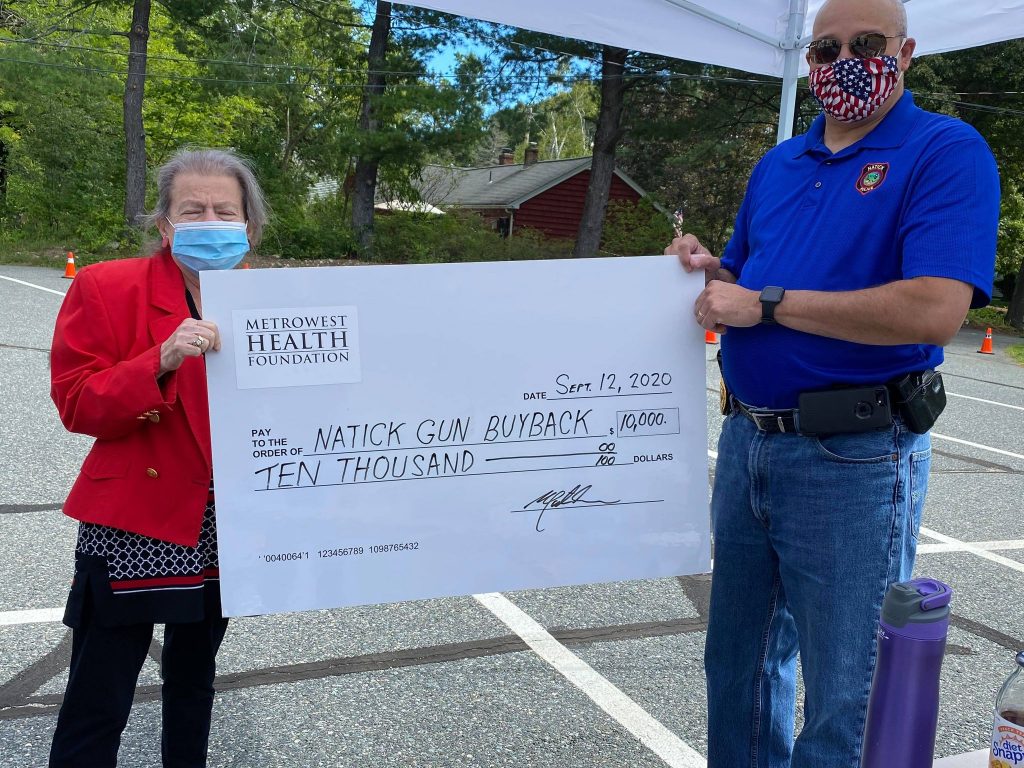 Chief James Hicks and Erika Ball with the grant from MetroWest Health Foundation