City of Framingham Creating $100,000 Park, A Block Away From Existing Park
FRAMINGHAM – In 2019, the City of Framingham partnered with MassDevelopment to crowdsource funding for a new park near downtown Framingham.
The current cement lot located at the corner of Arlington and Irving Streets was an eye sore, according to the City.
The goal of the crowdsourcing campaign was to raise $50,000 to create "an attractive and usable recreation space in a dense urban neighborhood."
"Through crowdfunding, we raised $56,665 from 182 donors in 60 days in order to match a $50,000 pledge from the Massachusetts Commonwealth Places program," said City of Framingham Planning and Community Development Deputy Director Erika Jerram.
Editor's Note: SOURCE made a donation to the park.
The City & Mass Development wrote "the corner lot sits on Irving Street, a busy two-lane street that connects Downtown to Southside neighborhoods, and is walkable to thousands of nearby residents and employees in the city's historic train-oriented downtown area. The Southside of Framingham has a high proportion of low-income, minority, and/or foreign-born whose first language is often other than English. The area underwent an economic downturn in the 1980s and 90s after the decline of manufacturing and growth of suburban shopping areas caused a loss of well-paid jobs. The area contains high concentrations of low-income housing and social services. There are at least 93 units of senior and disabled housing within a block of the future park site. These and other neighbors have little usable open space in the neighborhood."
Except one walking block from the park soon-to-be-created, sits Arlington Street Park, at the corner of Arlington and Gordon Street.
The small park provides a playground and full basketball court to its neighborhood, according to Framingham Parks & Recreation.
Last week, the park was packed with neighborhood kids one day and empty the next day.
Jerram said the new Irving Street park, a block away, will "create a usable open space on the Southside using an existing city-owned property that was vacant and being used as a parking lot.  The space will be maintained as a park's property going forward."
The $100,000 irving Street Park project used a $50,000 state grant and the crowdsourced funds raised in 2019.
"The park is currently under construction under the supervision of Parks and Recreation, " said Jerram. "They have installed some initial elements already including a stone wall and a row of privacy trees along the back.  The project is on track and should be open to residents for use this fall."
The grant requires the project be completed by the end of 2020, and the target date for the City of Framingham is Fall 2020.
In October 2016, the Town of Ashland began crowdsourcing to create The Corner Spot with the same program the City of Framingham used to create its new park.
Through the Commonwealth Places program, the Town of Ashland met its funding goal of $25,000 to win a matching grant of $25,000 from MassDevelopment. It then turned a 17,000-square-foot vacant lot in downtown Ashland into a large public space featuring seating, landscaping, public performance space and retail space where small businesses will open temporary pop-up store locations to test new business ideas and ventures, that has become a must-visit gathering space for the community.
In Masssachusetts, 69 projects have been funded using the the Commonwealth Places to enhance community life.
Below are samples of some other projects:
Newton crowdsources $7,500 and received a matching grant to create sidewalk poems that bring art and literature into the daily experience of walking in Newton.  Poems were stamped into the concrete sidewalks in Newton's village centers, around public schools, near local businesses, public parks, and transit stations.  Poems take the reader from neighborhood to neighborhood, past numerous poems scattered throughout Newton's many business districts and neighborhoods. 
Dedham is turning a 1921 elementary school into a state-of-the-art performance center through a $50,000 crowd-sourcing campaign.
Lowell transformed a vacant mill yard into Kerouac Park, which has a sturdy space for pop-up businesses with a $25,000 crowd-sourcing campaign. This space lets people without a permanent spot in Lowell see if we love their product just as much as they do. Entrepreneurs reserve the space for a couple weeks at a time, so that we can see and experience the great many businesses ideas that our neighbors have been dreaming of starting.
New Bedford crowdsourced $50,000 to create the Co-Creative Center in its downtown.
Salem crowdsourced $40,000 to create much-needed community space. While there are a couple of meeting rooms which are available to the community during limited times, they do not have amenities such as a kitchen facility, much less direct programming. Thus the Espacio Salem was born.
Framingham's new Irving Street pocket park will have "flexible passive recreation space incorporating a walking path, open lawn, trees, ornamental shrubs, benches, a shade structure, and a small plaza at the corner."
The park will be located about a city block from the Intersection of Route 126 & 135 in downtown Framingham.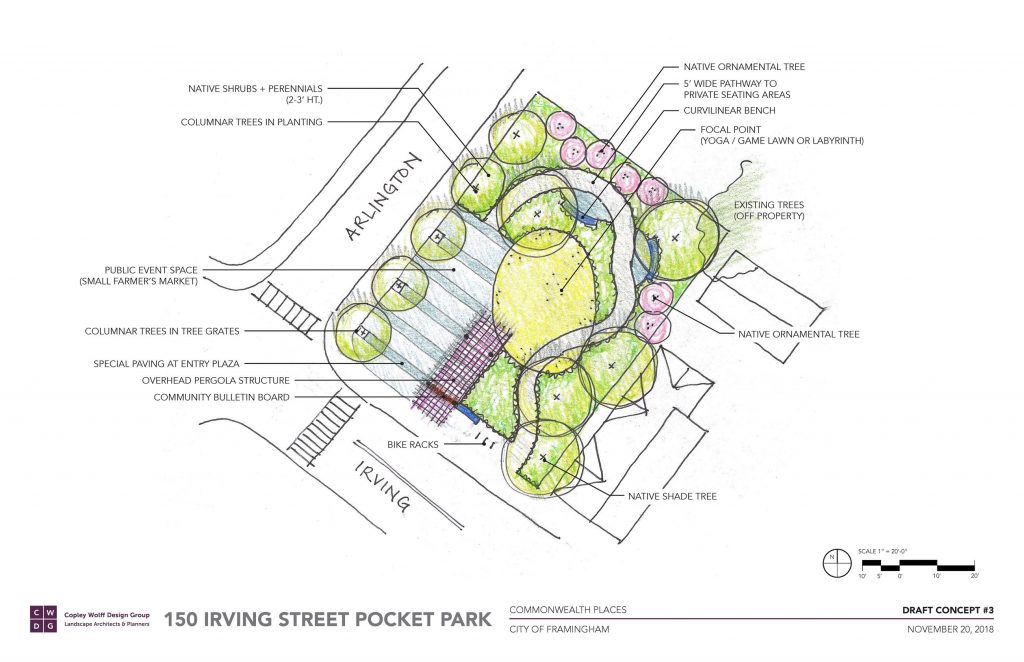 ***
Arlington Street Park photos by Kayleigh O'Connor, a Framingham High student who is interning for SOURCE this summer.
Irving Street photos by Kayleigh O'Connor, a Framingham High student who is interning for SOURCE this summer.