Framingham-Based Calare Properties Joins Sew the Mask Campaign To Support First Responders
FRAMINGHAM –  AIS announced today that Calare Properties, Inc. joined their growing list of corporate partners for the Sew the Mask campaign to create and donate up to one million high quality, reusable face masks to first responders and others at high risk during the COVID-19 pandemic.
Calare Properties, Inc., out of Framingham, has committed 4,000 facemasks, a $16,000 donation, to those in need within the community.
 "AIS is a market leader in office environments, we have partnered with them on several occasions and have always been impressed with their products and company," said Bill Manley, CEO, CIO and Owner of Calare Properties, Inc. "We wanted to team up with them again to help combat COVID-19 and keep our first responders and community safe. Helping volunteers who are making the masks while safe in their homes during this crisis was a bonus in supporting this effort."
The Sew the Masks campaign has mobilized AIS sewing professionals as well as more than 500 private, individual sewing enthusiasts – known as "Rosies" – from 40 different states who have been creating high-quality masks from AIS-sourced materials that have been donated to first responders and healthcare personnel, as well as others on the frontline and at risk in the fight against COVID-19.
"No healthcare worker, first responder, nursing home resident, student or other at-risk person should be worried about access to personal protective equipment. Yet we continue to see mask shortages among the people most at risk of infection," said Bruce Platzman, CEO of AIS.  "High quality, comfortable, reusable masks are the answer. We are grateful that Calare Properties, Inc. has joined our efforts in supporting the communities in which we live and work."
AIS allocated a production line of its employees in early April on the manufacturing floor to make these high-quality reusable masks using antimicrobial, moisture repellant fabric for the covers and a non-treated, comfortable inner layer filter of non-woven polypropylene.
AIS masks are already helping protect healthcare workers at UMass Medical Center and Brigham and Women's Hospital, as well as first responders around Massachusetts and others at elevated risk.
As part of a partnership with the United Way of North Central Massachusetts, AIS will donate 10 percent of each donation made to the organization. As a result of Calare Properties' generous donation, 400 masks will be donated by AIS to the United Way for distribution.
For more information, to become a "Rosie" or to learn about corporate partnerships and sponsorship of mask creation and donations, visit www.sewthemasks.com.
AIS is out of Leominster.
***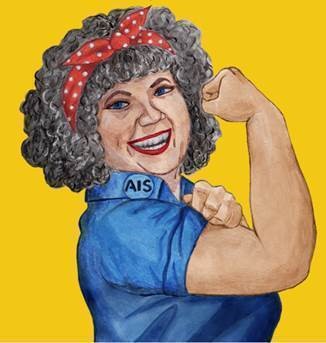 Release and photos submitted to SOURCE media.