[broadstreet zone="51611″]
BOSTON – State Representative Maria Robinson, a Democrat who represents Framingham, filed today an legislation to create a "Juneteenth Independence Day" as a state holiday in Massachusetts.
According to Juneteenth.com, "Juneteenth is the oldest nationally celebrated commemoration of the ending of slavery in the United States. Dating back to 1865, it was on June 19th that the Union soldiers, led by Major General Gordon Granger, landed at Galveston, Texas with news that the war had ended and that the enslaved were now free. Note that this was two and a half years after President Lincoln's Emancipation Proclamation – which had become official January 1, 1863. The Emancipation Proclamation had little impact on the Texans due to the minimal number of Union troops to enforce the new Executive Order. However, with the surrender of General Lee in April of 1865, and the arrival of General Granger's regiment, the forces were finally strong enough to influence and overcome the resistance."
[broadstreet zone="58610″]
"On January 1, 1980, Juneteenth became an official state holiday through the efforts of Al Edwards, an African American state legislator. The successful passage of this bill marked Juneteenth as the first emancipation celebration granted official state recognition.  Edwards has since actively sought to spread the observance of Juneteenth all across America,' said the organization.
Forty-seven of the 50 U.S. states and the District of Columbia have recognized Juneteenth as either a state holiday or ceremonial holiday, a day of observance.
The three states that do not recognize Juneteenth are Hawaii, North Dakota, and South Dakota.
[broadstreet zone="59984″]
Massachusetts began the ceremonial state holiday in 2007.
"Juneteenth today, celebrates African American freedom and achievement, while encouraging continuous self-development and respect for all cultures. As it takes on a more national, symbolic and even global perspective, the events of 1865 in Texas are not forgotten, for all of the roots tie back to this fertile soil from which a national day of pride is growing," according to Juneteeth.com
Other HD.5141 bill co-sponsors were Rep. Bud L. Williams of the 11th Hampden district, Rep. Mindy Domb of the 3rd Hampshire district and Rep. Brendan P. Crighton of the Third Essex district.
***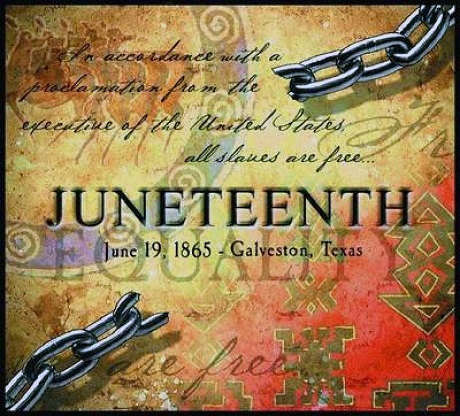 Image courtesy of Amherst, Massachusetts