Mayor Advertises For New Senior Advisor For External Affairs
FRAMINGHAM – The Mayor's first senior advisor of external affairs gave her notice last month.
Although the City of Framingham never announced the departure, the City of Framingham began advertising for the position this week.
Jacquetta Van Zandt is leaving the Spicer administration to work for Congressman Joseph P. Kennedy III's campaign for U.S. Senate against Senator Ed Markey.
On December 3, the City's Human Resources department advertised the position at a salary range of $72,090.72 to $84,465.68.
"Under the general direction of the Mayor, the Senior Advisor for External Affairs assists the Mayor in overseeing all aspects of the Executive Office operations including identify policy needs, developing and executing, building and managing coalitions in support of legislative initiatives, and other issues that may arise," stated the job posting.
"The Senior Advisor for External Affairs also plays a critical role in assisting the Mayor's leadership team in ensuring the legislative business of the City is running smoothly. This position also serves as the primary liaison with the Statehouse, Federal agencies and local government officials on projects affecting Framingham initiative," listed the job description.
"Strong interpersonal skills and the ability to cultivate ongoing positive relationships with legislators and municipal leaders, and other parties. The Mayor's Senior Advisor for External Affairs is a dynamic position and refers only difficult or unusual or highly sensitive and confidential matters to the Mayor or Chief Operating Officer," stated' the job posting.
The full-time position lists hours as Monday, Wednesday & Thursday 8:30 a.m. to 5 p.m. Tuesday 8:30 a.m. to 7:00 p.m. Friday 8:30 a.m. to 2 p.m.
In December 2017, Mayor Yvonne Spicer created two senior advisor positions.
In January, Mayor Spicer hired two of her campaign workers in those positions.
Spicer hired Jacquetta Van Zandt as the senior advisor for external affairs. She was Spicer's "scheduler" during the mayoral campaign.
Spicer hired Nadia Ullman as her senior policy advisor.
In June, the Mayor laid off he senior policy advisor.
The senior advisor is "often the initial contact and liaison for the constituency. The incumbent may research, analyze, draft and make recommendations for policy and courses of action using sound judgment. Responsibilities are broad in scope, balance multiple priorities and require a high degree of political acumen. The incumbent is expected to have professional experience, preferably with a background in both legislative and campaign work, either at the local, state or congressional level. The incumbent has some discretion in carrying out responsibilities with awareness of City, office and constituent issues and sensitivities," stated the job description.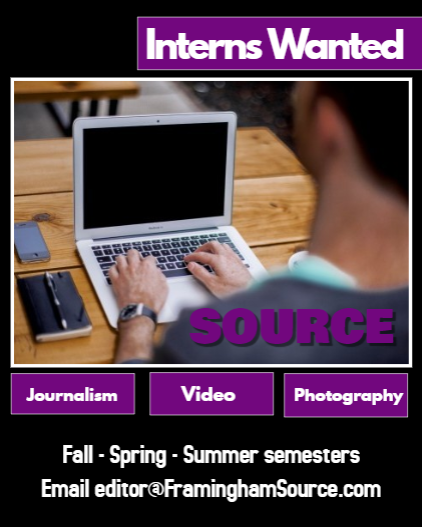 Essential Functions, listed in the job description include:
 Assist in day to day management of the Executive Office, and review and help create materials covering all aspects of the office work.
 Research, review, and draft policy proposals; draft policy briefs; work directly with Representatives to develop legislation; and assisting with stakeholder/community engagement and problem solving.
 Anticipate issues of a significant policy and political nature affecting Framingham and develops effective strategies for resolving them.
 Determine resources for Mayor on issues of a significant policy, organizational, and political nature.
 Assist Mayor with policy/initiatives that come before council meetings or committees by researching background materials, developing options and presenting information to Mayor.
 Strong commitment to a team approach and to working constructively as both a team leader and team member with staff across the city and at all levels of the municipality.
 Attend meeting with the Mayor, or on her behalf, as well as meet with elected officials on the local, state and federal level.
 Community outreach to ensure effective constituent programs; helping with staff management and scheduling; and looking for opportunities to expand and refine city wide programs.
 Ensure effective operations by planning, directing, and coordinating activities that provide intergovernmental advocacy, communications, administration of Mayoral functions, overseeing the advancement of local legislation and fostering public engagement strategies.
 Collaborate with, and serve as part of the senior staff management team and serves as Mayoral liaison on issues related to the Mayor's agenda, proposed legislation, and strategic partnerships.
 Provide advanced professional expertise, and support to the Mayor on a wide range of highly complex, sensitive, and confidential topics facing Framingham.
 Analyze potential impacts of local, state and federal legislative and regulatory proposals related to relevant public policy issues.
 Establish, develop, maintain, and enhance strong and trusted external relationships with individuals and organizations necessary to accomplish the Mayor's short and long-term goals, including; local, state, and federal elected officials, policy makers, and key staff.
 Ability to work independently under minimal supervision and troubleshoot and resolve problems.
 Perform similar or related work as required, directed or as situation dictates.
Candidates should have a Bachelor's Degree in a Public Administration, Government, Law, Public Policy or related field, 5-7 years of experience in local government, preferably city government experience; or any equivalent combination of education and experience.
Special Requirements: A valid class D Motor Vehicle operator's license is required.
No deadline was listed to apply, but typically most posting are for 30 days.