Q&A With District 8 School Committee Candidate Jim Hansen
Editor's Note: All School Committee candidates received a Q&A from SOURCE last week. Each race had different questions. If an answer is left blank, the candidate chose not to answer the questions. SOURCE gave the candidates a word limit, so some answers may be shorter than what candidates submitted.
***
FRAMINGHAM – Jim Hansen is one of two candidates seeking the District 8 School Committee seat. The current District 8 representative chose not to run for re-election to the School Committee but instead run for City Council.
Election day is Tuesday, November 5. Polls are open from 7 a.m. to 8 p.m.
Voters will elect 9 School Committee members, by districts, for a 2-year term.
There are three contested races in Districts 3, 8, and 9.
***
JIM HANSEN
Occupation: Database Software Development
Years lived in Framingham: 21
Volunteerism: Town Meeting, Board of Public Works, Water and Sewer Abatement Board, First Parish Framingham
Why did you decide to run for School Committee (250 words or less):
I'm running for the district 8 School Committee seat to bring persistent effective advocacy for a historically underrepresented and underserved area of our city with one of the largest student populations. I want to help solve the equity problems at the personal, school, and district levels. That will require thoughtful approaches, uncomfortable conversations, and honest dialog.
Website or Facebook page: https://www.facebook.com/hansenforframingham
***
SHORT QUESTIONS
Candidates were asked to submit one word or one sentence answers to a series of questions.
The best thing about the Framingham Public School District is the highly qualified professional veteran teachers.
What letter grade would you give Superintendent of Schools Bob Tremblay? B
Would you have supported a 6-year contract for the Superintendent of Schools? (yes or no) No
Do you support the new Unit A teacher's contract? (yes or no) yes
What letter grade would you give the busing system for Framingham Public Schools? C
What was the last Framingham Public School event you attended: IEP meeting
Favorite Children's Book Watership Down
Should the school year start after Labor Day? (yes or no) yes
Should February vacation be eliminated from the calendar? (yes or no) depends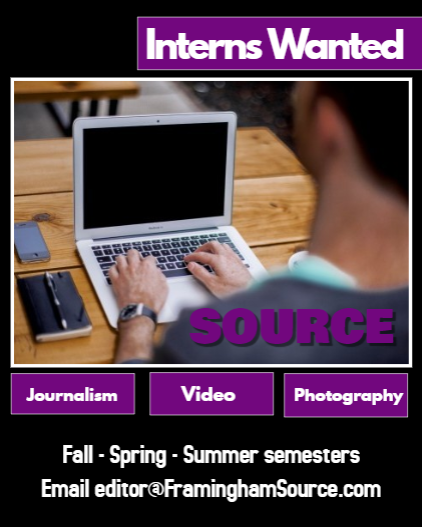 Should there be recess at the middle school level (yes or no) yes
Do you support free preschool for all 4 year olds? (yes or no) yes
Should there even be homework at the elementary school level? (yes or no) yes
Should there be metal detectors at Framingham High School? (yes or no) no
Would you support virtual classes at Framingham High on snow days? (yes or no) depends
Do you support a restorative justice system for the middle and high schools? (yes or no) yes
Framingham teachers are the core assets of the district.
I would never cut money from the budget from special education
The Framingham Public School System needs to completely rethink school choice and school siting with a focus on our diversity and equitable inclusion.
I would bring Perspective to the School Committee.
I would want to serve on the Equity and Facilities subcommittees.
***
***
IN-DEPTH QUESTIONS
(Editor's Note: Candidates were told they could have 350 words to answer. Longer answers will be cut at the sentence closest to 350 words.)
***
1) Specific criteria is used to measure a Superintendent. Criteria is used to evaluate a teacher. How should you as a School Committee member be evaluated? What three things should voters hold you accountable for after your 2-year term?
I hope that voters will evaluate all school committee members based on 1) how well they serve the entire student population when performing oversight or setting policy, 2) how effectively and efficiently they allocate the school budget in service of the school district's mission statement, and 3) how well the city educates the children who are difficult to educate.
I hope that voters will not focus too much attention on yearly test scores, or the "grades" given by the state. Those should be the starting point for any conversation, not the final criteria. Multi-year trends are more meaningful than single year changes. The high stakes tests only measure part of what is important, and the demographic reporting for Framingham is questionable. Highschool dropouts often come in clumps and it can be hard to get good root cause analysis for why it is happening and who is dropping out.
One wonderful thing about a democracy is that the elected officials don't get to pick the criteria upon which they will be evaluated. The voters get to do that based on what is most important to them at the time.

2) As you know, the transportation system is not working at an A+ level. Some students are consistently late for school due to buses, and some children have hour-plus bus rides home. It is a complicated issue, but in the end the School Committee is responsible for the busing contract. What will you do in your erm to fix the busing problem?
When the contract is up for renewal, we need stronger financial connections to demonstrated service quality. When a private company is not heavily penalized for poor performance there is little incentive to ensure sufficient substitute staffing to handle the inevitable sick days and personal emergencies.
We should evaluate all the options, which includes the possibility of taking some or all of the bussing back into the school department.
3) One of the major roles of the School Committee is to set policy. Which policy would you like to change or propose in your term?
I would recommend changing the policies around school assignment to 1) give parents more meaningful choices at more points during their child's school career and 2) achieve an equitable integration of children.
A child arriving in Framingham after the April cutoff date should still have an opportunity to participate in the choice program and not be summarily assigned to the default school. The elementary to middle school feeder patterns should be disrupted. It makes no sense to pick your child's kindergarten based on something you want or don't want in the 8th grade. It should be easier to transfer from school to school, even without an IEP, as the needs of your child develop over the course of the years. Something in the assignment algorithm has to change to prioritize desegregation. The state could come after us again like they did before 1998. It is much preferable to take community directed steps than to take court ordered steps.
4) The School Committee is responsible for the budget. Do you support a level-funded, level service, or an increase in the Framingham Public Schools budget for the 2020-2021 school year? Why?
At this point in the year it would be irresponsible to commit to any total budget target. The state funding, which is a major consideration, is very likely to increase significantly. But that isn't guaranteed. I would not favor a level-funded budget as that would mean a degradation of services by inflation. A level service budget should be a minimum target, assuming that there are no changes in demographics. Given our actual likely demographic changes, we should prepare for increasing school budgets. The boom in construction of new homes is going to bring more children to Framingham. We don't know how many more, but we are unlikely to have fewer children in the foreseeable future.
5) The Superintendent just received a 6-year contract. Accountability is important. What three things will you hold him accountable for over the next two years?
A school District changes slowly. Some important changes can't be measured until you have several years of data. So the short term evaluations need to be done on clear, simple measures. Student MCAS and PARC scores are interesting context, and many people want to use them to evaluate teachers, schools, and districts. That's not what they are designed to measure.
The superintendent should be measured on 1) the turnover rate of the teaching staff, 2) the 4 year average full dropout rate of highschool age students including every student who stops attending a special placement either at Thayer or outside the district, and 3) the racial balance of the schools.
6) The Framingham Elementary Schools are racially imbalanced today. It was this issue that brought about school choice years ago. Should Framingham Public Schools be redistricted to 9 district schools as opposed to school choice? why or why not?
As a standalone solution, this is laughable because it would leave the elementary students in my district without a school. It also wouldn't make any progress toward racial balance in the schools since the housing patterns are racially imbalanced.
7) The state now has MCAS 2.0 to evaluate students and schools? But in your opinion, how should a student or a school be evaluated in Framingham? How will you know Framingham students are achieving? Be specific.
Tests such as MCAS may have some validity in measuring specific areas of a student's achievement. However, averaging the scores of students at a school is a terrible way to measure a school. Slightly better school evaluations can sometimes be done with analysis of student improvement on tests over the course of a year, but that requires careful statistical analysis. Such tests generally only confirm what people already know about a school.
The best measures for students and schools are long term and more difficult to assess: Is the former student gainfully employed (or in graduate school) and living independently by age 25? Have they avoided being incarcerated? Do they vote and otherwise show civic engagement?
Such measures do not lend themselves to quick evidence for or against particular staffing or policy changes. But in the long run these kinds of measures are the only ones that matter. The developers and sellers of standardized tests want us to believe that scores on their tests are meaningful predictors of something that is actually meaningful. We must never lose sight of the real goal, which is to help the students become happy productive members of society living meaningful lives.
8) There are significant achievement gaps in the Framingham Public Schools. Name three things you can do as a School Committee member to help close those gaps by 2022.
The single biggest predictor of student achievement is the family's income and wealth. The fastest way to close the measured gaps between schools is to scramble the students based on this factor. However, that only fixes an aggregate comparison and may do very little to help lower income kids achieve more of their potential.
Achievement gaps are very stubborn. Many cities with far more resources than Framingham have struggled valiantly for years to close those gaps and made very little progress. So any claim that three particular things can close the gap here by 2022 is almost certainly wrong. Furthermore in the cities that have made significant progress it was not the schools working alone. It requires collaborative work with many other parts of the city including public health starting with prenatal care, housing and zoning, economic development, parks and recreation, police, and every other part of the community that touches a student's life or the life of a family member.
Toward the goal that every school is a desirable school the school committee can: 1) ensure equitable funding and programming between schools. 2) review and change school choice policies, and 3) call the school superintendent to account for any identified factors contributing to the gap. Such factors may include the need for implicit bias training and cultural competency training for all of the staff.
9) Framingham middle and high school students are stressed. The MetroWest Health Foundation studied also showed an alarming rate of suicide attempts. What can the school system and the school committee do to help the mental health of students? Identify 3 specific steps.
Change the start time for the highschool to be later in the day. The scientific understanding of the circadian rhythm in the developing adolescent brain is very clear: they need more sleep and they need to fall asleep later and wake up later than adults. Sleep deprivation is strongly associated with poor mental health and risk of suicide.
Affirm and expand the anti-bullying programs at all schools.
Ensure that all staff in contact with kids know the warning signs of depression and suicide risk, and know how and were to respond to and report any concerns.
10) Students and parents in District 8 need _____________________________. Why?
Need a high quality preK-5 elementary school built here in the district so our kids have another good option that doesn't require a long bus ride
11) Attendance is an issue in the district for many students. What can you do as a School Committee member to make classes a priority for students and families?
Without reliable data as to the distribution of the various reasons that students might be absent, there is only one clear target and that is sick days. So we can ensure that the school nurses have adequate budget and resources to educate children about proper handwashing, and other personal hygiene matters that contribute to better public health. Ironically, that includes staying home from school if you are sick so you don't infect all your classmates.
12) There are more 70 languages spoken in the Framingham Public Schools. For many families English is not their first language. How can you help engage more parents with the school district and get more parents actively involved in their child's school and education? be specific.
This is hard. Language is only part of it. Even at the bilingual schools where every communication comes out in more than one language and the PTO meetings have two-way translations throughout the meetings, and a lot of effort goes into making sure language isn't a barrier, participation and involvement is lower than it should be.
Like student achievement, the single biggest predictor of parent involvement in the schools is their income and wealth. If you're working two jobs to make ends meet and tired all the time, it's not as likely that you're going to get involved as if you are a stay at home parent with plenty of disposable income and leisure time.
So if you want more people to get involved, make it possible to be involved in small chunks of time, make it relevant and rewarding, and be mindful of the schedules of working people.
13) City voters approved a new Framingham Middle School, but that is just the beginning of the school district's needs. Tell voters your priorities for the district in regards to facilities over the next 5 to 10 years? Be specific.
First and foremost we need to build more schools where most of the children live. That means we need to build at least one school in District 8. The best configuration would be one prek-k-1st grad school and one 2nd-5th grade school on adjoining sites with a common bus staging area.
After that, we need to consider the latest demographic projections based on the building boom in housing units.
14) A parent comes to you and complains about their child's teacher being ethnically-biased. A parent says the principal is not following your child's IEP. A teacher complains to you about the principal or central office. What steps do you take?
None of these examples is something that a School Committee member can directly remedy. It is not in their authority to direct members of the school staff to take or not take particular actions.
However, they can educate the parent or teacher about the steps that are available to them for reporting issues and asking for assistance. That might be a principal, the special education director, or one of the assistant superintendents. If they can't get satisfaction from that, the school committee member can bring it up with the superintendent at the next meeting. Or if time is of the essence, can work through the chair of the School Committee to bring it directly to the superintendent.
If there is a subcommittee meeting at which a relevant department staff is present it could also be brought up there.
In any case, care must be taken to avoid public disclosure of any private information regarding the matter.
15) Do you think students are safe in the Framingham Public Schools? Why or Why Not? Cite ways to improve safety in the schools.
No emergency preparedness plan or disaster recovery plan is ever good enough. It doesn't matter if you're talking about a data center, a bank vault, or a school system. Regardless of the threat being a hacker, a bank robber, or a would-be school shooter, the plans are by definition never good enough.
Because as soon as you think of them as being good enough you stop critically examining the problem and become blind to emerging threat classes. While the guardians are resting on their good enough plan, the bad guys are thinking and imagining new and creative ways around the defenses and sharing their thoughts on the darker corners of the internet with like minded bad actors.
To borrow the mantra of the villain in one of my favorite novels: "Cocky. Lazy. Dead." If we ever face the horror of dead or injured students in our schools, we'll have to ask ourselves where we got lazy and when we got cocky. If that time ever comes I hope we can truthfully say that there was nothing else reasonable that we could have done to prevent it.
There are many things we could do to marginally improve safety in our schools. The question is which of them are worthwhile. We could: ban scissors and pencils and other sharp objects that could be weaponized, install metal detectors and body scanners at all schools, employ bomb sniffer dogs, configure barricades to prevent attack by car or truck, remove undergrowth from the surrounding woods where snipers could hide, replace all the windows with bulletproof glass, restrict access to the HVAC systems, and many other things that are usually not done in the USA.