Q&A With District 7 School Committee Candidate Tiffanie Maskell
Editor's Note: All School Committee candidates received a Q&A from SOURCE last week. Each race had different questions. If an answer is left blank, the candidate chose not to answer the questions. SOURCE gave the candidates a word limit, so some answers may be shorter than what candidates submitted.
***
FRAMINGHAM – District 7 School Committee member Tiffanie Maskell is running unopposed for re-election. It is a 2-year seat that starts January 1, 2020.
Election day is Tuesday, November 5. Polls are open from 7 a.m. to 8 p.m.
Voters will elect 9 School Committee members, by districts. There are three contested races in Districts 3, 8, and 9.
***
TIFFANIE MASKELL
Age: 46
Occupation: Stay-at-home Mom
Years lived in Framingham: over 20
Family: Don (husband) and 2 boys, Davin and Draydin
Volunteerism: Former Town Meeting Member, Co-Chairperson of the Framingham Celebration Committee, Co-President of the Hemenway PTO, Secretary of F-SEPAC, Cub Scout Leader, member of the Parent Steering Committee for the Framingham Rec Swim Team, Co-Vice President of the Walsh PTSO, active in PTO for over 11 years and currently a Barbieri PTO member.
Facebook page link: https://www.facebook.com/TiffanieMaskell/
***
SHORT QUESTIONS
Candidates were asked to submit one word or one sentence answers to a series of questions.

The best thing about the Framingham Public School District is progressing.
What letter grade would you give Superintendent of Schools Bob Tremblay? A-
What letter grade would you give yourself as a School Committee member? B+
What letter grade would you give the busing system for Framingham Public Schools?  F
What was the last Framingham Public School event you attended: McCarthy Monster Mash
Favorite Children's Book: Danny and the Dinosaur
Best subject in school: Science
Worst subject in School: Math
Should the school year start after Labor Day? Yes
Should February vacation be eliminated from the calendar? Yes
Should there be recess at the middle school level? Undecided
Do you support free preschool for all 4-year olds? Yes
Should there even be homework at the elementary school level? Yes-reading
Should there be metal detectors at Framingham High School? No
Should Framingham High have a ROTC program? Yes
Would you support virtual classes at Framingham High on snow days? Yes, if there is access for all
Framingham teachers are dedicated.
The Framingham Public School System needs to close the opportunity gap.
I would bring continuity and commitment to the School Committee in my second term.  
***
IN-DEPTH QUESTIONS
(Editor's Note: Candidates were told they could have 350 words to answer. Longer answers will be cut at the sentence closest to 350 words.)
***
1) What is your biggest accomplishment in your first term as a City School Committee member?  
I am most proud of the meal policy that we adopted that ensures that no child is denied a school meal and that they are not shamed in front of their peers because of their family's economic situation.
2) As you know, the transportation system is not working at an A+ level. Some students are consistently late for school due to buses, and some children have hour-plus bus rides home. It is a complicated issue, but in the end the School Committee is responsible for the busing contract. What will you do in your second term to fix the busing problem?

It is a complicated issue and we cannot wait for the second term to start; we must act now. Winter is coming and no child should be waiting long periods of time for the bus to show up. We must look at other avenues to ensure everyone gets to school on time. I don't know the specific fix, but we are looking at several different solutions. I no longer have faith in Durham.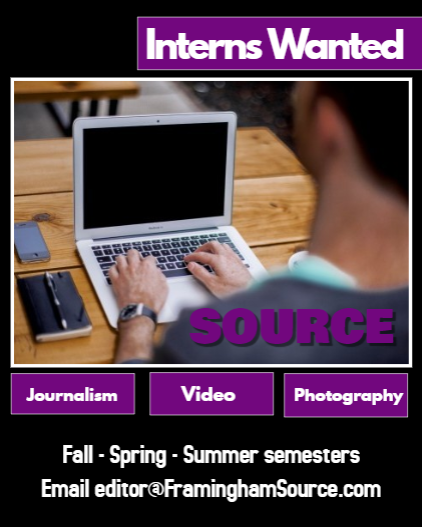 3) The Framingham Elementary Schools are racially imbalanced today. It was this issue that brought about school choice years ago. Should Framingham Public Schools be redistricted to 9 district schools as opposed to school choice? why or why not?
It is one that we need to consider. Nothing can be left off the table in looking at the future of our school district. We have transportation, capacity, and building needs. We have inequitable and under-performing schools. We need to look at all the options and decide what is the best solution for meeting our current and future needs. School Choice had its place, but I am not sure that is where we need to be now.
4) One of the major roles of the School Committee is to set policy. Which policy would you like to change or propose in your second term?
As a member of the policy subcommittee, we have a long list of policies to review. I look forward to revising and implementing policies that will ensure success for all our students.
5) There are significant achievement gaps in the Framingham Public Schools. Name three things you can do as a School Committee member to help close those gaps by 2022.
Advocate to finally equalize school funding across the state, support Dr. Tremblay's vision for our district to institute universal Pre-K, and advocate for more SEL services—that ensure our children are supported to learn. 
6) The School Committee is responsible for the budget. Do you support a level-funded, level service, or an increase in the Framingham Public Schools budget for the 2020-2021 school year? Why?
I will support a budget that creates equity among our schools, is transparent, and fiscally responsible.
7) The Superintendent just received a 6-year contract. Accountability is important. What three things will you hold him accountable for over the next two years?
Dr. Tremblay must be held accountable for the successes of the district and most assuredly when there are failures, and the goals we set together each year.
8) There are criteria to measure a Superintendent. Criteria to evaluate a teacher. How should you as a School Committee member be evaluated? What three things should voters hold you accountable for? Why?
Attendance, preparedness, and how we work with others.
9) Framingham middle and high school students are stressed. The MetroWest Health Foundation studied also showed an alarming rate of suicide attempts. What can the school system and the school committee do to help the mental health of students? Be specific.
We must advocate for appropriate funding and support in order to provide our principals, teachers, school counselors, social workers, and psychologists with appropriate professional development to build
their capacity to support our students.
We must also promote the well-being of teachers and other school staff members so they can do more to promote the well-being of students. Everyone must feel good about themselves if they are to cope with challenges proactively and effectively.

10)  Which program in the Framingham Public Schools budget needs more financial support? why?
11) The state now has MCAS 2.0 to evaluate students and schools? But in your opinion, how should a student or a school be evaluated in Framingham?  How will you know Framingham students are achieving? Be specific.
I think that most of us would agree that we need a better way to assess students and evaluate schools. I don't have the answer.
12) Attendance is an issue in the district for many students. What can you do as a School Committee member to make classes a priority for students and families?
A study in the American Educational Research Journal says that challenging parent misconceptions about absenteeism can significantly boost student attendance.
13) Finally, what is the biggest issue facing the Framingham Public Schools in the next 5 years? Provide a way you are working on the issue.
We have under-performing schools in our district, which is one of the biggest issues we are facing. We must find ways to raise their level of performance while continuing to support the needs of the other schools. We have made progress by making sure resources are equitably distributed, encouraged the hiring of strong collaborative leaders that are making sure we have a rich curriculum, supporting strong parental and community partner involvement, and adding resources to ensure our schools are safe learning environments.