UPDATED: Handy Makes Bay State Conference All-Star Team
QUINCY – Framingham Flyers senior captain Jake Handy was named a Bay State Conference All-Star in golf on Thursday.
He made the all-star team by tying for ninth place with a 76, on the par-70 Presidents Golf Course in Quincy, during the Bay State Conference Championship.
Three Framingham High golfers competed at the conference tournament on October 3. They were Handy, senior Nick Parga who shot 84, and senior Michael Rubin, who shot 88.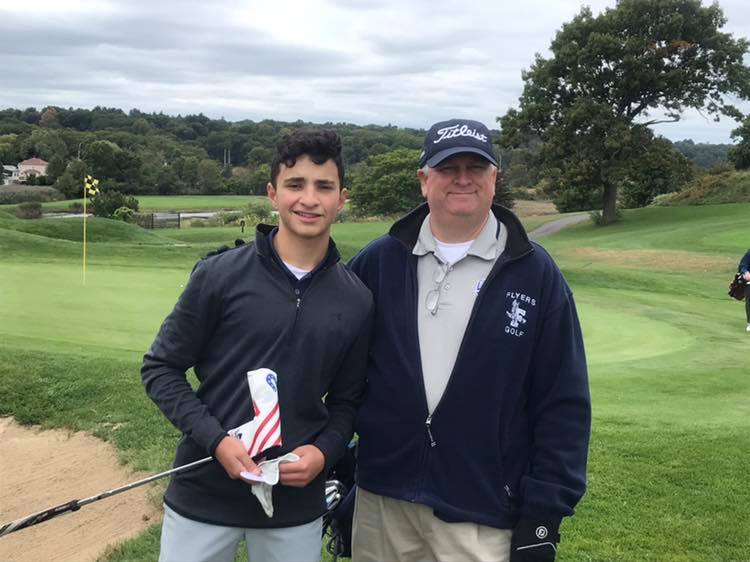 "We had a great day yesterday at President's for the Bay State Conference SC Golf Championship. The weather cooperated after a very light mist and cold morning. The boys played a great round of golf with all 12 All-Stars scoring 76 or below," said Wellesley Athletic Director John Brown, who was in charge of high school golf for the Bay State Conference. "We had 14 student athletes score below 80, 4 par or better, with 2 below 70."
"The Carmen Gallo medalists went to Michael Thorbjornsen carding a low score of 64," said Brown.
Wellesley won the Dan McKenna Team Championship with a score of 215.
"Although we finished 8th out of the 10 teams in our conference, I was very proud of how the boys played, especially because two of them had not previously been to an all-star tournament," said Flyers head coach Will Cook.
The Flyers are back on the course against Wellesley High on Monday, October 7 at Nehoiden Golf Club.
***
Photo of Handy and coach Will Cook courtesy of Framingham High athletics