MacKenzie Appointed Chair of Catholic Charities
BOSTON – Trustees of Catholic Charities Archdiocese of Boston and President Deborah Kincade Rambo announced the appointment of Kevin M. MacKenzie, as Chair of the Board of Trustees, effective January 2019.
MacKenzie has served Catholic Charities as a board member since 2013. Prior to assuming Board Chair, he served as Chair of the Finance Committee and a member of the Executive Committee and Audit Committee.
Professionally, MacKenzie brings more than 40 years of financial expertise as a retired Partner of Ernst & Young. During his tenure with the firm, he held various leadership positions and was a trusted advisor to clients and boards on a wide range of business, operational and financial matters. 
"We are pleased that Kevin MacKenzie has agreed to serve as Chair of the Board of Trustees," said Cardinal Seán P. O'Malley O.F.M. Cap. "Kevin's willingness to assume this new role on behalf of Catholic Charities, following a well-established record of service to the Board, further demonstrates his commitment to the most vulnerable in our communities."
"Despite the prosperity that many in our state are experiencing, many young people, immigrants and families are fighting an uphill battle each day to meet basic human needs. In the midst of these challenges Catholic Charities remains committed to the dignity of every person. We are grateful for Kevin generously sharing his expertise and leadership skills as we go forward with this important mission," said the Cardinal.
MacKenzie said, "Every day dedicated, compassionate people at Catholic Charities provide critical services to those in need in our community. Seeing this in action is inspiring, creates hope and provides purpose to everyone at Catholic Charities knowing that they are making a difference in the lives of others. Our board is energized and engaged and I feel very fortunate to be able to work with them and everyone at Catholic Charities to help ensure that we are able to continue to provide basic human needs to those in our community."
"We are grateful to Kevin for his many contributions to our work, and are delighted to welcome him in his new role as Chair of the Board of Trustees" said Deborah Kincade Rambo. "Catholic Charities is well positioned under Kevin's leadership to ensure that our work to end poverty, one family at a time, is successful."
MacKenzie is a graduate of Boston College and he and his wife Sharon have four children and reside in Beverly
***.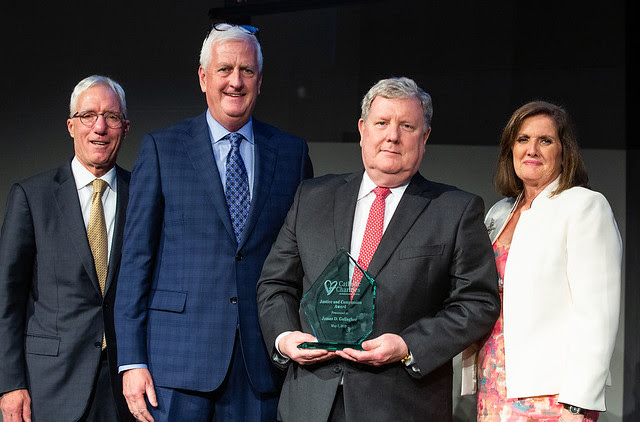 Incoming Catholic Charities Chair Kevin M. MacKenzie (left) at the annual spring celebration where nearly four hundred people raised over $1 million for Catholic Charities programs. (L-R: MacKenzie, Michael Sheehan, outgoing Chair James D. Gallagher and Catholic Charities President Deborah Kincade Rambo