PHOTOS: Ashland DPW, Laborers Union Create New Dugouts & Bleachers at Stone Park
ASHLAND – Saturday morning, a ribbon cutting ceremony was held for the new baseball improvments at Stone Park in Ashland.
The improvement project was a year in the making. In 2018, Town Meeting and the Ashland Community Preservation Committee awarded Ashland Department of Public of Works funding for the project.
Earlier this month, the laborers union and DPW staff completed the work.
The project included new spectator bleachers, new dugouts with concrete slabs and team benches, and ADA-approved park benches for residents.
Ashland Selectman Steve Mitchell attended the ceremony.
State Rep. Jack Patrick Lewis and Dennis Giombetti, representing Senate Presient Karen Spilka's office also attended the ribbon cutting ceremony on April 27, and presented proclamations.
The laborers union has volunteered their time and equipment over the years to help the town of Ashland improve several fields.
The Union also built the dugouts at Gryncel Park.
And the Union dedicated time, labor, and equipment to create a new lacrosse wall at the middle school.
Special thanks to Mr. James and Jim Merloni and Michael Norton and the New England Laborers Training Center staff, said Ashland Community & Economic Development Director Beth Reynolds.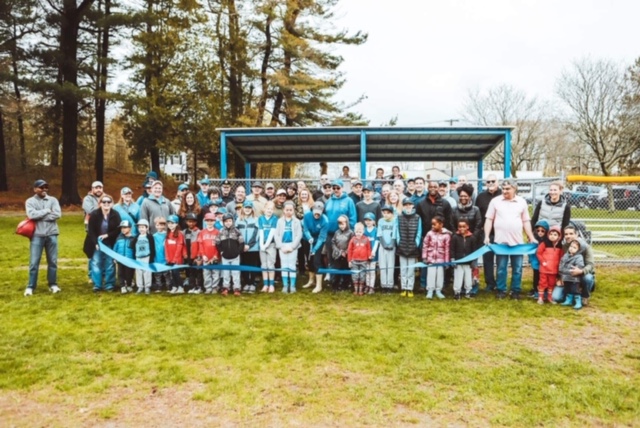 Photos submitted to SOURCE