UPDATED: Belknap, Edgell, Concord Closed Due To Downed Trees and Wires
FRAMINGHAM – Framingham Department of Public Works is busy today with downed trees and wires.
Framingham Highway Superintendent Danny Nau said Edgell Road is closed near the animal hospital due to a downed tree and pole. The tree came down just before 1 p.m.
UPDATE: 5:20 p.m. The tree has been removed from Edgell Road.
At 2:20 p.m. Framingham Public Schools sent out an alert that buses could be delayed due to the downed trees.
"Heavy winds have caused downed trees and on some streets, downed wires. There are several road closures throughout the City of Framingham and therefore there may be extra traffic and delays with some of our bus runs. We have advised all students who may be walking home today to be aware of and avoid contact with any downed wires and to report downed wires to the Framingham Police Departmen," said the message to parents.
Belknap is closed near Mill Street due to a downed wire, said Nau. The tree has been removed but there is still a live wire, said Nau.
There is also a tree down at Concord Street (Route 126) at Essex Street in downtown Framingham, said Nau just before 1:30 p.m.
Concord Street is blocked at that intersection, said Framingham DPW.
UPDATE: Concord Street is clear and open to traffic as of just before 5 p.m.
Singletary Lane is closed near Hickory Hill.
A downed tree is also near Johnson and Central Streets, said Nau. Johnson Street is closed.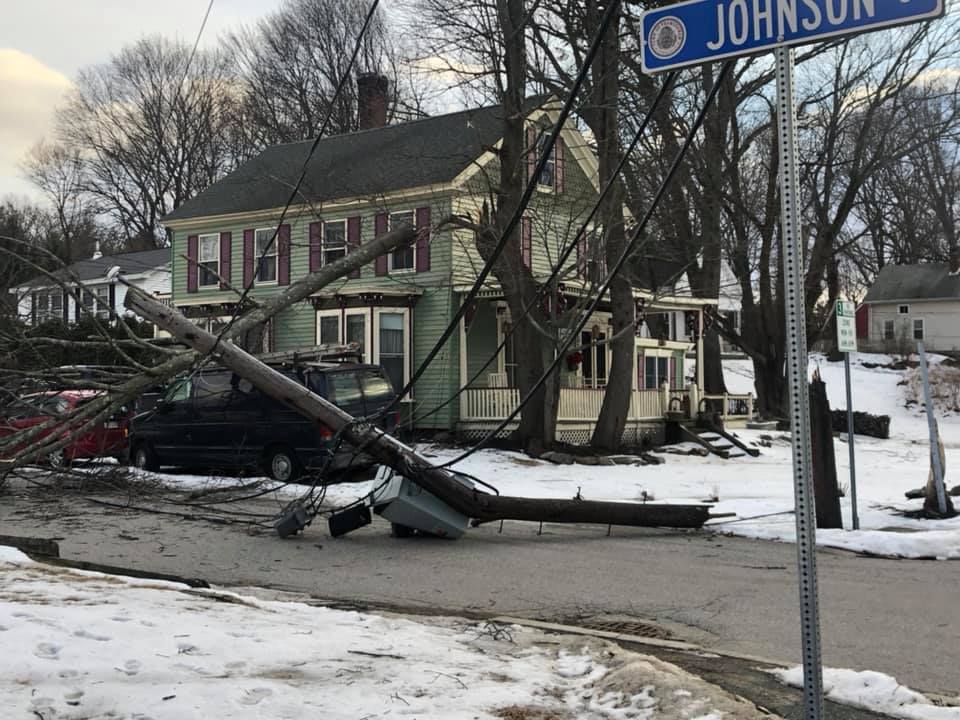 Eversource has about more than 1,000 customers with out power, at 1:30 p.m.