5 Things You Need To Know Today in Framingham: Wednesday, January 23
NOTE: Trash collection is on a one-day delayed schedule this week, due to yesterday's federal holiday.
1 Founder of the MetroWest Conference for Women Jen Maseda will be the featured speaker at the Framingham Business Association luncheon at noon at Samba Steak & Sushi today. New members are welcome.
2. FLYERS in action:
Both the Framingham High boys basketball and girls basketball teams lost to Newton North last night
Framingham High wrestling team hosts Walpole at 6 p.m. at the gym.
Girls ice hockey team travels to Watertown for a 5 p.m. game against the Tigers of Newton North.
Boys ice hockey hosts Newton North High at Loring Arena at 6 p.m.
3. Temple Beth Am is hosting a forum tonight on the opioid crisis. The public is invited to the free educational forum.
4. According to Mayor's public calendar on the City of Framingham's website, Mayor Yvonne Spicer is in Washington DC for a Conference.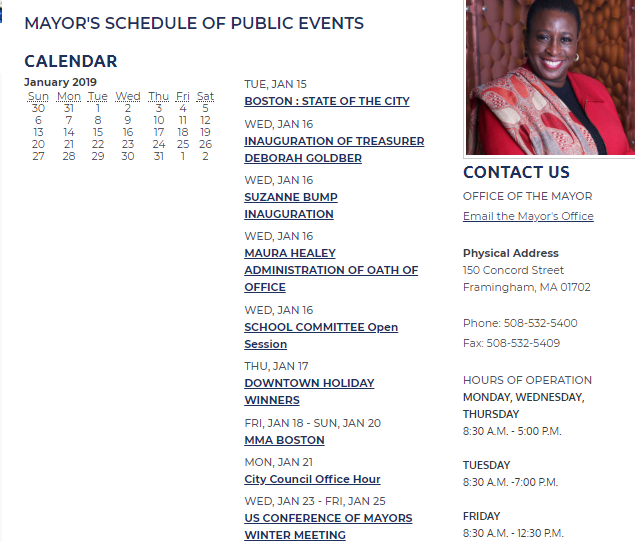 5. CITY of Framingham meetings:
Board of Assessors have a meeting scheduled at 5:15 p.m.
City Council's subcommittee on Planning & Zoning has a meeting at 6;40 p.m.
City Council's subcommittee on Finance has a meeting at 7 p.m.
Framingham Disability Commission has a meeting at 7 p.m. in the Memorial Building.